Outside Lands is just around the corner and wouldn't be complete without an impressive lineup for The House by Heineken.
---
San Francisco's mainstay Outside Lands Music and Art Festival returns to the enchanted and picturesque Golden Gate Park in less than a month! After one special Halloween edition in 2021, the festival is back in its normal timing and will be taking place from August 5 – 7. With a diverse lineup, experiences tucked in every corner, the best of Bay Area food and drink, and exclusive areas like Grass Lands, it's no wonder why so many people flock to the venue for an unforgettable weekend of fun.
For nearly two decades, Heineken has partnered with Outside Lands to present The House by Heineken, which brings its own curated lineup each year. The unmistakable green walls welcome attendees into an oasis with bumping beats from both local and renowned DJs. Last year, they took the roof off of the House and introduced an open air concept with an inviting backyard party theme. The backyard party returns this year and is guaranteed to bring all the good vibes.
Headlining The House by Heineken are The Far Side (formerly of The Pharcyde), Franc Moody who will perform a DJ Set, and Noizu. Throughout the weekend, you can also catch fantastic artists such as Black V Neck, Craze, DJ Equal, Flamingosis, and HoneyLuv, as well as Siobhan Bell, Sleight of Hands, DJ Umami, Duserock, Motion Potion, and MVSE, among others. The House once again pulls heavy hitters and highlights San Francisco-based DJs for their one-of-a-kind experience.
3-Day, single day or Golden Gate Club passes are still on sale for Outside Lands. To purchase yours and for more information, visit the official OSL website.
---
House by Heineken at Outside Lands 2022 Lineup: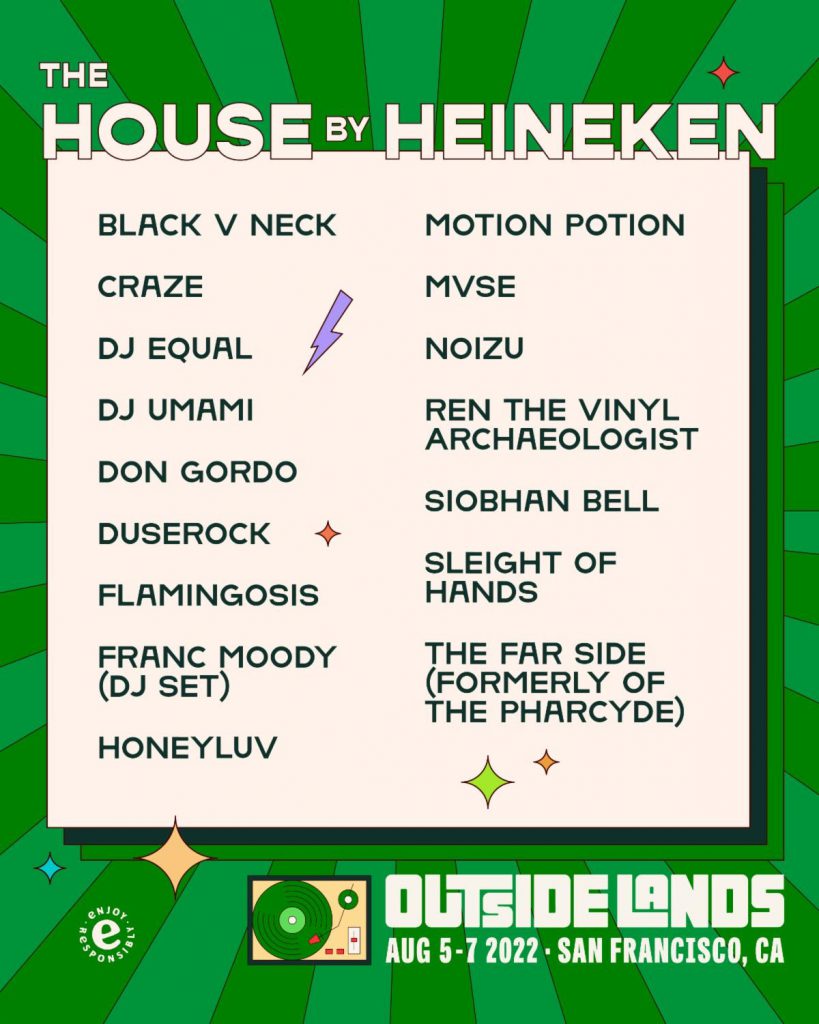 ---
House by Heineken at Outside Lands 2022 – Lineup By Artist:
Black V Neck
Craze
DJ Equal
DJ Umami
Don Gordo
Duserock
Flamingosis
Franc Moody (DJ set)
HoneyLuv
Motion Potion
MVSE
Noizu
Ren the Vinyl Archaeologist
Siobhan Bell
Sleight the Bells
The Far Side (formerly of The Pharcyde)
---
Follow Outside Lands on Social Media: