Infected Mushroom prepares to release IM25 this September and you can listen to the first single, "A Cookie From Space" with BLiSS, today!
---
Infected Mushroom, the brilliant psytrance duo dreamt up by Israeli-born/LA-based producers Amit "Duvdev" Duvdevani and Erez Eizen, have been taking listeners on a magical ride for over 25 years. Within that time, they trademarked a sound all their own, blowing the roof off with colorful psychedelic melodies, splatterings of rock and roll attitude, and feral rhythms that fling revelers into a delightful state of delirium.
Last year, Infected Mushroom began the celebration for their quarter-century birthday with their AI-enabled Shroomeez NFT drop, with accompanying EP, but that simply wasn't enough to mark such a phenomenal milestone. Since COVID was restricting their tour schedule they decided to hold tight until it was safe enough, and in April of this year, they were finally able to properly celebrate in Tel Aviv with their largest headlining performance to date! Today, they keep the wild vibes going with the release of "A Cookie From Space," a track produced alongside rocktronic artist, BLiSS, to be featured on their forthcoming anniversary album, IM25.
Clocking in at a whopping ten exhilarating minutes "A Cookie From Space" starts off brilliantly cinematic with lovely strings setting a mysterious mood. A somber choir quickly joins in to set us off on our counter-culture extravaganza, filled with moments of unadulterated musical freedom that enable euphoria to flow like a river. The spunky guitar and drum performance that slams the ears with an unhinged attitude will leave you obsessed as it leads into a trippy tick-tock moment before spiraling us into a powerful psytrance minefield – and that's just the first two minutes!
Throughout the piece, you'll come face to face with vibrant electro/psy soundwaves and ridiculously infatuating 80's inspired synth notes that bond with every atom in your body, turning you into the ultimate dancing machine. The unsettling fractal vocal tone that emerges halfway in creates the perfect bridge into no-holds-barred musical mayhem. But, just when you think you're starting to figure it all out, the trio decides to trick listeners with a brand new rhythm, fueled with cool hip-swinging swagger. They wrap it up with a lovely Spanish guitar solo because, why not, and with that, we depart this fantastic fever dream and head back to reality.
You have to listen for yourself to truly understand all the hype, so, grab your copy of "A Cookie From Space" on your favorite music platform and stream the track on Spotify. One more thing before you go, if you want to catch Infected Mushroom in action they'll be back in the states on August 3 at Soundcheck in Washington DC, and then in Rochester, NY on August 4 at Photo City Music Hall – don't sleep on their performances!
Stream Infected Mushroom & BLiSS – "A Cookie From Space" on Spotify:
---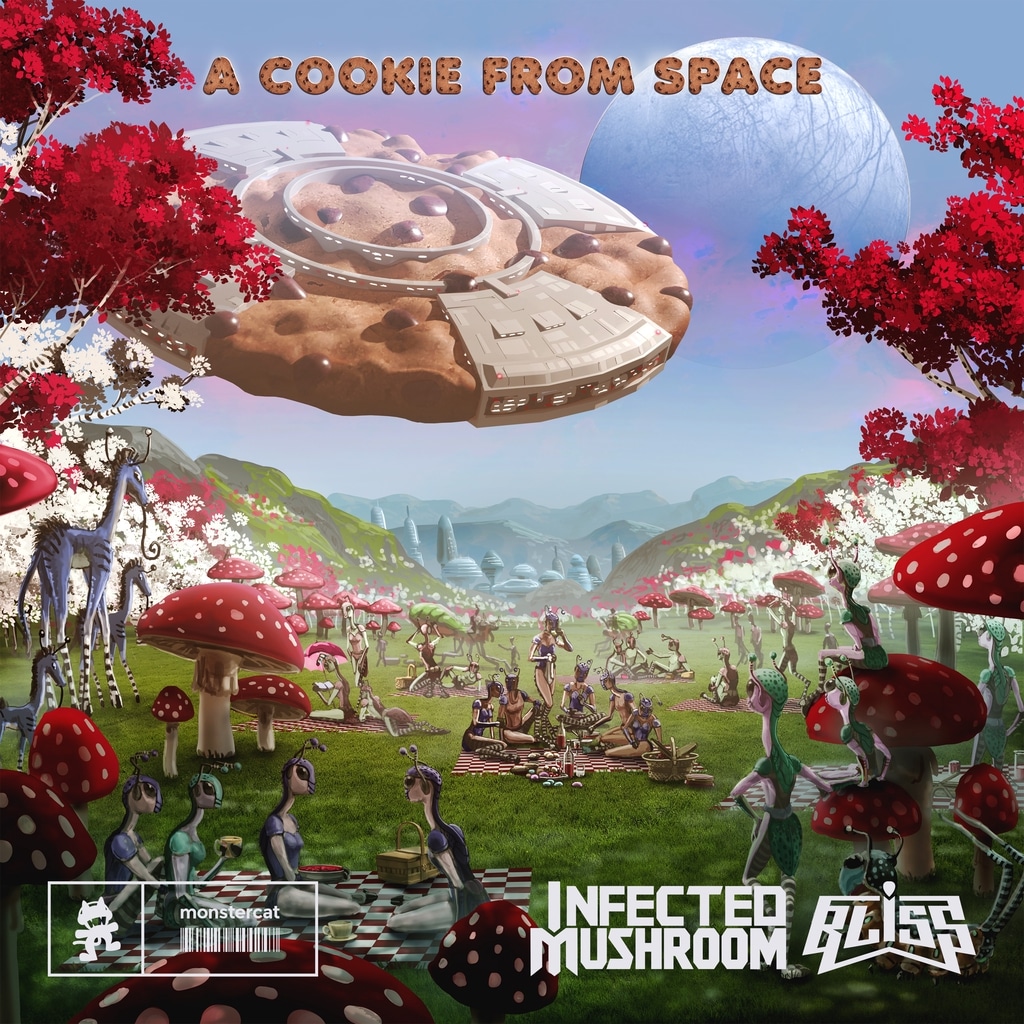 ---
Follow Infected Mushroom on Social Media:
Facebook | Twitter | Instagram | SoundCloud | YouTube | Spotify
Follow BLiSS on Social Media:
Facebook | SoundCloud | YouTube | Spotify