Psytrance veterans Infected Mushroom stay true to form with the Shroomeez EP while charting new territory with mushroom art NFT drops.
---
No strangers to electronic music and, specifically, psytrance, Infected Mushroom has over a quarter-century of experience behind them. During that time they've evolved with the scene while maintaining a strong thread of their signature style. Their timeline and story, if not their style, seems to parallel the likes of Shpongle – always willing to change with the times while managing to stay grounded in their roots.
While embracing the future, Infected Mushroom, like other musicians, became fascinated with the NFT craze. As they explored the new concept, they landed on an art release in collaboration with experimental artist FARGO. The artist fed mushrooms and other images into an AI to created each individual Shroomee now on offer from Nifty Gateway. As the project was taking shape, the individual Shroomee art pieces are what inspired the four-track Shroomeez EP sounds.
The futuristic vision in the Shroomee art aligned nicely with Infected Mushroom's style as they sought to create a fully immersive world of Shroomeez. Fans can lose themselves in this world through the visuals of FARGO's artistic creations and the future-focused trance sounds of the EP.
Be sure to buy or stream Infected Mushroom's Shroomeez EP from your favorite platform and read on below for a deeper look at the four tracks.
Stream Infected Mushroom – Shroomeez on Spotify:
---
Shroomeez is a complex and trippy world of trance sounds that will definitely take you to an otherworldly place.
The EP opens with "You Wanna Stay," and listeners are presented with the lyrics reflecting the title from the jump. Then the follow-up lyric "and I just know I wanna go away" seems to change the message. But listening through the full track seems to make the story clear – staying here and going away are two ways of looking at the same thing. One can journey to the place that is Shroomeez and stay there or one can seek escape from where they are to allow Shroomeez to take them away.
The rest of the track focuses on fast-paced instrumentals that carry us into this trippy place we now know as Shroomeez. There's a fascinating tension in the music that was created by the contrast of "stay" and "go away" which return later in the track. Everything about "You Wanna Stay" screams "put me on repeat" and stay here!
The middle of Shroomez is made up of "Leftovers" and "Back At It," both beautifully crafted tracks with classic yet modern psytrance sounds.
Aside from a synthesized vocal phrase throughout, "Leftovers" is a rhythmic, instrumental trip. It's a complex journey through mostly uplifting rhythms with short breathers placed strategically to give listeners a chance to pull themselves together. The track closes with a reverb that perfectly sets up "Back At It" making the two tracks feel like a deliberate pairing. The latter track brings in more organic melodies on top of the familiar electronic sounds of the former.
The EP closes with a track that brings the other three together in unified conclusion.
The final track on the EP, "Ma Osin," is a club banger with an unrelenting bassline and rhythm. Where the other tracks have moments of contemplation, this one is telling you a story and insisting that you hear it precisely how it is told. Psytrance fans will rejoice at the chance to dance in a sweaty warehouse when this track is played. Add in the layers and layers of synthesized and organic sounds and you won't find a moment of reflection until it is done. After its completion, you'll be catching your breath or looking for some hydration to help you recover from the ecstatic movement you just experienced.
The most fascinating thing about Shroomeez is how many familiar sounds are used to create these tracks, and yet the final product is entirely new and fresh. It's also a very addictive EP, so when you give it a listen, be ready for Infected Mushroom to infect your brain and get stuck there for a while. My advice? Get up and dance it out! You won't regret it.
---
Infected Mushroom – Shroomeez EP – Tracklist:
You Wanna Stay
Leftovers
Back At It
Ma Osim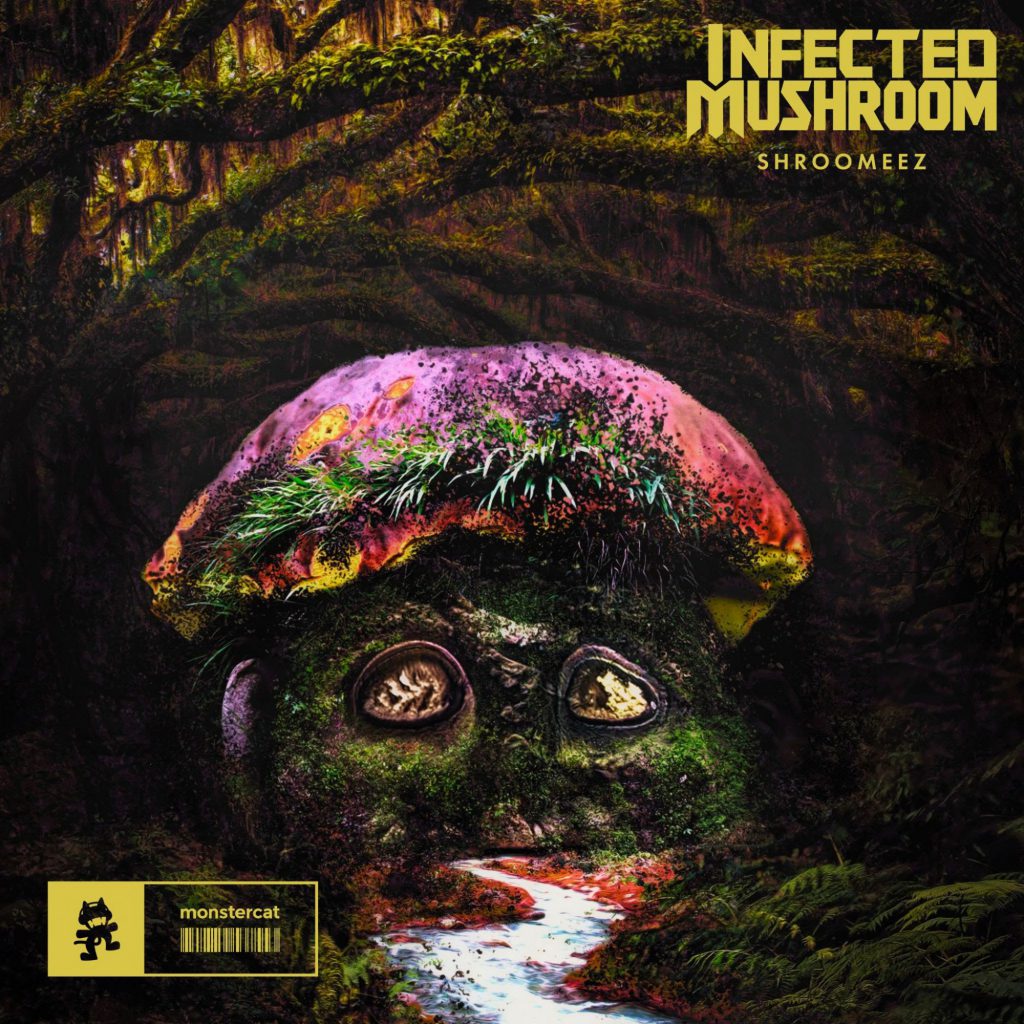 ---
Follow Infected Mushroom on Social Media: