The latest volume of create together features 25 unique tracks across a range of genres from the community of artists bitbird has fostered.
---
San Holo and Thorwald van den Akker's bitbird has become known for its inclusivity and bringing people together since 2014. It continues to make quite an impression on up-and-coming artists by celebrating artistic freedom, collaboration, and showcasing those who experiment with sounds. Further, the imprint has fostered a thriving community on Discord to reach their global community, with many creatives flocking there for inspiration and to hone their skills.
The persistent growth of the bitbird Discord server led to the concept of create together, a compilation designed to highlight the musicians found within it. Over the course of a month, they can work together and create tracks, pushing the barriers of their creativity. After the first edition's success, the imprint made this into an annual compilation, and now the third volume of create together has been revealed.
The latest volume of the carefully curated compilation features 25 tracks from artists all around the world with a variety of artists and spanning genres represented. Be sure to give create together vol. 3 a listen on Spotify below or your preferred streaming platform and read on for a deeper dive into the tracks!
Stream create together vol. 3 on Spotify:
---
The opening track, "stay awake" from dossyx, is chilled out with its consistent rhythm as vocals and drums twirl around the backbeat.
Once your mind has been awoken by the lead track on the compilation, "Beacon" by Tsuyoshi A., Stutters, and Inu arrives next with its contrasting vocals in tow. The guitar riffs fill the drops with a jazz style, evoking a sense of euphoria, which creates a lovely tune. Wes Mills uses a disco-y backbeat and instrumentation in "thinking about you," accompanied by steady clapping and autotuned vocals. The track ends with an electric guitar riff, adding a variety and element of surprise to the song.
"lick my wounds clean" brings elegant chaos from euphorian. This one stood out as special, using different tempos and otherworldly instrumentation surrounding a bit of a drum and bass rhythm. A squeaky non-human voice adds to the suspense, making you feel as though you are entering another dimension.
Then, So Sus creates the same dimension-bending soundscape on "I'm Not The One," using a haunting vocalist as the instrumentation sounds almost alien as the drop turns into a perfectly executed trap anthem. "Trying" is a very animated tune from Ruely that blends genres and features inspiration from a vaporwave style of music, with a chaotic rhythm and ever-changing vocals.
Another standout arrives with "Past Lives" by bygone, which begins with a stunning guitar accompaniment featuring somber vocals.
As one of the slower tracks on the compilation, electronic elements are spread throughout it before ending with a subtle drop with perfectly flowing instruments that lead into the following track, "what we used to be" by Aego. The song starts with ground-shaking tones, then kicks off strong with a grandiose drop as yanky's vocals consistently flow with the build-up. The track ends glitchily as the heavy bass of "Looking Pretty" begins. Kyoto Black and TetraTara create just a fun track reminiscent of a warm summer day. The pop vocals perfectly match the beat to create a '90s-inspired ambiance that will have you coming back for another round.
Incorporating an alternative style, "Wrong" by Blaedsound breaks sound barriers with pounding beats with a choppy backbeat and a vast array of sound effects.
"Wrong" is ever-changing and evokes the senses when it completes with a piano and guitar riff in contrast to how it began. "leeway" by cobeau is another calm track that offers a soothing vocalist and heavily uses guitar throughout the song. The drums pick up, mirroring a modern rock song, ending with a folk-style guitar picking. With a similar style, wishlane brings magic with "ridgewood," the electric guitar surrounds the alt vocals as he adds electronic elements alternating between the two genres. The final track, "until the end" by N33T, bh, and echoed. brings a dancefloor nostalgia telling a love story. The fast-paced undertones and piano accompaniment shine throughout the track before a symphony of violins bring the song and the compilation to a close.
Each artist is more dynamic than the last and offers an endless taste of genres, surprising the listener song. As bitbird continues to encourage collaborations and artists to explore their music freedom, they have curated a compilation with something fit for everyone's playlist.
---
create together vol. 3 – Tracklist:
dossyx – stay awake
Tsuyoshi A., Stutters, & Inu – Beacon
wes mills – thinking about you
Skyyward, SEBii – In my mind
Alkyn, ovrdse – ♫ I CAN'T MAKE UP ♫ (IF YOU'RETM ɦǟքքʏ OR NMOᗡ) ☆+ . ˳ ©
Byegone, Equator – Candyflip (feat Muira)
Yash Bansal – ONLY A HUMAN
euphorian – lick my wounds clean
Ruely -Trying
Pala Chrome, Hendrik Joerges – Home (feat. imissyou)
THREESIXTY – Radiant
2045, a r u k a., fungeey – Unseen Skies
Byegone – Past Lives
Aego – what we used to be (feat. yanky)
Kyoto Black, TetraTara – Looking Pretty
So Sus – I'm Not The One
HOMALS – Ataraxia
Alva Gracia, Moav – Hurt Me So Damn Well
Left Unsaid, Cozmoe – Now I'm Grown
Scro, whyislsvandr – i don't wanna write sad songs anymore
Dust of Apollon, Absent Chronicles – Lie To Me
Blaedsounds – Wrong
cobeau – leeway
wishlane – ridgewood
N33T, bh, echoed. – until the end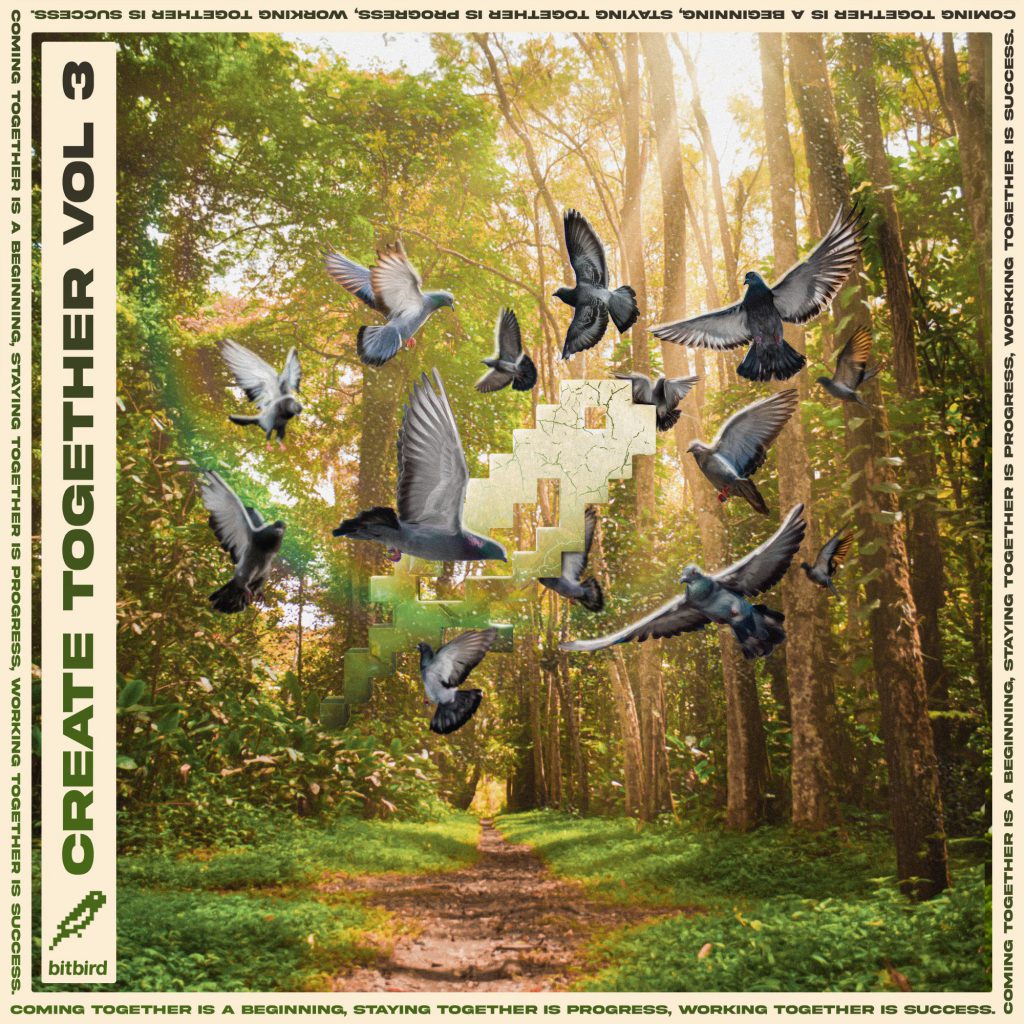 ---
Follow bitbird on Social Media:
Website | Facebook | Twitter | Instagram | SoundCloud | YouTube | Twitch