The legendary Rusher releases his finely-calibrated, full-length studio album Postcards From The Future on his Black Lodge Audio imprint.
---
There are not many artists who continue to make fresh and high-quality music who have been in the drum and bass game for as long as Rusher. Back in the early 2000s, the German-born, Los Angeles-based DJ/Producer played alongside some of the biggest names in the genre including Germany's favourite MC Stunnah and the legendary late Skibadee, as well as releasing tracks on labels like Barcode Recordings, Citrus, Trust In Music, and more. In a career that has spanned over 20 years, Rusher has carefully developed his uniquely dark and hard-as-nails sound; he continues to create with the same proficiency as always, making him a veritable OG in the scene.
Continuing to add to this legacy, Rusher is back with a 20-track studio album, Postcards From The Future, which is out now on his label, Black Lodge Audio. He's recently delved into the practice of cinematic and ambient sound-scaping and the influence of this can be heard in the atmospheric sound design of this recent project. The album guides listeners through a journey of dark and tumultuous landscapes composed of syncopated rhythms, broken beats, highly-listenable breakdowns, and captivating sound design. The tracklist seamlessly combines elements of deep and immersive rolling basslines, Hip-Hop influenced beats, and textured melodies and breaks.
Songs like "Watch The World Burn," "Lobotomizer," "Demonology" and "Black Craft" present Rusher's signature apocalyptic, doomful sound with the precise accuracy that has become synonymous with his style. These four tracks feature brain-cracking drums, eerie synths, and paranoia-inducing high frequencies that will hit you in your core.
On the other hand, the collaborations with vocalists Almighty Warpath, V3rb and producer L 33 on tracks like "Postcards From The Future" and "Your Planet is Next!" are where the hip-hop influence is most evident; however, it's not lost on instrumental tracks like "Possessor," "New Days" and "Danse Macabre" either. With a distinctly new feeling and raw energy, this album is incredibly forward-looking in its outlook and sounds as though it's touching a tangible future that does not yet exist. 
So follow Rusher as he continues to push the boundaries of the drum and bass genre and you'll surely be in for a pleasurable listening experience. Listen to Postcards From The Future on Spotify, grab a copy on Beatport, and let us know which tracks you dig the most in the comments
Stream Rusher – Postcards From The Future on Spotify:
---
Rusher – Postcards From The Future – Tracklist:
The Room
Watch the World Burn
Nyctophilia
Lobotomizer
Surreal Killer
Postcards From The Future feat. V3rb
Possessor
Modular Moodswings
Demonology
Black Craft
New Days
Brutalism
Danse Macabre
Unfuckable
Your Planet is Next! feat. L 33, V3rb & Almighty Warpath
Blockchain Bass
Guru Meditation
Broken
Fractured Lullabies
End of Daze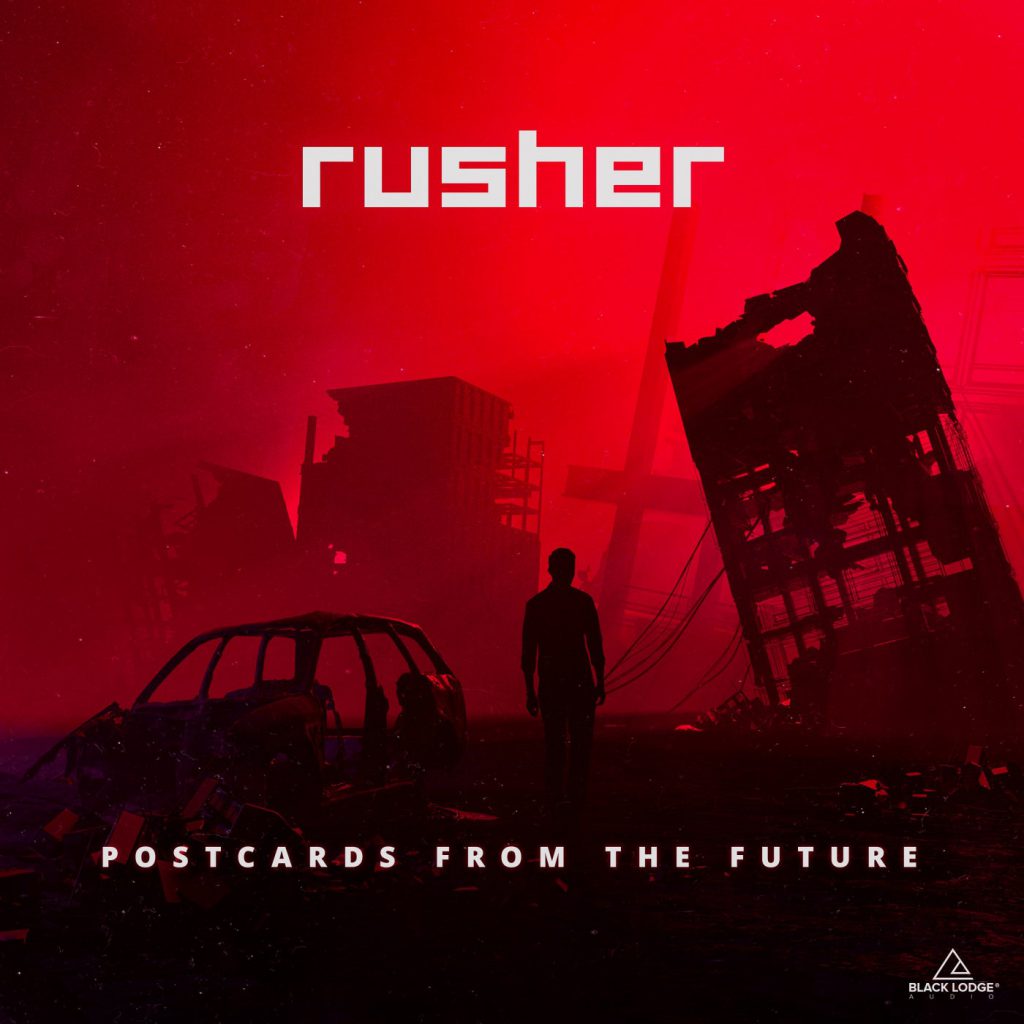 ---
Follow Rusher on Social Media: