San Holo's bitbird imprint looks to their thriving community for create together vol.2 – a collection of 19 tunes that will sweep you off your feet.
---
Ever since San Holo first launched his imprint, bitbird, he's looked to not just deliver seriously amazing tunes for the masses to consume, but to also shine a light on artists who are creating genre-bending music and give them a home. Over the past few years, he's accomplished that goal by launching a community on Discord that brought artists from all over the world together and fueled by their intention to "create forever."
While becoming a home for creatives, that Discord also brought something special to life after a number of artists reached out for feedback on tunes that they created during a self-run beat-making competition. The culmination of that first run of tracks spawned the create together compilation which featured ten tunes and ignited a fire within the community. Now, bitbird has double-downed on the series with the release of its second volume that's jam-packed with even more unique soundscapes and styles to explore across its 19 tracks.
The tracks on create together vol.2 range in style from electronic pop and indie-infused styles to house and lo-fi beats, only further proving the dynamic nature of the bitbird community.
Solo tunes like "in the meantime" by bh and "Can I Have You" by SENSY offer up remarkable soundscapes for listeners to explore. Others like "You and I" by Fairies Don't Exist will have everyone bopping along to the beat while "Held in Stasis" by Equator will warp the mind with glitchy elements throughout. Of course, there are a number of collaborations as well, and true to its nature a "mega collab" surfaced in the form of "i need u" that is filled with emotion-fueled sounds from JB Hain, Rivus, Blaedsounds, Shwirl, Fairies Don't Exist, Shamelss., Inflake, Fil, and aego.
Beyond the music itself, create together vol.2 also brought visual artists into the mix to create the album artwork. Sven & Jisca, the artists behind the cover art, said that they chose the bird called the sociable weaver because "Together, these birds create large community nests that can house over 100 pairs of birds, just like how [the Discord] server houses the bitbird community." We couldn't think of a more fitting way to represent this thriving community that bitbird has created – it's clear that the best is yet to come and we can't wait to see where they go from here.
Listen to create together vol. 2 on Spotify or your preferred platform. Let us know which tune stood out to you the most in the comments!
Stream create together vol.2 on Spotify:
---
create together vol.2 – Tracklist:
Sam Day, Dust of Apollon, Hendrik Joerges – I Wonder
Dynox, INAU, TetraTara – Be Better
Shwirl, -Alow, faux ivvy – kocham cię
bh – in the meantime
skygate – Venture
demotapes – closerthanthis
SENSY – Can I Have You
Byegone – Ghost
Fairies Don't Exist – You and I
So Sus – Prost
Equator – Held in Stasis
wes mills – shadow
JB Hain, Rivus – Am I more?
Adrobski – I Can't Avoid You
echoed., Blaedsounds, Jay Parmesan – free from me
Serion – in a different world
Ryu Junior – Rise Up
JB Hain, Rivus, Blaedsounds, Shwirl, Fairies Don't Exist, Shamelss., Inflake, Fil, aego – i need u (community mega collab)
fhyre, actuallyjamez, Salvati – write me down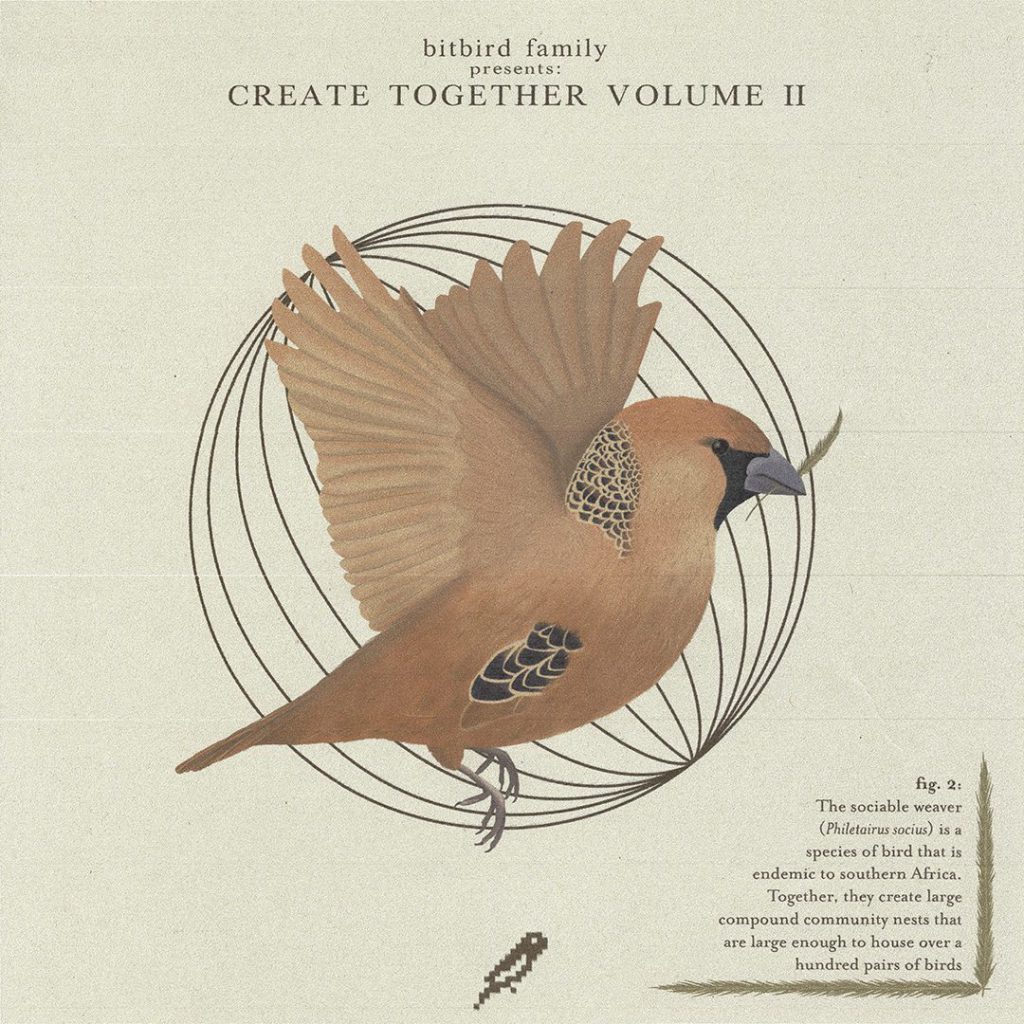 ---
Follow bitbird on Social Media:
Website | Facebook | Twitter | Instagram | SoundCloud | YouTube