Excision exceeds expectations with the Lost Lands lineup featuring Black Tiger Sex Machine, G Jones, KOAN Sound, Madeon, IMANU, and more!
---
Excision has blessed bass enthusiasts across the globe with the return of the legendary Lost Lands Music Festival in Legend Valley, Ohio. Tickets went on sale earlier this year, but fans already knew that the lineup would be worth pulling the trigger early as they anticipated who would be on the lineup. Today, after riding the wave of the recently revealed Bass Canyon lineup, Excision and his crew have unveiled exactly who will be taking the stage at the festival this year.
Those attending this year's edition of Lost Lands on September 23-25 are in for a real treat with the stacked artists on the roster. Excision is bringing forth all of the most-craved genres in the bass scene artists in the realm of dubstep, drum and bass, trap, and more. Artists that will catch everyone's attention from the jump are G Jones, Rusko, Of The Trees, Koan Sound, Troyboi, IMANU, and Tsuruda, who have all been killing it lately, but that's just a taste of what's in store.
Other artists who will be throwing down all the sounds you desire include the likes of Subtronics, Dieselboy, Eptic, Diesel, Kill The Noise, Knife Party, LSDream, and Pendulum. House sounds will be booming through speakers when Dr. Fresch takes the stage, and an appearance from Madeon is sure to be one for the books. Of course, you can expect Excision's sets to be a highlight of the weekend with unforgettable moments as well.
The undercard is also teeming with talented artists such G-Space, Shlump, A Hundred Drums,  and Chee to name a couple of the must-sees. Continuing the experience, Excision also went above and beyond to add plenty of depth to the line-up with artists like Vampa, Maddy O'Neal, Benda, Sippy, SoDown, Smith., Mythm, Space Wizard, and an abundance of others who will make their way to Legend Valley in September.
Lost Lands is shaping up to be another can't-miss experience for headbangers. Check out the full list of artists below to see for yourself just how jam-packed this event truly is and don't forget to grab your tickets on the festival's official website while you can!
---
Lost Lands 2022 – Lineup: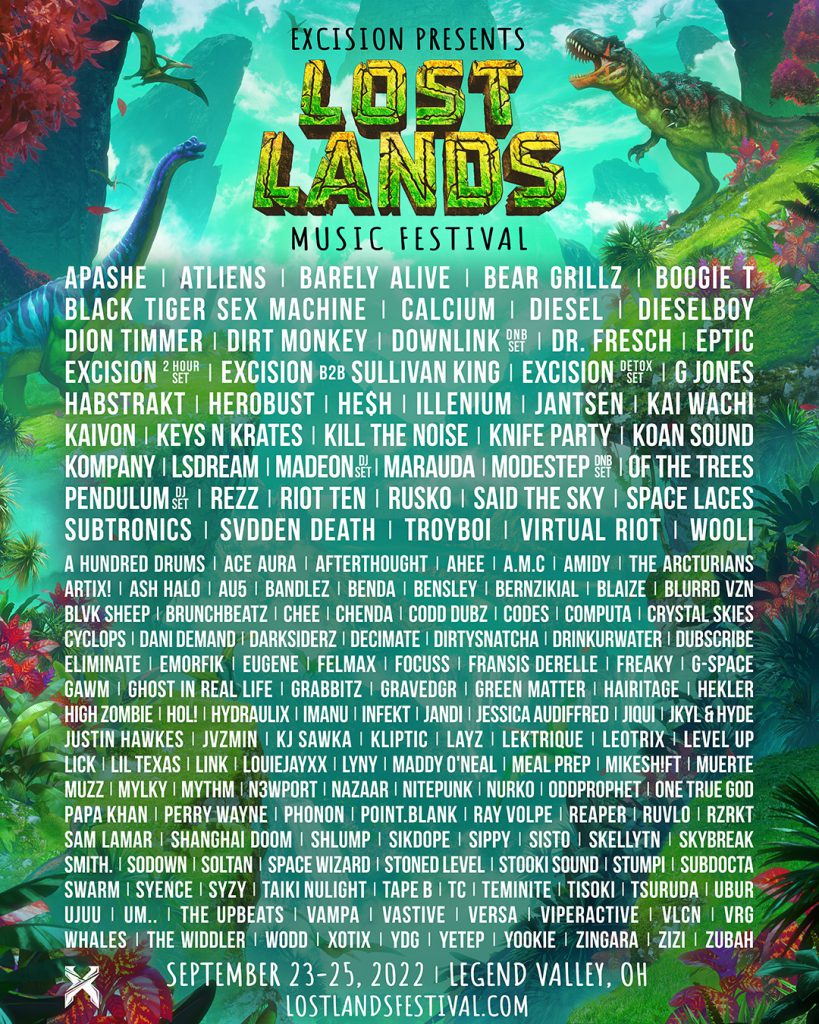 ---
Follow Lost Lands on Social Media:
Website | Facebook | Twitter | Instagram | SoundCloud | YouTube | Twitch
Follow Excision on Social Media:
Website | Facebook | Twitter | Instagram | SoundCloud | YouTube