Plan your perfect weekend at Sonic Bloom with the set times, camping map, and other essentials you need to know.
---
The moment is finally nearing for all to gather in harmony at Colorado's favorite bass music and camping experience – Sonic Bloom at Hummingbird Ranch. Pack your bags and check your lists twice, because next weekend the gates of the festival will officially open for everyone on June 16 and this year's edition of Sonic Bloom is set to be another successful one in the books.
Praised for its attention to detail in all things and not just the music, Sonic Bloom is an immersive experience. From the art, production, performers, and even down to the location, this festival takes serious measures to make attendees have a weekend full of memories. Sonic Bloom is also known for curating some of the best lineups in bass music and this year they further proved that with their selections. Providing the vibes all weekend are some amazing artists such as Tipper, Of The Trees, Lab Group, Detox Unit, A Hundred Drums, VCTRE, and Ultrasloth to name a few!
Getting prepared for a festival can be tough, so utilize this essential info guide to make sure your weekend at Hummingbird Ranch goes off without a hitch. Don't forget to stay hydrated and if it is available to you, keep Narcan on hand even if you don't plan to partake in any substances, and look after each other!
---
Sonic Bloom 2022 – Essential Info:
Dates: June 16-19, 2022
Box Office Hours:
Wednesday June 15: 4:20pm – 10:00pm
(VIP 4:20pm / Early-Entry 6pm ONLY!)
Thursday June 16th: 10:00am – 11:11pm
(10am VIP & Early-Entry / 12pm GA)
Friday June 17th: 11:11am – 11:11pm
Saturday June 18th: 11:11am – 11:11pm
Sunday June 19th: 11:11am – 8:00pm
Venue Address: For anyone already on the road from far away who can't find a GPS address on the website, that's because everyone needs to go to the box office first, which has no address.
Search Walsenburg, CO, the closest large town to the site to get closer to the area. Once on I-25 go to EXIT 64. You will see the box office in an open space just west of that exit. DO NOT drive into Rye or any local neighborhoods. Please stay on the I-25 highway all the way to EXIT 64!
Tickets: Purchase HERE
Facebook Event Page: RSVP HERE
---
Sonic Bloom 2022 – Set Times: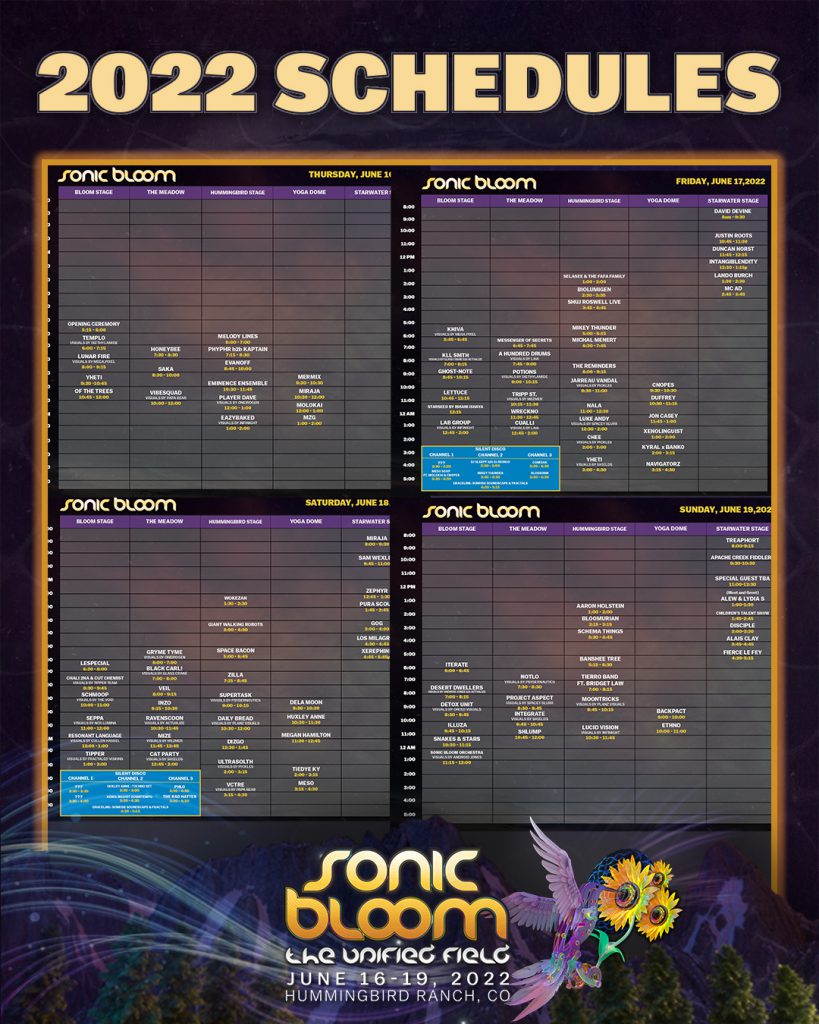 ---
Sonic Bloom 2022 Festival and Parking Maps: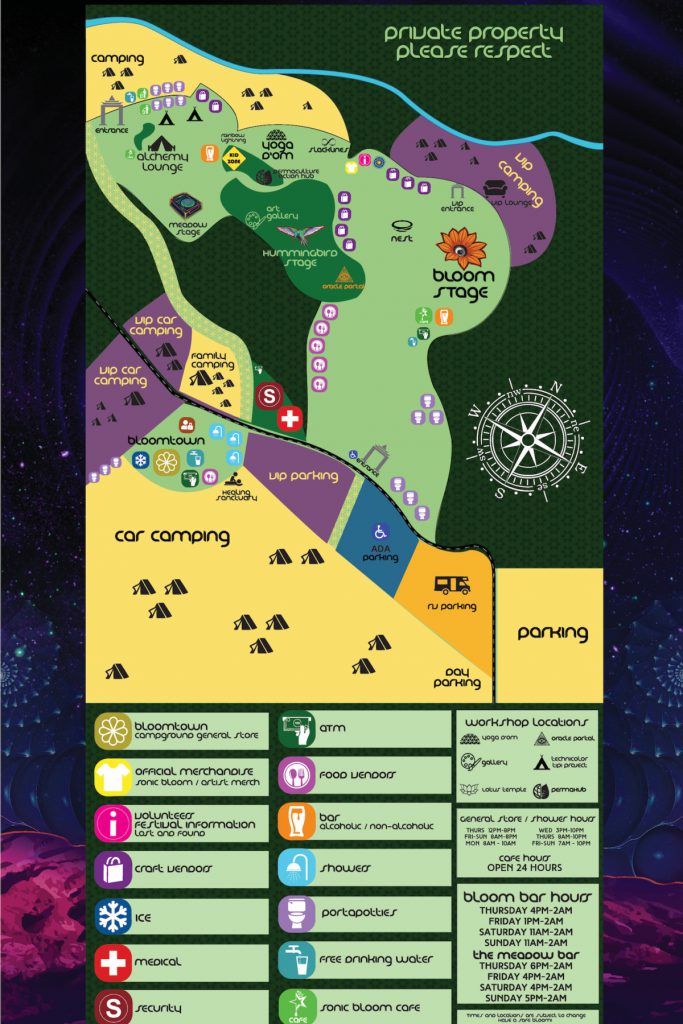 ---
Reminder To Mind Your Belongings:
Unfortunately, many people have reported pickpockets, bag slashings, and theft of wallets, smartphones, purses, and other valuables during this festival season. While this small number of bad apples in the bunch doesn't define an entire crowd, there are opportunistic people who come to these events to take advantage of unsuspecting partygoers and it's important to be mindful of your valuables while at Sonic Bloom.
Looking for tips to keep your belongings safe? Check our post highlighting some ideas!
---
Sonic Bloom 2022 Do's & Don'ts:
Prohibited Items
NO CAMPFIRES or OPEN FLAMES in the campgrounds (including charcoal grills, tiki torches, Chinese lanterns and candles). Propane grills may be allowed depending on whether the County has a Fire Ban in place.
NO Unauthorized Vending
NO Weapons or Laser Pointers
NO Glitter
NO Fireworks or Chinese lanterns: Forest fire is a very real concern at this site.
NO Nitrous Tanks. All nitrous tanks will be confiscated and violators will be ejected from the venue and subject to prosecution under local, state, and federal laws.
NO Under Age drinking
NO Illegal Substances
NO GLASS CONTAINERS OF ANY KIND
NO Pets
NO Firearms
NO Kegs
NO Generators
NO amplified sound systems are allowed in any of the campgrounds.
Permitted Items
Your Tickets!
AAA roadside membership card
a friend
baby wipes or cleansing cloths
band-aids/first aid kit
blankets/sleeping bags
camera/batteries
camping gear
cell phone
change of clothes
cooler
contact/eyewear necessities
contraceptives/condoms
deodorant
drinking water
eco-friendly soap (ie; Dr Bronner's Pure Castile)
extra socks
extra set of car keys
flag or banner to mark your spot & find friends
flashlight
frisbee
ground pad
guitar
hammer (rubber) for stakes
insect repellant
kindness
lawn chair
laundry bag
pillow
prescriptions, allergy meds
rain gear
repair kit (duct tape)
recyclable items
extra set of car keys
soap/shampoo
socks
sunscreen
sunglasses
tent (all weather/waterproof)
tarp
trash bags
toilet paper (back up)
toothbrush/toothpaste
towel
water for bathing (gallon jug)
"There is absolutely NO Re-Entry. Once you are in, you're in. Please stay within the festival grounds, there is no access to Public Lands from Road 650. All surrounding land is private, please respect our Neighbor's Property. We encourage everyone to sleep/stay and enjoy the festival Sunday night. Everyone will need to leave Monday morning. The festival site closes at NOON on MONDAY. Please travel safely on your way home." -Sonic Bloom Staff
---
Connect with Sonic Bloom on Social Media: