Sonic Bloom returns to Hummingbird Ranch in Colorado this summer with Tipper, A Hundred Drums, Lab Group, Lettuce, Of The Trees, and more.
---
Colorado's beloved bass music and camping experience, Sonic Bloom, is set to return June 16-19 with a lineup that's sure to attract fans from across the country. Praised for its uniqueness in art, production, and attention to detail, this festival takes place at the beautiful Hummingbird Ranch in Colorado. Alongside its unique vibes and stunning location, the festival is known for curating some of the best lineups in bass music, and this year's edition certainly packs a punch after its lengthy hiatus.
Headlining the 2022 edition of Sonic Bloom is Tipper along with Lettuce and Lab Group. The second line brings solid support from the likes of Detox Unit, Of The Trees, and Yheti – and the heat on this lineup only continues from there with the undercard. From the dreamy-deep sounds of Supertask and the funk-vibes of Daily Bread to the otherworldly sounds of Tripp St, Shlump, and Duffrey, there's something for every bass-lover on this lineup.
The lineup also offers up some cult-favorites within the experimental bass realm such as Eazybaked, kLL sMTH, Chee, Ultrasloth, Inzo, and Ravenscoon. Sonic Bloom will see both solo sets from Black Carl! and VCTRE, as well as one from their collaboration project, Integrate. More rising stars round out the undercard, including Player Dave, Resonant Language, and Jon Casey. Women who are absolutely crushing it in the scene right now are also prevalent on the lineup with highly-anticipated sets from Khiva, A Hundred Drums, NotLö, Huxley Anne, and Veil, to name a few.
Limited GA and VIP tickets as well as early-entry upgrades are on sale via their website. Do you plan to attend Sonic Bloom this year? Let us know in the comments!.
---
Sonic Bloom 2022 – Lineup: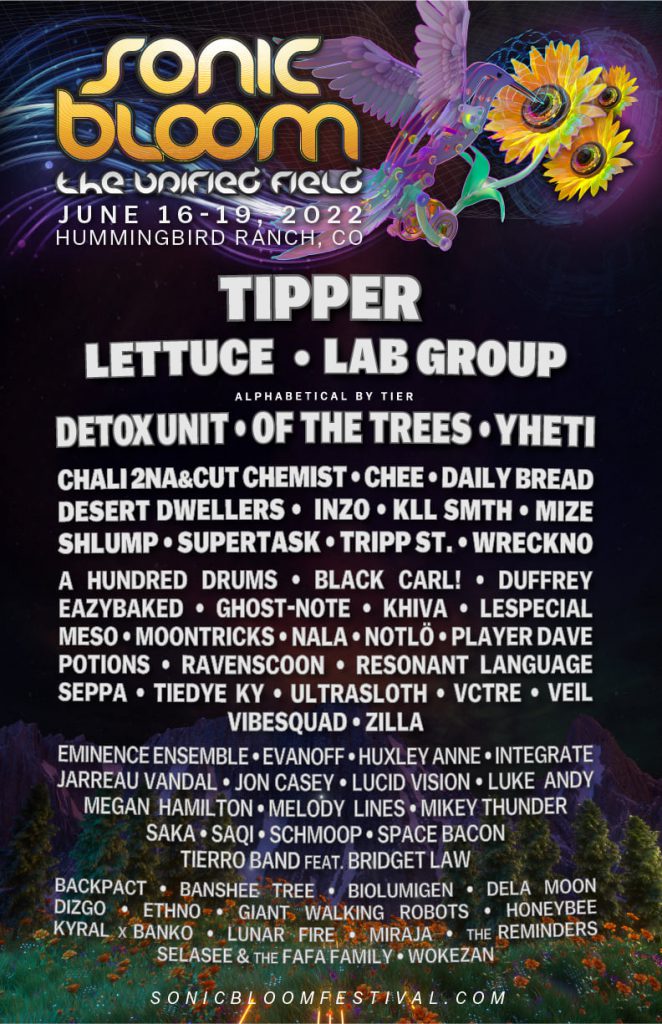 ---
Sonic Bloom 2022 – Lineup By Artist:
Tipper
Lettuce
Lab Group
Detox Unit
Of The Trees
Yheti
Chali2na&Cut Chemist
Chee
Daily Bread
Desert Dwellers
Inzo
kLL sMTH
Mize
Shlump
Supertask
Tripp St
Wreckno
A Hundred Drums
Black Carl!
Duffrey
Eazybaked
Ghost-Note
Khiva
Lespecial
Meso
Moontricks
Nala
NotLö
Player Dave
Potions
Ravenscoon
Resonant Language
Seppa
Tiedye Ky
Ultrasloth
Vctre
Veil
Vibesquad
Zilla
Eminence Ensemble
Evanoff
Huxley Anne
Integrate
Jarreau Vandal
Jon Casey
Lucid Vision
Luke Andy
Megan Hamilton
Melody Lines
Mikey Thunder
Saka
Saqi
Shmoop
Space Bacon
Tierro Band ft Bridget Law
Backpact
Banshee Tree
Biolumigen
Dela Moon
Dizgo
Ethno
Giant Walking Robots
Honeybee
Kyral x Banko
Lunar Fire
Miraja
The Reminders
Selase & The FaFa Family
Wokezan
---
Follow Sonic Bloom on Social Media: