After dropping their latest EP, Don't Loose Control, we caught up with Cosmic Boys to talk history, production, labels, and more!
---
They say two heads are better than one, which couldn't be more true when it comes to French duo Cosmic Boys. Fresh off the release of Don't Loose Control on Monika Kruse's Terminal M imprint, these outstanding music makers are making it crystal clear that the dancefloor wouldn't be the same without their unbridled techno energy. Even industry icons like UMEK and Richie Hawtin are lifting their name up to secure their spot as future industry leaders further.
Beyond unleashing red-hot personal tunes like "Go," "Power," and "Dark Places," The Cosmic Boys stay forever busy as they scour the world for impressive beat makers to feature on their very own labels, Legend and Scander. Check out the recently released Anthem Of Light by Sisko Electrofanatik & Lowshape or Gradual Disruption by NoNameLeft. You'll quickly realize that the Cosmic Boys have their focus set on eclectic soundscapes that contort the mind and spark the body to action.
As the Cosmic Boys continue to grow their brand and pull us to the dancefloor, they look forward to the future. This summer, the duo invites you to join them on August 27 for Legend Open Air in Pérols, France, as they unleash the heat with label friends and family, UMEK, Matt Sassari, Cebb, Nure, and Germain Rojo.
So, while we get excited for a night of mature soundscapes and wicked rhythms, let's get to know the men behind the music just a little bit better. Press play on their latest body rocker, download or stream it on your preferred platform, and continue for our chat!
Stream Cosmic Boys – Don't Loose Control On SoundCloud:
---
Hello Cosmic Boys, thank you so much for chatting with us today. Let's start off with a little history lesson. How did you guys meet, and what led you two to DJ and produce music together?
Hey guys, thanks for having us! We got in touch a long time ago via the Internet, and we met at an afterparty, after a not-so sober party! We had always been in our respective corners since the very beginning of our love story with electronic music. The common point which made our meeting special was because of Bar Live, which was the biggest after-hour place in France, and probably one of the best in Europe, which was 10 minutes from our homes!
You guys are based in France, and I'm curious to know what the music scene is like over there? What are some of your favorite local clubs, and do you have any interesting stories about your experience that you would like to share with us?
The scene in France has come back quite strongly since all rules around COVID have been lifted. There will be events and festivals everywhere this summer – and we feel great about that!
In our hometown, there are still not a lot of clubs; only one remains, called Dieze Warehouse, where we like to do our Legend events. When clubs finally got the right to re-open in January, we made an event like one month after that, and it was so special with the atmosphere and people going nuts! We never saw that many people in the DJ booth ever there. [Laughs] It was really nice and so good to be able to party all together again!
Talk to us about your passion for techno. What is it about the genre that made you fall in love and ultimately pursue it as a career? In addition, how has your style evolved since your first production back in 2012?
As said previously, there was this very big after-hour place in our hometown which had a real German music identity. Residents played music from labels like B-Pitch Records, Boxer, Sender, Kompakt, etc. This was our first inspiration that you can still find a bit in our actual music. Then, of course, we created our own identity by melting minimal and electro which led, after all, to something more techno, punchy, and hypnotic.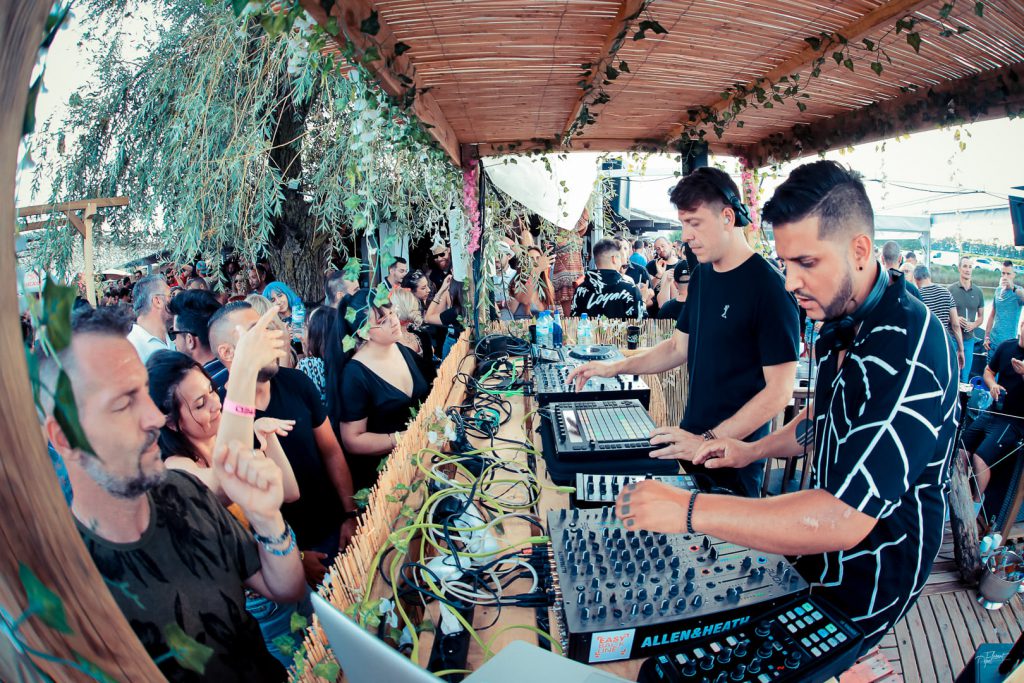 You just dropped a brilliant EP called Don't Lose Control, and I'd love to tap your brain about your studio process. How do you guys break up the work, and can you talk about how you deal with creative differences?
Thanks for the kind words; we're very happy about that release! We always work together in the studio. We don't really have rules; we always start with the kick bass, then bring the drums, but the choice of each sound is always a common choice. When it comes to the harmonies or melodies, it really reflects our mood at the moment, so it can really change from one week to the other, even sometimes from one day to the other!
Staying on the topic of music, if you had to choose three tracks from your discography that had the biggest impact on your career, what would they be and why?
The first one is "Titan." This track has a special story because we produced this track in four hours, and then it stayed inside the computer for no less than two years. One day we re-discovered this project and decided to play it, and people went crazy about it. So, we decided to release it on our label Scander, and it went to #1 on the Beatport Minimal charts for months!
The second one would be "The Bast." We did this track because of a friend called Bastien. This comes as a nickname to him during holidays in Mauritius. We released this track on Legend, and Richie Hawtin has used it for the teaser of his South American tour. Monika Kruse highly supported this track which led to discussion together after a story on Instagram!
The third track would be "Evolution." We worked on it and then, same as "Titan," it remained on the computer for some time, maybe a couple of months. Then after a quick chat with Umek, who asked us for some fresh stuff, we sent him the project, and he directly liked the mood. He worked a bit on the track, and so we released this track together, and it went #1 on Beatport techno for months!
You guys are both fantastic DJs and producers, but you're also responsible for creating two brilliant record labels, Legend and Scander. Can you talk a little bit about the differences between the labels?
Yes, we are running two labels, and we really love that! Scander is more oriented toward some minimal pumping techno with a slight electro touch. Legend is more melodic techno, and we hope it gets a quite unique touch!
Tell us a little bit about what's coming up next on both labels and who are some artists we should be keeping our eyes on?
On Scander, we're releasing music that touches us directly. For example, we recently released a very promising duo from Hungary called Nonameleft. Their EP called Gradual Disruption is a hit in the hype techno. We believe very much in this duo, and we're really happy to have them on board! On Legend, we highly recommend following Novem Vivit. He's a young artist who has only started, but that we discovered after playing some of his releases. This summer, he'll release a full EP, a very strong EP!
Speaking of Legend, this year, you're bringing back the Legend party for an open-air event in Pérols, France, that's not to be missed! Can you give us the inside scoop about what fans can expect for this year's edition?
We're actually doing two events in the year for the moment. A winter edition, happening at Dieze Warehouse, and one summer edition, open-air in Pérols, where we're living. This summer, it'll happen on August 27, and we're inviting some long-time friends. Umek, who we have this special story around the track "Evolution," and Matt Sassari, who is a long-time friend from the south of France. In addition, we'll have support from some local artists, who are also some long-time friends. We hope to make this event very special after all those hectic times we passed by with COVID.
Finally, outside of music, what are some other passions you have or hobbies that you engage in? 
We are very sporty people! Lots of biking, gym, and running, but another thing we deeply love is barbecuing with some fresh drinks, sunset, and best friends around! This is quite easy when you live ten minutes from the Mediterranean Sea like us!
---
Follow Cosmic Boys on Social Media:
Facebook | Twitter | Instagram | SoundCloud | YouTube