Day Trip Festival is making every house head smile with a stacked lineup featuring Elderbrook, Coco & Breezy, Lane 8, LP Giobbi, and more!
---
Day Trip Festival is a gem that we must protect at all costs. What started as a series of day parties hosted at Academy LA has evolved into a large-scale event catering to all house music lovers. Although the debut edition encountered a few hiccups and hurdles last year, Day Trip adapted like the pros they are and produced a stellar experience. As one of the first festivals back in SoCal during the pandemic, it left an imprint on many and revitalized our love for house music and live events.
Fast forward to the present and Day Trip Festival is gearing up for its second year on June 25-26 at the Queen Mary Waterfront in Long Beach. The 21+ event is switching things up this year with a new venue, vibe, and ambiance. Today, Insomniac is making all our dreams come true with a glorious lineup stacked with iconic talent. Both days feature nothing but heat, like Meduza, Armand Van Helden, Spencer Brown, Chris Lorenzo, and Fisher.
In addition to the big-ticket names, Day Trip Festival is making room for the talent, causing a stir in the best way possible. Acts like Chapter & Verse, Wade, Martin Ikin, and Wave Point will bring the house down with their fierce sets. Other artists such as Sam Divine, Mark Knight, Tokimonsta, Heidi Lawden, and Solardo will make you dance nonstop, so we advise you wear comfortable footwear. Lastly, Elderbrook and Gioli & Assia will leave you floored with their live sets, so you don't want to miss those. All in all, Day Trip Festival delivered yet again on the lineup.
Two-day passes for Day Trip Festival are on sale now, with single-day passes arriving on Thursday, May 12 at 12pm PT. Head over to their website for more details and to secure your experience this summer!
---
Day Trip Festival 2022 Lineup: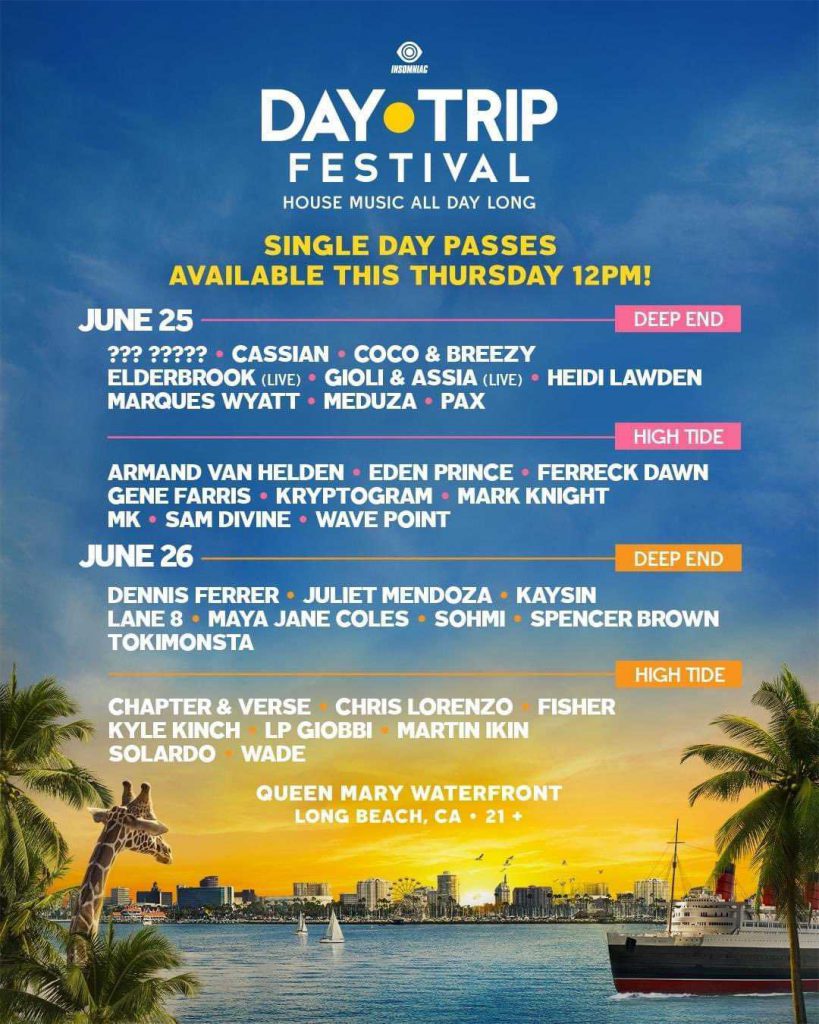 ---
Day Trip Festival 2022 – Lineup By Day and Stage:
Saturday, June 25
Deep End
??? ?????
Cassian
Coco & Breezy
Elderbook (Live)
Gioli & Assia (Live)
Heidi Lawden
Marques Wyatt
Meduza
Pax
High Tide
Armand Van Helden
Eden Prince
Ferreck Dawn
Gene Ferris
Kryptogram
Mark Knight
MK
Sam Divine
Wave Point
Sunday, June 26
Deep End
Dennis Ferrer
Juliet Mendoza
Kaysin
Lane 8
Maya Janes Coles
Sohmi
Spencer Brown
Tokimonsta
High Tide
Chapter & Verse
Chris Lorenzo
Fisher
Kyle Kinch
LP Giobbi
Martin Ikin
Solardo
Wade
---
Follow Day Trip on Social Media: