We caught up with Moore Kismet to chat about their new EP, upcoming animated series, and Digital Mirage set!
---
Moore Kismet is paving their own lane in the dance music scene with tracks that are intricately weaved with beautiful melodies and hard-hitting glitched out bass tones that can only be described as jaw-dropping. On top of this masterful production, Moore Kismet radiates positivity and is constantly spreading a message to simply "be yourself".
Last year, the scene was introduced to Moore Kismet through the Character EP and almost immediately this 15-year old was garnering the attention of listeners across the world. Tracks like "Telekinesis" and "Escape" brought their incredible talent to the forefront and listeners were blown away at how their sound was unlike anything they have heard. The hits kept coming after that, with Moore Kismet doing a few remixes for artists such as Zomboy, PhaseOne, and Spag Heddy.
Continuing with this momentum, Moore Kismet recently released their six-track Revenge of the Unicorns EP. It is arguably their best, most intimate work yet with each track bringing strong emotions together. You can tell that they put their entire soul into this body of work and the result are tracks that resonate with everyone.
With the release of this new EP and all the buzz around Moore Kismet, we jumped at the opportunity to sit down and chat. Read on for a discussion on how this EP came about, their upcoming animated series Stargazers, and their groundbreaking Digital Mirage 2.0 set!
Take a listen to Revenge of the Unicorns EP on Spotify below, download or stream it on your favorite platform, and read on for our chat with Moore Kismet!
Stream Moore Kismet – Revenge of the Unicorns EP on Spotify:
---
Hey Moore Kismet, thanks for chatting with us today! Let's talk about your latest EP Revenge of the Unicorns. What's the story behind making this EP and did it differ from your previous releases?
The story behind creating ROTU is essentially me having begun another project in the middle of working on my album and using techniques I've formulated from there in the production for some of the songs. It all got brought together in a way that I wasn't expecting.
One of my favorite tracks off the EP is "Convulsion Therapy". The track showcases your distinctive trap/dubstep hybrid style that fans have praised. What's your process like in the studio when coming up with a track like this?
"Convulsion Therapy" originally began as a flip of "bloodline" by Ariana Grande, then I altered bits and pieces of the existing flip and made it my own. The night I wrote that song, I wanted to see how aggressively minimalistic I could go throughout the course of the song's progression. The story behind the song is something that I'm still afraid to share to this day, but I wanted to represent that through music.
From the artwork for the Character EP to Revenge of the Unicorns EP, there is a constant theme of the mythical beast in your music. What does the unicorn represent and symbolize to you?
[Laughs] Yes!! The unicorn is my spirit animal. I love including them in any artwork I can get them in as unicorns make me happy. This goes for rainbows too.
In previous interviews, you have chatted about working on an animated series titled Stargazers. Can you give us more details about that?
Yes! Stargazers is an animated series that I'm working on with my friends that revolves around a group of 8 warriors fighting crime in an intergalactic system of planets and nations. It focuses on their daily lives fighting crime as they discover their identities through love, hardships, and family. We've been working on this show for a little over a year now, and we're finally starting to get things together to pitch to networks.
If everything goes smoothly and this gets picked up somewhere, then I'd technically be the first DJ/musician to have an animated show on a major network since Diplo's Major Lazer show a while back. I've always had a love for visual art and screenwriting, and it's something that I've pursued since before I even got into music. I'm so glad I get to finally bring the dreams of me and my friends to fruition.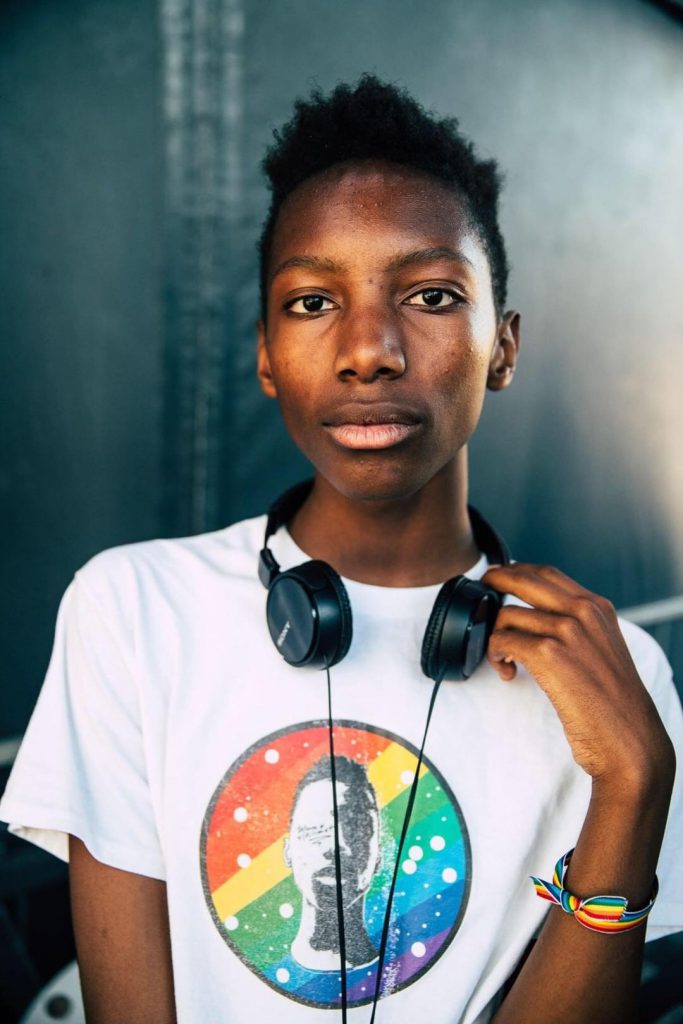 Your Pride set from Digital Mirage 2.0 was unbelievable! Numerous people, including Proximity's founder Blake Coppelson, called it one of the best sets of the weekend. How did you feel receiving all the positive praise for a set that meant so much to you?
Thank you so much! Honestly, it was really crazy. I wasn't expecting to get so many messages, mentions, and IG story posts about this set. I wanted to do something special because Pride Month (June) is insanely important to me. We were only given a week to bring it to life, so we were on the clock as to how much we could do in so little time. I'm so glad that what we were able to do made thousands of people at home watching happy!
What has been the biggest struggle that you both have faced so far in your career, and how did you overcome it?
Homophobia and transphobia. I'm still struggling to make it through that, but I'm overcoming it by realizing that with however little hate there is, there will always be 10 times more love.
As we dive deeper into the latter half of the year, what are some goals you'd like to achieve before the end of 2020?
I would love to be able to finish my album before 2020 ends. I've been sitting on this for so long and I would love to get it out, but I've been so stuck on it. I'd also love to play some of my favorite festivals like EDC, Lost Lands, Bonnaroo, Lollapalooza, and others when things are safe again.
Finally, if you could offer up an inspiring message to your fans during this uncertain time, what would it be?
I know we've all lost faith in 2020, but if we just continue to stay safe, healthy, and productive, we'll be able to push through the rest of this year and make better strides towards making the US a safe place for everyone again in 2021.
---
Connect with Moore Kismet on Social Media:
Facebook | Twitter | Instagram | SoundCloud | YouTube