While the stages at EDC Las Vegas are set to be booming with talented DJs, there are plenty more on the art cars as well!
---
EDC Las Vegas is one of the largest festivals on the planet and doesn't skimp on the experiences that it brings for attendees. From the nine booming stages that bring a diverse range of genres to art installations and areas like Downtown EDC, there's a party happening wherever you look when you're at the transformed Las Vegas Motor Speedway.
While thousands will surely be flocking to sets at stages like kineticFIELD, cosmicMEADOW, neonGARDEN, and more to get their fix for the night – others looking for more intimate affairs can find them as well by checking out the art cars. Placed around EDC Las Vegas are the Parliament, Boombox, Rynobus, and Forest House Art Cars which add a deeper level of vibrancy to the festival, and some banging lineups of their own as well.
Hosted by Insomniac Records, the Parliament Art Car is set to host a number of stunning artists over the course of EDC Las Vegas. This includes Sultan + Shepard, Qrion, Golf Clap, Lucati, and Vintage Culture, along with unique performances like Zeds Dead's After Hours Set and Born Dirty's Techno Set as well.
The Boombox Art Car is bringing the heat with legends in the scene like DJ Demigod to rising stars such as Fantom Freq. Other artists set to play throughout the festival range from Morelia and El Monk to Yokai and Skonka, so make sure you check out some sets here throughout the weekend.
This year will see RNBW host the Rynobus Art Car and offer up a flurry of fantastic artists that will put you in a proper groove. Adam Auburn, Kendoll, Kittrix, and more are set to play on Friday, while NIGHTMODE takes the reins on Saturday with Knock2, STAR SEED, LINK, and One True God, among others. Then, mau5trap is set to close the Rynobus down on Sunday with Imanu, Lupa, Morgin Madison, TSU NAMI, Wenzday, Diamond Dallas Tex, SVNF8, and No Mana b2b EDDIE.
That's not all, though, as the Forest House Art Car is set to flip from bass to house during its three-night run. Bassrush leads the charge on Friday with a plethora of drum and bass action from artists including FuntCase, Doctor P, Muzz, and Koven. There's also an epic b2b2b2b in-store featuring Fallen, Richter, Fury, and Nightstalker with MC Dino and XYZ. IN / ROTATION curates the lineup for Saturday with Bombays, Masteria, and Cloverdale, among others, while the Femme House takeover on Sunday offers sounds from LP Giobbi, Kaleena Zanders, HANA, Bexxie, Sam Divine, and more.
GA tickets for this year's edition of EDC Las Vegas on May 20-22 are sold out and limited VIP options remain via their website. You can also enter our contest for your chance to win a pair of VIP tickets as well!
---
EDC Las Vegas 2022 – Art Car Lineups: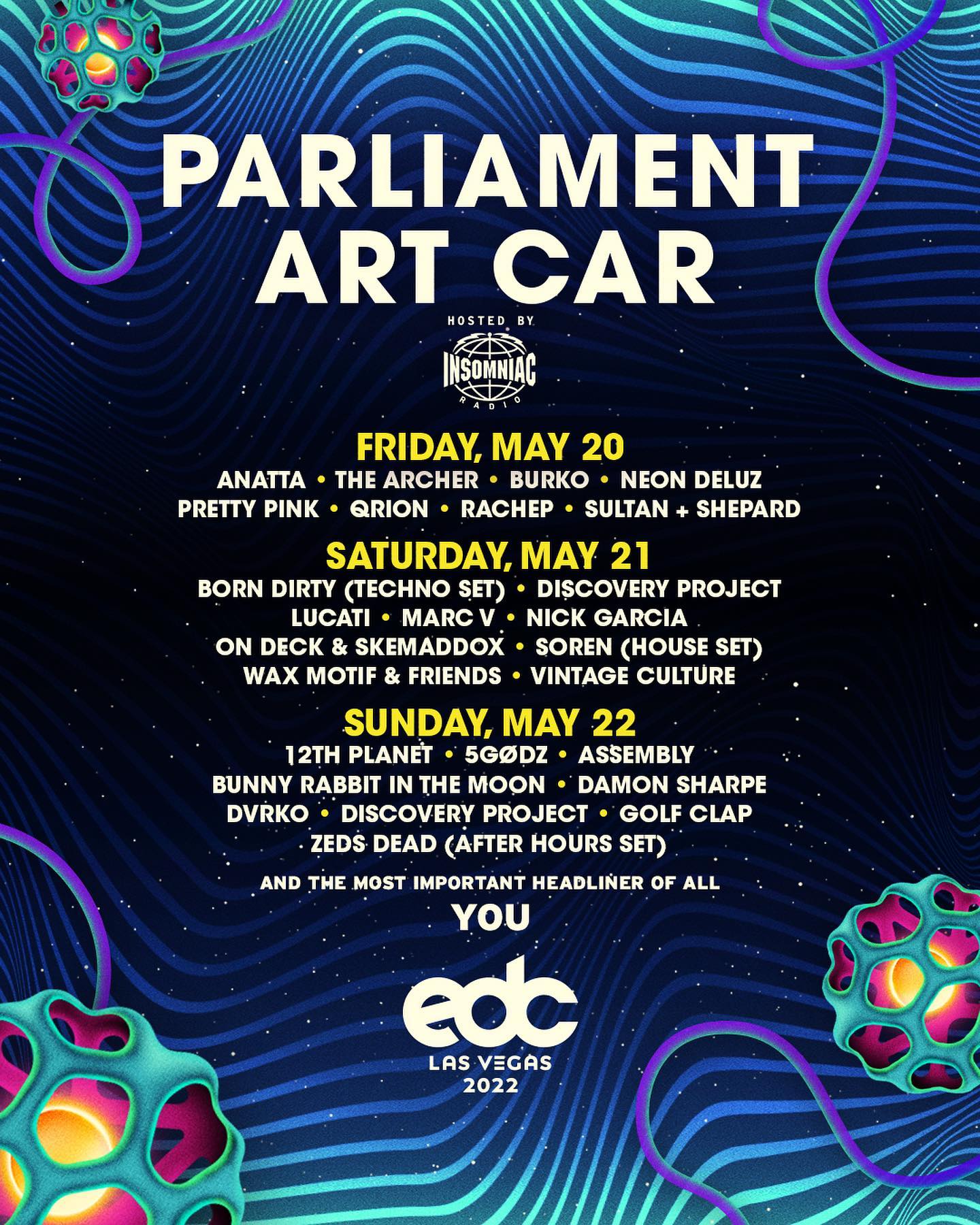 ---
Connect with EDC Las Vegas on Social Media: