Shambhala Music Festival returns to the magical forest July 22 – 25, and the lineup for 2022 is one of the best yet.
---
When Shambhala announced dates for its return in 2022, the excitement was truly in the air. The thought of returning to beautiful British Columbia, surrounded by friends and like-minded strangers – there's no feeling quite like it. Knowing we will be immersed in the music we love yet again is the greatest rush of joy, and July 22 – 25 cannot come fast enough. But here is something wonderful to hold us over until we're back – an absolutely massive lineup.
This magical festival is known for hosting an extensive amount of artists from all different genres and continues to blow fans away each year. 2022 is no exception and once again, the minds behind Shambhala have curated an absolutely stacked lineup for its 23rd edition. From house titan like Chris Lake, and bass favorites Of The Trees and MYTHM, to the funky, cool sounds of Channel Tres, and the globally-inspired creations of CloZee, there is really something for everyone.
Also included on the lineup and set to grace one of the six Shambhala stages are TOKiMONSTA, Felix Cartal, Kasablanca, Walker & Royce, and VNSSA. Fans will also be treated to Sébastien Léger who will bring his Modular Live show, as well as b2bs from Chali 2na and Cut Chemist, and Veil and NotLö. This lineup has us stoked for a weekend of dancing and creating new memories! We'll be counting down the days until the return to the Salmo River Ranch.
Tickets are almost sold out for Shambhala, so act quickly if you want to catch the artists on this amazing lineup! For more information and to purchase yours, visit the official website.
---
Shambhala 2022 Lineup: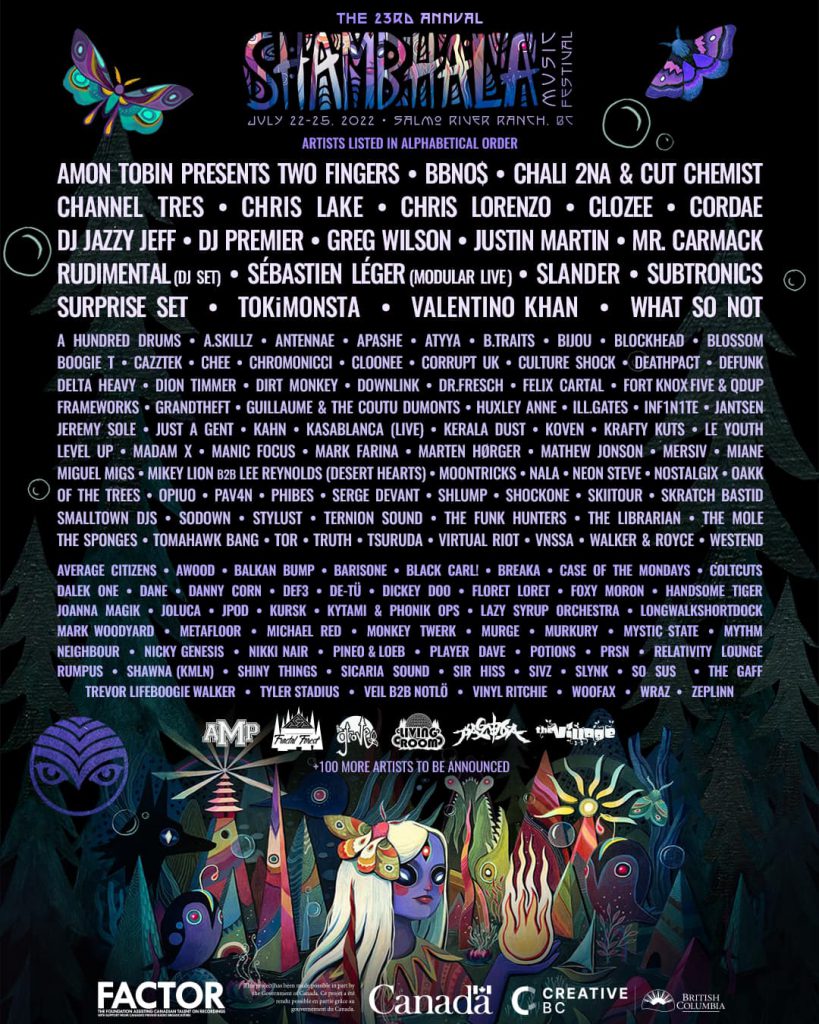 ---
Shambhala 2022 – Lineup By Artist:
Amon Tobin presents Two Fingers
bbno$
Chali 2na & Cut Chemist
Channel Tres
Chris Lake
Chris Lorenzo
CloZee
Cordae
DJ Jazzy Jeff
DJ Premier
Greg Wilson
Justin Martin
Mr. Carmack
Rudimental (DJ set)
Sébastien Léger (Modular Live)
SLANDER
Subtronics
Surprise Set
TOKiMONSTA
Valentino Khan
What So Not
A Hundred Drums
A Skillz
An-ten-nae
Apashae
ATYYA
B. Traits
BIJOU
Blockhead
Blossom
Boogie T
Cazztek
Chee
Chromonicci
Cloonee
Corrupt (UK)
Culture Shock
Deathpact
Defunk
Delta Heavy
Dion Timmer
Dirt Monkey
Downlink
Dr. Fresch
Felix Cartal
Fort knox Five & QDUP
Frameworks
Grandtheft
Guillame & The Coutu Dumonts
Huxley Anne
ill.gates
INF1N1TE
Jantsen
Jeremy Sole
Just A Gent
Kahn
Kasablanca (Live)
Kerala Dust
Koven
Krafty Kuts
LE YOUTH
Level Up
Madam X
Manic Focus
Mark Farina
MARTEN HØRGER
Mathew Johnson
Mersiv
Miane
Miguel Migs
Mikey Lion b2b Lee Reynolds (Desert Hearts)
Moontricks
Nala
Neon Steve
Nostalgix
OAKK
Of The Trees
Opiuo
PAV4N
Phibes
Serge Devant
Shlump
ShockOne
SkiiTour
Skratch Bastid
Smalltown DJs
SoDown
Stylust
Ternion Sound
The Funk Hunters
The Librarian
The Mole
The Sponges
Tomahawk Bang
TOR
Truth
Tsuruda
Virtual Riot
VNSSA
Walker & Royce
Westend
Average Citizens
Awood
Balkan Bump
Barisone
Black Carl!
Breaka
Case of the Mondays
ColtCuts
Dalek One
Dane
Danny Corn
Def3
De-Tu
Dickey Doo
Floret Loret
Foxy Moron
Handsome Tiger
Joanna Magik
Joluca
JPOD
Kursk
Kytami & Phonik Ops
Lazy Syrup Orchestra
Longwalkshortdock
Mark Woodyard
Metafloor
Michael Red
Monkey Twerk
Murge
Murkiry
Mystic State
MYTHM
Neighbour
Nicky Genesis
Nikki Nair
Pined & Loeb
Player Dave
Potions
PRSN
Relativity Lounge
Rumpus
Shawna (KMLN)
Shiny Things
Sicaria Sound
Sir Hiss
Sivz
Slynk
So Sus
The Gaff
Trevor Lifeboogie Walker
Tyler Stadius
Veil b2b NotLö
Vinyl Ritchie
Woofax
Wraz
Zeplinn
---
Connect with Shambhala Music Festival on Social Media: