After dropping "Remind Me Why" with Matt Fax and Mirror Machines on Anjunabeats, Amy Wiles swung by to dive into the single and more!
---
Amy Wiles began her career in the dance music scene at the age of 16 with influences that ranged from trance to house – and she hasn't looked back since. Originally from Essex but now residing in London, she's flourished over the past few years after becoming a resident DJ for Anjunabeats back in 2018 while also taking the reins as their product manager.
Last year saw Amy Wiles deliver her debut single, "Biding Time," on the Anjunabeats Rising Vol. 6 and she's also graced the Anjunabeats Rising Residency with four fresh mixes since that series began. This year has only seen her grow further, first with a remix of gardenstate's smasher of a tune "1995" and more recently with the release of her collaborative track with Matt Fax and Mirror Machines, "Remind Me Why."
While Amy Wiles' recent jaunt into the production realm has been met with plenty of praise from tastemakers, she's deepened her grip on members of the Anjunafamily with her performances as well. Prior to the pandemic, she graced the stage numerous times at showcases for Anjunabeats, Colorize, and more while also playing festivals including Creamfields and Tomorrowland. Throughout 2020 she continued on that path by live-streaming and found her way back behind the decks at ABGT450 and Creamfields once again in 2021.
Now, with appearances at Group Therapy Weekender at The Gorge and in London on the horizon, as well as her new single available for the world to hear, we caught up with Amy Wiles for a quality chat. Take a listen to "Remind Me Why" with Matt Fax and Mirror Machines on Spotify or your preferred platform, and read on as she dives into the new single and plenty more.
Stream Amy Wiles, Matt Fax – Remind Me Why (feat. Mirror Machines) on Spotify:
---
Good morning Amy and thanks for taking the moment to chat with us about your new single "Remind Me Why" with Matt Fax and Mirror Machines. You mentioned on socials how the single feels surreal – combining with an old business lead and a duo from a band in your past. Looking at the response today, what makes you most proud of the creative endeavor of this track? Does it represent any tentpole in where you want to head creatively?
It feels great to finally have the track out there! I wrote it over a year ago and a lot has happened since then. Musically, I'm still touching on a range of different influences and genres – there's a wide variety of sounds across my previous singles, 'Biding Time', 'Remind Me Why', and the other projects that I'm currently working on.
I'm having loads of fun experimenting and figuring out who I am as an artist! I think old skool sounds and Trance elements will always feature in my music, but in terms of the genre, it's a bit of a mixture; Progressive House, Trance, Melodic House & Techno, and Breakbeat. I don't want to pigeonhole myself just yet!
With Drumsheds' ABGT450 in the rearview, and Group Therapy Weekender at The Gorge and Creamfields in the headlights, as a performing artist right now what's one thing you'd love to see evolve in events? Likewise, is there anything creatively you want to pull into your skillset as a performer in 2022 and beyond?
I would love to keep seeing more diverse line ups in all areas. As a female artist, I feel like Trance is a very male dominated genre and I would love to see more women leading the scene – Trance lineups in particular are still 90% male. We're always championing fresh female talent at Anjunabeats which is great, and seeing those women smashing it, releasing music and working their way up to those headline slots as well, not just the opening slots, is definitely something I'm passionate about!
On a personal level, I would love to one day play a longer set, maybe even a six-hour one. I know for a fact I would have so much new and forgotten music to play, and it would be such a fun experience and journey to share with the fans – playing a mixture of so many genres that I grew up on and that influenced me!
For unfamiliar fans, what is your role as a product manager at Anjunabeats? If someone wanted to break into the back end of the music industry – not as talent, but as someone at an agency or at a label – is there any advice or first steps you can share?
In a nutshell, the role of a Product Manager (PM) is to oversee a campaign from start to finish, ensuring that targets are being met, and that essentially the artist and management are happy. I work with every single department as a PM, which includes PR, streaming, design, A&R, marketing, radio, etc. You are defined as the glue for all goings-on in a campaign, so it definitely requires great organisation.
If you are starting out, internships are always a great foot in the door. That's how myself and many other colleagues at Anjuna started off. It may be little pay or unpaid but if you are passionate about doing it then it's worthwhile. Also, get out to as many events as you can, try to meet people, go to networking events, and connect with those on emails / social media. Just make friends in the industry really! At the end of the day you all have the same shared passion.
You recently tweeted about your mom's banger playlist a few days ago and were quoted regarding how your father exposed you to Shiny Toy Guns. How has your family shaped your career and fostered your passion? If you could share one thing that you don't think they hear enough, what would it be?
They've had a huge impact on my musical journey for sure. My mum was an old skool raver, she had me listening to Trance since I was a baby. I was dancing to Greece 2000, Underworld, Cafe Del Mar in the car from the age of three. My favourite song when I was that age was Underworld 'Born Slippy', she always tells me, which is hilarious because usually kids are listening to Disney or something from that age right?
As I grew older and was in school I always latched onto anything remotely melodic in the charts, whilst my friends were listening to R&B and Hip Hop, I was listening to Swedish House Mafia and Calvin Harris, then in my later teens I was listening to newer Trance; Anjunabeats of course, Armada, Subculture, Kearnage, etc. But I'll always love the classics as that is what I grew up on, and now I'm finding that I'm using this influence in my music. My dad was always into indie bands which is why I was mega into Shiny Toy Guns, and my brother, Macca Wiles, is also an artist who makes rap / rock music, very Linkin Park influenced so I get a lot of that from him too!
I would tell them all to listen to this remix of Ben Böhmer by an artist called jamesjamesjames. I love it. My Dad loves Anjunadeep and Ben Böhmer plus it's got the infused old skool, trance sounds that my mum would love as well.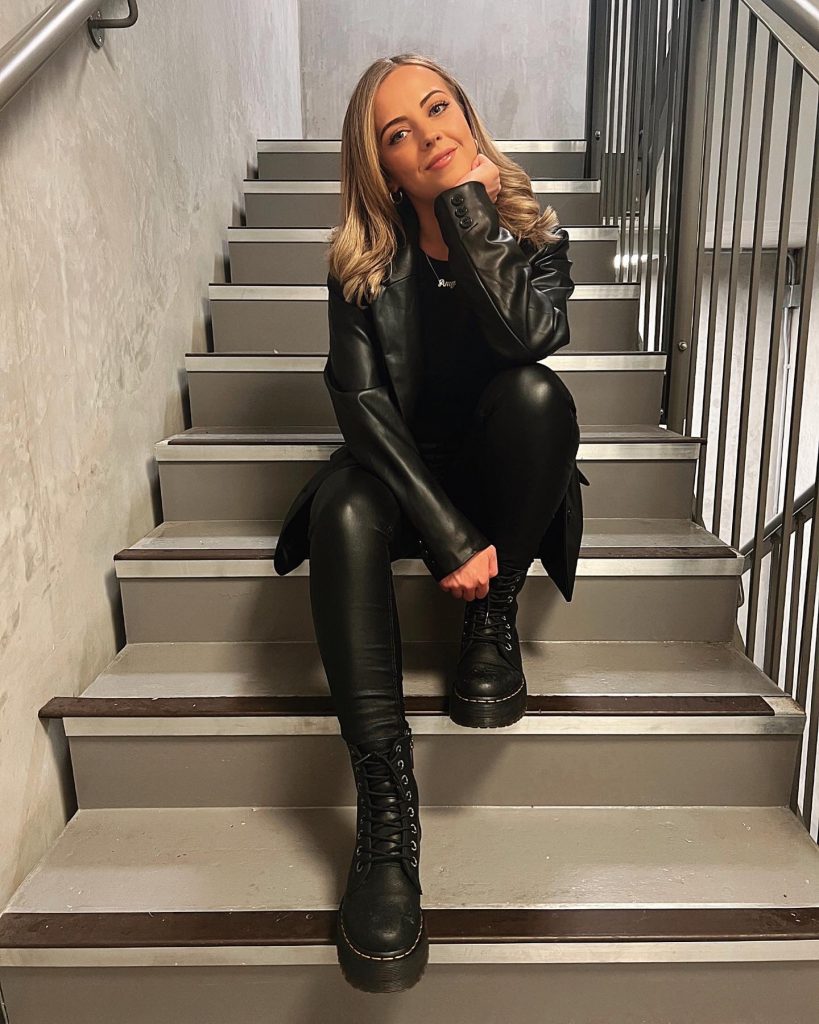 When you look at the history of the male-dominated electronic scene, and yet one that also rooted itself in inclusion of outcasts, is your outlook positive for growth, or is there any underlying concern you carry?
I do feel like Trance has a bit further to go on this than some dance genres – compared to Techno or House for example, women are still very underrepresented. I do feel like it's moving in the right direction, and there are some amazing girls coming though; Naz, Pretty Pink, Nifra, Nourey, and Maria Healy to name a few – but there is definitely room for more! I'm confident we'll get there though!
Finally, let's talk about mental health for a moment and the artist lifestyle. A recent tweet spoke of the ups-and-downs of being an artist; the pressure you put on yourself and the external pressures. As someone who walked both sides of the music business – as an artist and as a businessperson behind the scenes – is there any advice you'd give your peers and any hopefuls out there about coping with pressure?
It's all about getting the right balance. Like most, I have good weeks and bad ones when it comes to dealing with mental health and believing that I'm where I am supposed to be at that moment in time. The way I deal with things when I'm feeling overwhelmed is to write lists, I have an Amy the Product Manager list and then an Amy Wiles Artist list and just prioritise certain things each day and work through it.
I'm quite bad for working all day and then until silly o'clock at night, but the truth is I wouldn't do that if I didn't love what I do. Take regular breaks, go on walks, chat to friends about any struggles, lean on those that are happy to help and support you. Putting pressure on yourself is normal I think so when that happens to me I just let it happen, sleep on it and then move forward.
---
Follow Amy Wiles on Social Media:
Facebook | Twitter | Instagram | SoundCloud | YouTube | Twitch