Get your best dance moves ready! Lightning in a Bottle has released their daily music lineup for their 2022 edition for pre-festival prep.
---
Brighter days are ahead for dance music lovers as Lightning In A Bottle gears up for its grand return this May. After releasing a Herculean-sized lineup from festival favorites to up-and-comers, those who choose to attend will soon experience the renowned magic the festival has to offer upon a lakeside campground. The 2022 edition will run May 25-30 in Buena Vista Lake with music running every day. Today, the Do LaB released their day-to-day lineup ahead of time to get everyone planning to attend even more hyped.
The first day of Lightning In A Bottle will greet attendees with festival favorites like The Fungineers and Jive Joint bringing some funky, otherwordly vibes. Thursday has everyone geared up for the Desert Hearts Lakeside Party, which was a major hit for bassheads and house heads alike in the past. Both days feature an impressive undercard such as Smoakland, Thought Process, and Innella as well.
Friday kicks off the opening of the bigger stages with Glass Animals and Chet Faker headlining the Lightning Stage, with Big Wild and the can't-miss b2b set featuring G Jones and EPROM happening at the Thunder stage. The Woogie stage welcomes artists like VNSSA and Lubelski hitting the decks. Friday's undercard also features hot sets from acts like Player Dave, Megan Hamilton, Saka, and Dirtwire's special "Psychedelic Hoedown."
Saturday keeps the party going with Kaytranada headlining the Lightning Stage, renowned bass names like CloZee, LSDream, and EdiT from The Glitch Mob taking over the Thunder Stage, while Four Tet graces the Woogie with his unforgettable sounds. The Stacks stage is bringing some deep, experimental vibes from Dalek One, MYTHM, and Mirror Maze, while attendees looking for some groovy, psychedelic vibes can check out the music of Templo and Max Cooper.
To close out a memorable weekend, Sunday brings some of the LIB favorites back to town, including a headlining set from GRiZ and SG Lewis bringing some funky vibes to the Lightning. The Thunder stage is absolutely stacked with bass artists such as Ivy Lab, Mr. Carmack, and Of The Trees, while the undercard holds some impressive acts including A Hundred Drums, Xotix, and Yotto bringing some fresh sounds to the festival.
Lightning in a Bottle creates an environment where attendees and artists alike can come together to showcase their creative side and become more in tune with themselves. This is a must-attend event if you're looking to have an unforgettable weekend. Tickets and car camping passes for Lightning in a Bottle are now available via their website. Make sure to check back as we'll keep you updated for this year's festival edition!
---
Lightning In A Bottle 2022 – Daily Lineup: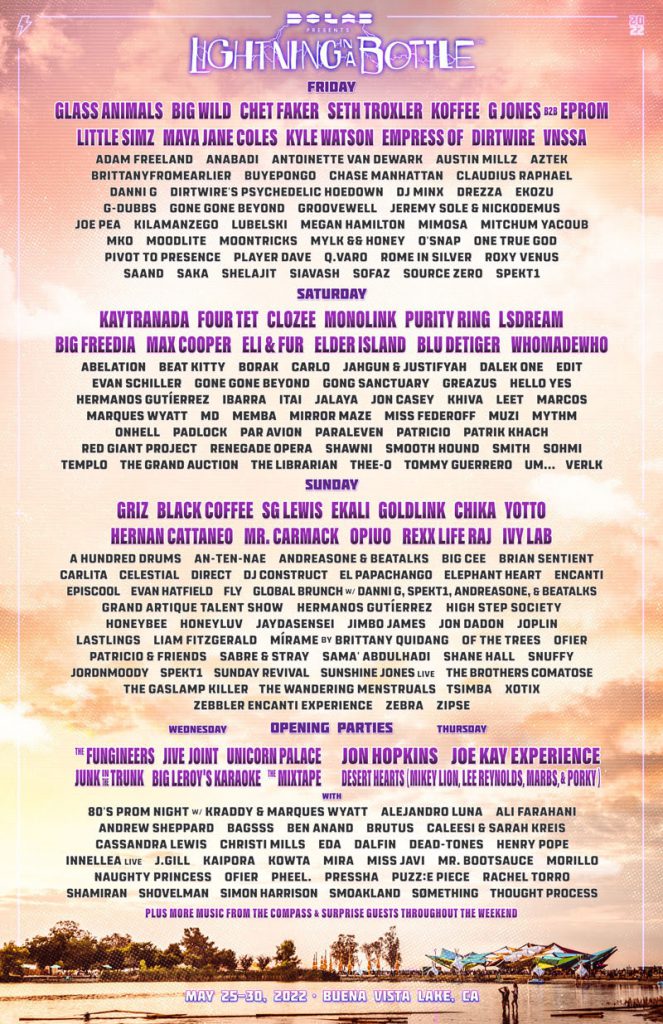 ---
Follow Lightning In A Bottle on Social Media: