Following the release of his debut EP, James Juke gave us an inside look behind the project, how he found a passion for house music, and more.
---
With music evolving and new genres emerging across the landscape, it's easy to lose sight of how we arrived here in the first place. For rising artist James Juke, this is far from the case. He looks back to the origins of house music for his inspiration, paying homage to the sounds of The Loft, Paradise Garage, and Warehouse. Artists like Demuir and Disclosure have already recognized James Juke's clear talent and have shown early support for his budding career. Meanwhile, he has already graced stages and played as support for big names like Kaytranada and Purple Disco Machine.
After releasing his debut EP, Where The Party Starts, via Late Night Jackin', there's no doubt that this is merely the first drop in an entire ocean of potential. James Juke's music elicits sensations of clarity with elements of disco, funk, and more setting his sounds apart. Give this one a spin on your favorite platform, you won't regret it.
Following the occasion, James Juke gave us an inside look behind the project and what culminated in his current path as a producer with an interview. He also shared an exclusive guest mix packed with mesmerizing sounds and unrivaled energy. Check out the interview below and listen to the guest mix on SoundCloud!
Stream EDMID Guest Mix 309 || James Juke on SoundCloud:
---
Hi James! Thank you for chatting with us today. Let's kick this one off by diving deeper into your early days. What inspired you to follow the path of being a DJ and producer in the dance music scene?
I've been an avid music listener my whole life. My parents played a lot of jazz, soul, funk, and world music and it didn't take my mom long to notice my knack for rhythm and movement. When I was seven, she signed me up for tap dance classes and I was immediately hooked — percussion with my feet, I thought. For most of my adolescence, I mainly listened to hip-hop and it wasn't until my semester abroad in Buenos Aires, Argentina, that I discovered house music. I was fortunate enough to see Honey Dijon and Folamour within the same month — not coincidentally whose styles I fuse — and something clicked: the beating kick, the pulsing bass, the Rhodes chords, the horns, the syncopated snare patterns.
Upon returning to college in Vermont, I bought myself a simple controller hooked up to Serato and began DJing a couple of small parties in college, showcasing house and disco music to a demographic that hadn't yet been exposed. After graduating, I moved back to the Bay Area and continued DJing at a few local bars. It wasn't until the pandemic struck and I found myself with about two months of free time that I downloaded Logic and started messing around.
For the first year, the progress was very minimal and I wasn't taking the time to learn the proper tools and techniques. In February of 2021, I signed up for Demuir's Patreon and got monthly 1-on-1's with him, where he would give me feedback on a few tracks. His tips and encouragement developed my sound quite quickly over the course of a few months and by May, I had signed my debut EP with Late Night Jackin'. That was the moment when I realized, "Wow, okay, I have something unique to offer to this genre that I love so much". 
Your music is influenced by a lot of old-school house that was found at iconic venues like The Loft, Paradise Garage, and Warehouse. How did you come to fall in love with this retro sound?
As I mentioned, I grew up listening to some of the music played at these venues, but mostly the few tracks that became mainstream hits. Before they began playing what came to be known as "house" music, they were playing mostly disco, funk, and soul (with some African, Latin, and rock music mixed in). I've always been a very curious and academic guy, so when I came across a book called, Love Saves The Day by Tim Lawrence, I read through it in a few days.
The history of the development of DJing and club music was so fascinating to me — the characters, venues, styles, stories. What especially stood out were the incredible communities that were formed at venues like The Loft and Paradise Garage; it felt so authentic, so diverse, so much about the music and dancing in its purest form.
The book also included tracklists from some of the early prominent DJs such as Larry Levan and Nicky Siano. I found so much incredible, mostly forgotten, music through these lists, from which I continue to source a lot of my samples. The throughline between disco and house continues to mesmerize me. You don't need to be an expert to hear the "house" sound in Imagination's 1981 track "Burnin Up". 
You also released your debut EP, Where The Party Starts, not too long ago. First of all, congratulations on that massive accomplishment! Second, can you walk us through the production process as you were working on this?
Thank you! It still feels like an incredible accomplishment for a relative novice like me. What's immediately clear in my music is that I've always loved the idea of sampling. A lot of the hip-hop I was listening to in middle and high school showed me the art of sampling and breathing new life into older music. Making something sound completely different or even unrecognizable from the original track is a skill.
I start most of my music by opening up Serato Sample, chopping it into random segments, and playing the different chops like instruments. I love layering samples on top of one another, which can be difficult, but proper EQing can lead to a fullness of sound that I aim for. With that said, some of the best advice that I got from Demuir was to not overcomplicate my music. This continues to be a challenge but, in my experience so far, often, less is more.
Last year saw you take the stage at 1015 Folsom in support of artists like Kaytranada and Purple Disco Machine. What was it like opening for them and how did you approach these sets?
These were my first two proper club sets, so I was obviously a bit nervous, but knowing that I had several friends in the crowd and reminding myself that I was chosen for a reason gave me the confidence to do it. Opening the main room for Purple Disco Machine was definitely more nerve-wracking, but allowing myself to dance a bit, smile, and enjoy the music I was playing lifted the fear. I played my usual balance of always-groovy jackin', disco, and deep house and loved seeing the room fill and begin to come alive throughout my hour of playing.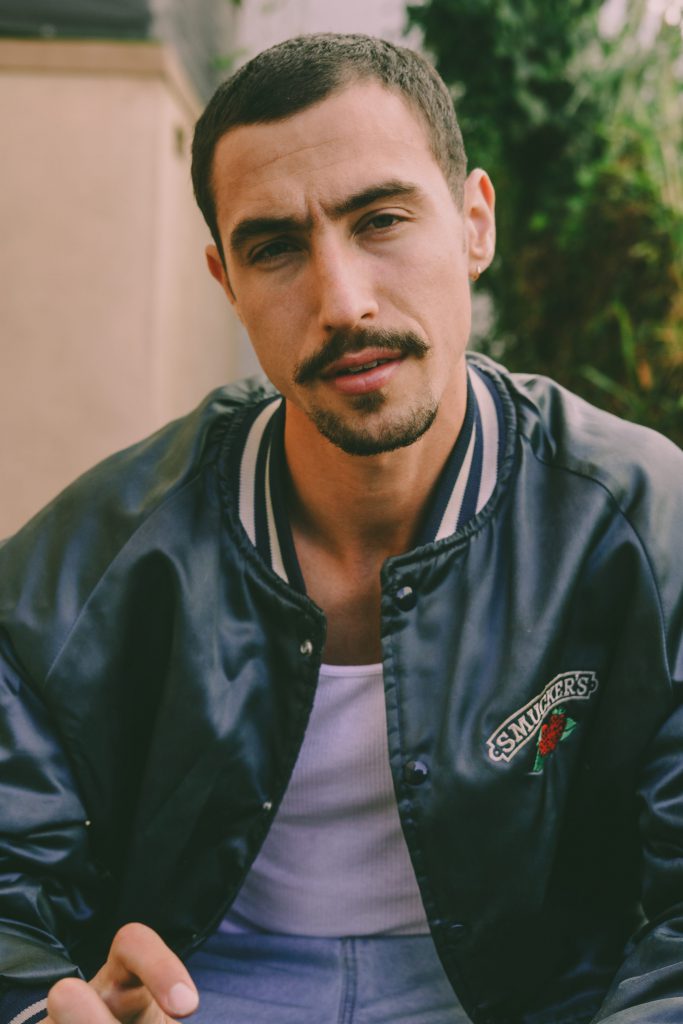 What are some of the milestones you hope to hit as you continue with your music? Where are you hoping to see your music go?
It's funny you ask this, as I was just talking to my amazing manager, Gaston McGary, about this very thing. By the end of 2022, my goal is to play a show in another city (or country), provide direct support for a few artists I love, and continue to produce music, as I set my sights on bigger and bigger labels. In the slightly longer term, my dream is to be able to do music full-time within the next two years or so. 
As you continue with your career, what else should we look out for? Are there any upcoming projects that you plan on dropping this year that you can share with us?
My next release, a four-track EP titled Brass Reconstruction comes out on February 18 on MoodyHouse Recordings. I think it shows great progress from my debut and showcases even more variety. I have another release coming sometime this spring on a label that I love. I will most likely be self-releasing some music on Bandcamp that showcases some of my favorite tracks I made in 2021. I just signed a track that will be a part of a dope compilation later this year. I have about 10 great tracks that I'm currently sitting on that I will very soon be sending out to some labels — more to come from those!
Finally, since you also are the "head coffee guy" at RÉVEILLE COFFEE, can you share your best tips for those of us looking to brew a great cup of joe?
Great question! I've been a coffee nerd since I was 16 and I now run the whole coffee program (i.e. sourcing, roasting, quality control) for Reveille, a fantastic cafe here in the Bay Area with six locations. A few important things: grind right before brewing (and get yourself a burr grinder, it's worth it), buy high-quality coffee from your local coffee roaster (I prefer light roasts because they let the coffee shine most, but buy what you prefer), and considering buying a scale so you can know that you're brewing with the right ratio of coffee to water. These couple of things should set you down the right path.
---
Follow James Juke on Social Media:
Website | Facebook | Twitter | Instagram | SoundCloud