Jalaya, One True God, MYTHM, Dalfin, An-Ten-Nae, and more are set to dominate the decks at Lightning in a Bottle's The Stacks stage this year.
---
Lightning in a Bottle has become renowned for bringing one of the most immersive experiences for dance music lovers to attend each year. From the art and the activities to the stages and the talented DJs keeping the beat, there's something for everyone at this festival. The upcoming edition on May 25-30 is looking to carry on that tradition as the Do LaB continues to gear up for Lightning in a Bottle's long-awaited return.
While artists such as Glass Animals, Kaytranada, GRiZ, Chet Faker, SG Lewis, Purity Ring, Monolink, Lastlings, were announced on the lineup reveal last year, the Do LaB had more in store for attendees. Today, they announced the lineup for The Stacks stage. Curated by SoundXperiment, it's bringing the bass from a plethora of rising stars and established artists alike.
Immediate standouts include artists such as An-Ten-Nae, Eko Zu, Mimosa, Dalek One, One True God, MYTHM, and Jalaya, who have all left fans impressed with their releases and performances. Others such as Mirror Maze, leet, Um.., Xotix, Dalfin, and Kowta are also ones not to miss if you're looking for some seriously epic sounds to vibe out to at The Stacks. Further, the stage will play host to Joe Kay of Soulection on Thursday night for the opening party. He'll spin a four-hour set that you simply won't want to miss.
Tickets and camping passes for Lightning in a Bottle 2022 are on sale now via their website. Stay tuned for more updates as we approach the festivities this coming May!
---
Lightning in a Bottle 2022 – The Stacks Lineup: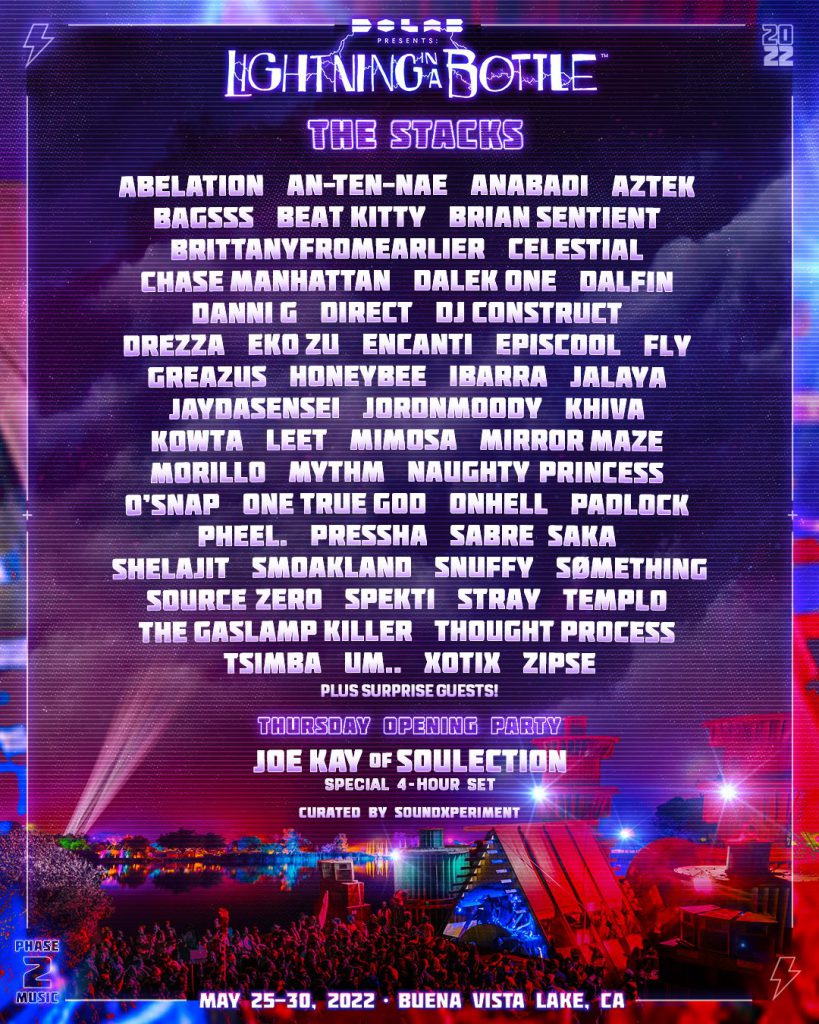 ---
Lightning in a Bottle 2022 – The Stacks Lineup By Artist:
Abelation
An-Ten-Nae
Anabadi
Aztek
Bagsss
Beat Kitty
Brian Sentient
BrittanyFromEarlier
Celestial
Chase Manhattan
Dalek One
Dalfin
Danni G
Direct
DJ Construct
Drezza
Eko Zu
Encanti
Spiscool
Fly
Greazus
Honeybee
Ibarra
Jalaya
Jaydasensei
JordnMoody
Khiva
Kowta
Leet
Mimosa
Mirror Maze
Morillo
MYTHM
Naughty Princess
O'Snap
One True God
Onhell
Padlock
Pheel.
Pressha
Sabre
Saka
Shelajit
Smoakland
Snuffy
Something
Source Zero
Spekti
Stray
Templo
The Gaslamp Killer
Thought Process
Tsimba
Um..
Xotix
Zipse
Thursday Opening Part with Joe Kay of Soulection (4hr Set)
+ Surprise guests!
---
Follow Lightning in a Bottle on Social Media: