Want to relive the magical moments made at Lost Lands this past year? Tune in on January 21-23 for the Couch Lands Rewind stream.
---
While headbangers might be more than half a year away from making a return to Legend Valley for Lost Lands, Excision and his team are helping everyone stay hyped for the upcoming edition. After announcing the dates and dropping the details for tickets and camping packages, they've kicked the energy up another notch with the news that a Couch Lands Rewind stream is incoming as well.
Set to kick off on Friday, January 21 at 11am EST on Lost Lands' Twitch channel, those tuning in will be treated to performances from some of the best sets from the past year. Benda will set the tone on Friday with the first set of the day before sets from Modestep, Monxx, Wooli, and MUST DIE! take center stage along with Black Tiger Sex Machine and Excision's jaw-dropping experiences.
Related: On the fence about attending Lost Lands this year? Check out our review from the 2021 edition to find out what this experience is all about.
Saturday's sets begin at 10am EST and will offer up everyone from Decadon and Calcium to Dion Timmer and Virtual Riot, while the b2b featuring Sullivan King and Kai Wachi, as well as Liquid Stranger's set, will surely draw a crowd to Twitch. Then, Sunday brings forth even more artists that include DIESEL, PhaseOne, Subtronics, and Jessica Audiffred, to name a few, along with both the Throwback and Detox sets from Excision himself.
Follow Lost Lands on Twitch to be notified when they go live. Don't forget to drop a comment below with whose set you're most excited to relive and send us a picture of your rave cave setup!
Watch Lost Lands' Couch Lands Rewind Stream on Twitch:
---
Couch Lands Rewind Livestream Schedule: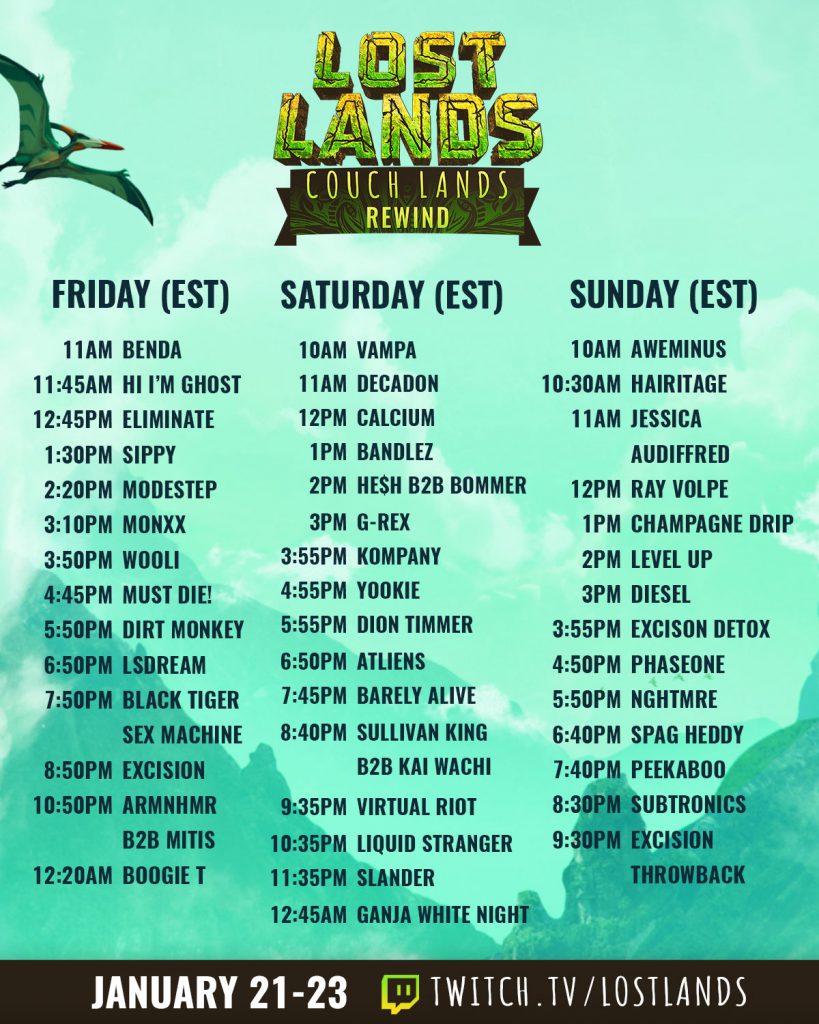 ---
Follow Lost Lands on Social Media:
Website | Facebook | Twitter | Instagram | SoundCloud