While there were some bumps in the road during Lost Lands, the latest edition of the Dubstep Super Bowl was one of the best yet.
---
The COVID-19 pandemic brought live music to an abrupt halt for nearly two years, and for those who thrive off the energy of packed crowds and mind-blowing production, this forced hiatus was staggering. There was a light at the end of the tunnel as soon as vaccines began to roll out and festival organizers planned their return, though, and one festival that headbangers all over North America wanted to make it back to was Lost Lands.
Since its debut in 2017, Lost Lands has taken the crown as the Dubstep Super Bowl with stacked lineups and insane production that Excision and his team have brought to Legend Valley. Although experiences and perspectives have fluctuated during past editions, the hype was steadily building ahead of this year. Naturally, there were a few hiccups, but after attending, I can honestly say that Lost Lands 2021 was the best one yet.
Though the festival itself was nothing short of perfect, those with Thursday Early Arrival passholders ran into quite a bit of trouble.
Waking up bright and early Thursday morning, I was ready to finish packing and meet up with the rest of my group to caravan to Legend Valley. With crust still in my eyes and a mouthful of morning breath, I flipped on some dubstep to get the day started. As soon as I rolled out of bed, the vibes were immaculate. I was met with a flurry of Snapchats and eager text messages from my companions. It seemed like nothing could ruin this perfect day – until one of my friends sent a screenshot of an official Lost Lands announcement which said due to weather, the campgrounds would be closed for early entry on Thursday.
Though it was somewhat of a devastating blow to the high energy we were all feeling (and an even more devastating blow to my bank account, since I had just purchased an Early Arrival pass the day prior), we decided to invite some of our friends over to have a relaxed day at the house while we finished packing. We planned to leave super early Friday morning to try to beat the extremely long lines that we knew were inbound.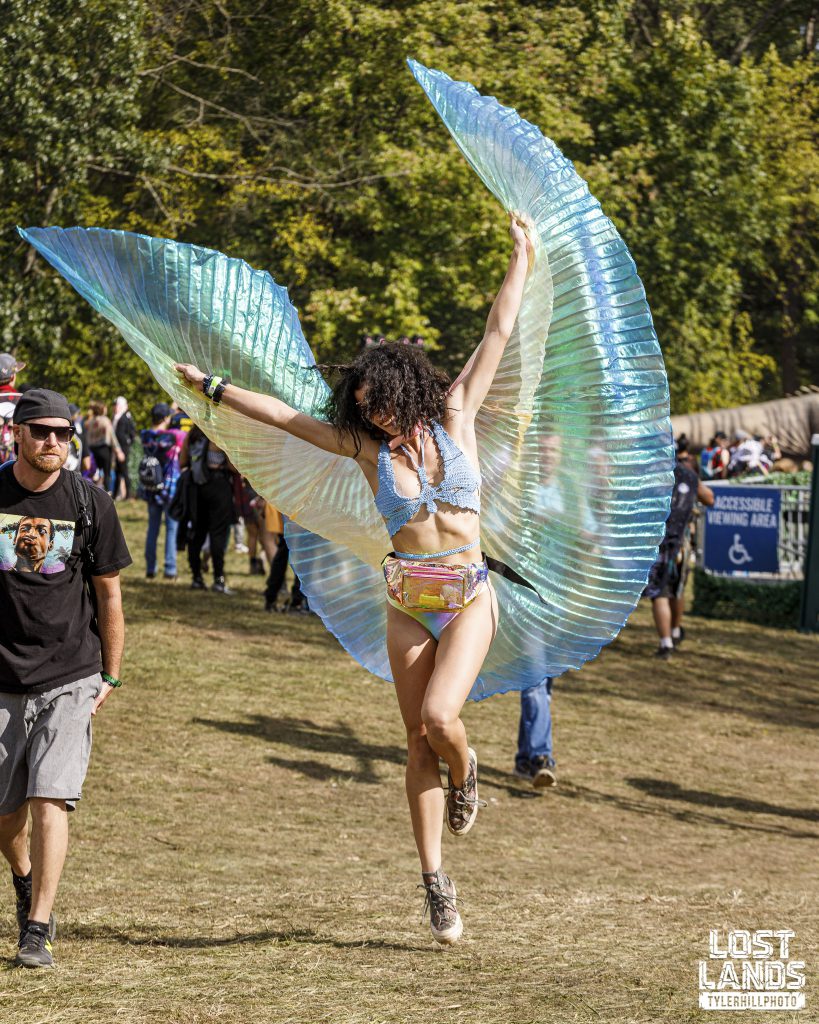 Just as we started to get comfortable with leaving Friday, another announcement kicked us into a panicked overdrive.
The conditions of the campgrounds had improved, and Lost Lands had begun to let attendees in who had waited since Wednesday and early Thursday. They also directed all others who were making their way to the festival to the National Trail Raceway.
What ensued for my group was an incredibly stressful couple of hours. There were several cars in our caravan and thousands of other cars rushing toward the same place, so we often ran into the issue of keeping everyone together. As I kept up with social media for further updates, it wasn't difficult to see plenty of Lost Lands attendees rage about the extremely long wait times at the raceway (some over nine hours). Our group decided to take our bets and attempt to enter through Legend Valley.
The lines were still long. We waited approximately four hours, but that wasn't anything compared to what others endured at the raceway. The horror stories that surfaced were appalling – allegedly, the raceway staff quit, leaving thousands of cars stranded with zero direction. Police were no longer escorting attendees to the campgrounds, and in an attempt to expedite the seemingly never-ending lines, ticket-holders even took it upon themselves to direct traffic. 
Despite such a mess initially, I felt Lost Lands staff did what they could to fix the situation.
Within several hours, those stuck at the raceway all day finally made it to the campgrounds. Our group made it in around 3 am, and I remember breathing a huge sigh of relief. Although we missed the pre-party, I couldn't have felt more excited for the days to come.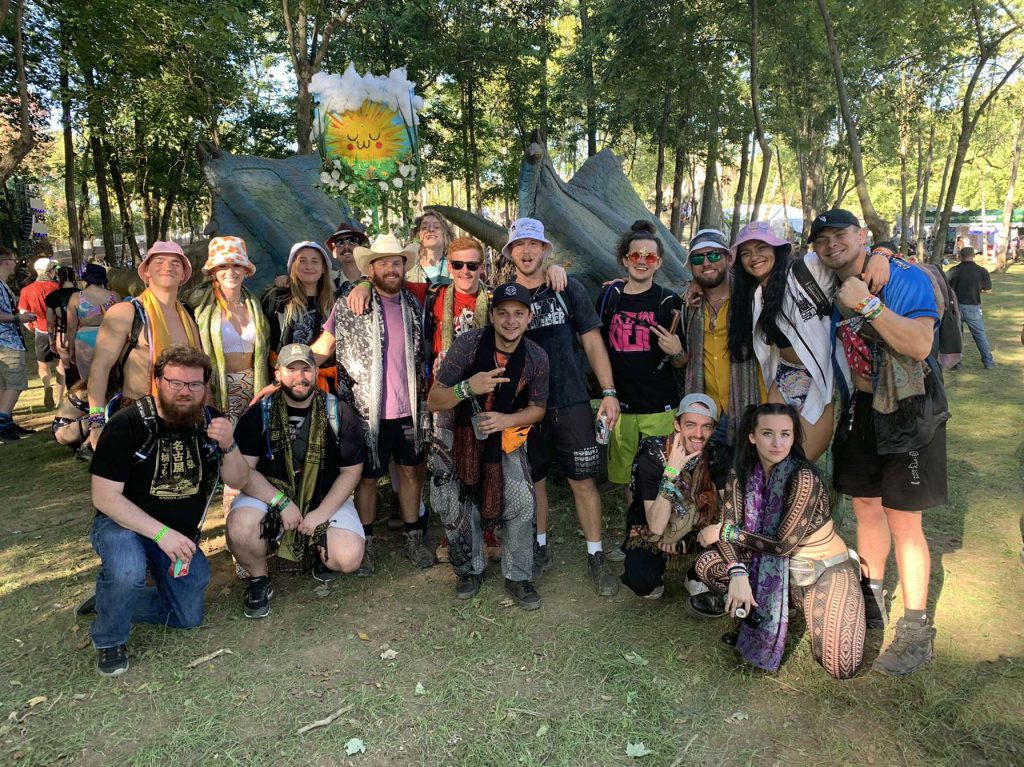 Once Friday morning rolled around, there was positive shift in energy as our group prepared for the first official day.
After donning our best fits, my group and I made it into Lost Lands and were blown away by the stage production. Once the Prehistoric Paradox stage, the newly renamed Prehistoric Evolution stage, had nearly doubled in size since 2017. Wompy Woods stood even taller with massive panels of bright LED screens. The further additions of the Forest Stage, Raptor Valley, Subsidia Stage, and the Asteroid Stage made the festival feel three times bigger than it did in previous years. 
At Lost Lands, sacrifices always have to be made with consistently stacked lineups, but I couldn't have been more satisfied with who I saw. Seeing MIZE live for the first time was a real treat – I'd been trying to catch him for years, and I almost cried seeing him completely dominate the Forest Stage with his spellbinding sound. Afterward, we ventured to Wooli and then Marauda. I was pleasantly surprised to hear Marauda's sound had developed exponentially. I'm not overly familiar with his discography, but I could recognize his earthshaking "WTF" remix amidst the sea of slaughterous bass drops.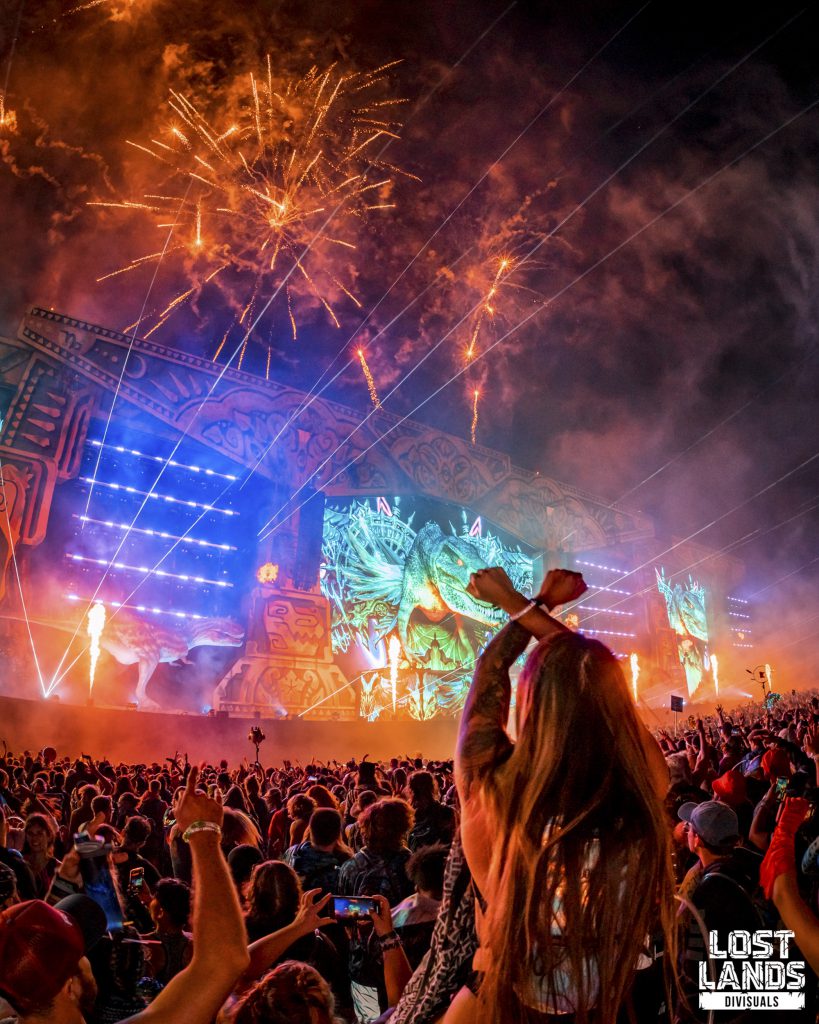 Trampa's set was filled with nostalgia as he dropped "Headbang Gang," "Rocket Fuel," and "Middle Fingers" as the group came together in preparation for Black Tiger Sex Machine.
There were so many standout moments during Black Tiger Sex Machine's set, but my absolute favorite had to have been when they dropped "Berserker" by Samplifire, a tune I had suspected – and hoped – they would rinse. As soon as I heard the first Viking chant, I turned around to my friends and screamed, "What did I say?!" before thrashing my head to every murderous bass thwomp.
After that, I got a touch of GRiZ and Zomboy, both of which were great – but the absolute beast of the night was the two-hour Excision set. With how tired and out of shape I was already feeling, I'm not going to lie – the thought of enduring the entire two hours was very daunting. Still, I couldn't help but be entirely floored by the smattering of lasers, bold production, and vast array of absolute heaters the dubstep don delivered throughout the set.
Excision set the tone with a delectable mix of heavy and emotional tracks. The crowd sang every word to "Feel Something" and lost their minds during "Unbound" as Sullivan King joined the Dinosaur Dad on stage to scream the lyrics. What followed was a shocking display of pyrotechnics and lights that would continue to rattle my brain hours after the set. I couldn't think of a better performance to end the first night of the weekend.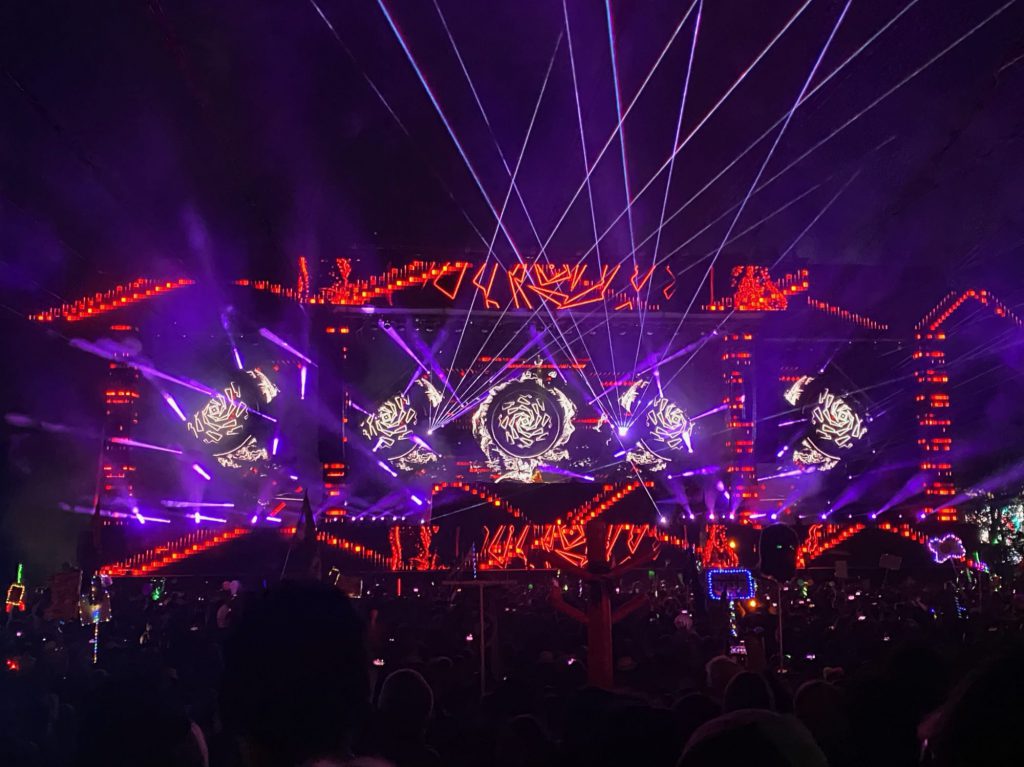 As good as the first day was, Saturday was hands down the best day of Lost Lands!
With most of my all-time favorite artists performing on Saturday, I knew the second day would bring the heat. After kicking things off with Calcium, the day only got better from there with sets from G-REX, YOOKiE, ATLiens, Space Laces, G Jones, VOYD, and Ganja White Night. While G-REX, YOOKiE, ATLiens, and Ganja White Night delivered a raunchy blend of freeform wobbles and hard-hitting bass, Space Laces, and VOYD once again left me starstruck with their incendiary sound design.
I could write think pieces about every single one of these sets, but I want to focus on G Jones. I've seen him a few times but never quite resonated with his music, even though I've always respected his creative vision. However, his Lost Lands set remains my favorite set of the weekend – and possibly of all time.
Following Space Laces, I was expecting to sit down for the entirety of Greg's set to save my last iota of energy for VOYD – but that was not the case. "Time," "In Your Head," and an edit of Porter Robinson's "Wind Tempos" took my breath away. The set was so utterly fantastic that every five minutes, I turned to my friends with tears budding in my eyes, sincerely asking them, "Is this not the best set you've ever seen?"
Desperate for some bouncy riddim vibes, my crew and I headed over to Raptor Valley for some action at the sound camps.
Before Saturday night, I had never had the chance to see Codd Dubz or OG Nixin live. Codd Dubz obliterated the crowd with the nastiest chops I've ever heard before while bringing Al Ross on stage for an ultimate riddim beatdown. As soon as OG Nixin took the stage donning a full face mask, I knew his set would be one of my favorites of the night. Hearing "California Style" and "Attitude" on those massive speakers shook me to my core in the best way possible. All night, my crew and I pushed and jumped into each other, chopping the air with finger guns to every sliced and diced bass pop.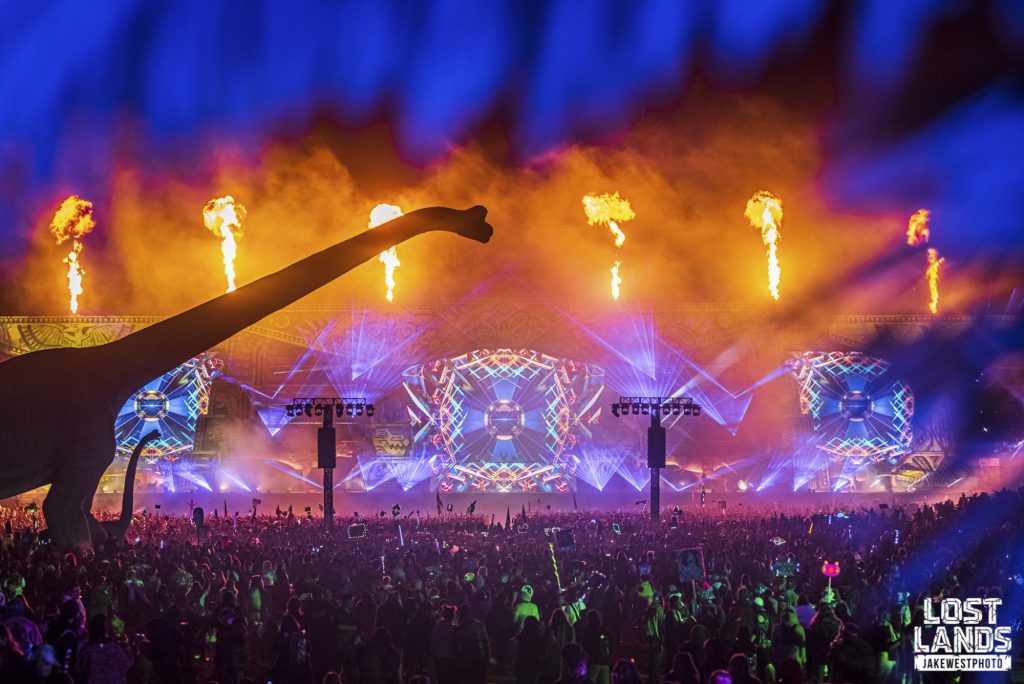 The third day and final day rolled around, which is always bittersweet.
Lost Lands simultaneously felt like the longest and shortest festival experience I'll ever have. Though everyone shined in their own unique way on the final day, no other set could compare to what I felt during Excision's Throwback Set. It was honestly the best experience I've had out of the near 20 times I've seen him play over the years. I swear we heard it all – from "Execute," "Africa," and "Sleepless," to "One," "Destroid 7 Bounce," and "Exterminate," this set was everything his fans would want and more. I couldn't think of a better way to cap off a massive weekend at Lost Lands.
This year's edition of Lost Lands reminded me of why I fell in love with this festival in the first place.
I've always had a love for Lost Lands. Even when there were moments in previous years where I was frustrated with security or staff, there is no other festival that can inspire the feeling I get when I walk into Legend Valley. From the looming dinosaurs to the heart-stopping sound systems, a bit of who I am today is because of Lost Lands.
I couldn't be more thankful for Excision and all of the people who worked tirelessly to make this fest happen this year. To the fans, the artists, the artist teams, vendors, volunteers, and everyone else: THANK YOU! This festival could not have existed without your dedication and positive attitudes carrying it forward. It was incredible to see how much Lost Lands has grown since its inaugural year, and I'm so unbelievably excited to see how it develops in the future.
---
Follow Lost Lands on Social Media:
Website | Facebook | Twitter | Instagram | SoundCloud | YouTube | Twitch
Follow Excision on Social Media:
Website | Facebook | Twitter | Instagram | SoundCloud | YouTube