Krewella announces their brand new album, The Body Never Lies, along with a North American tour that will kick off in Seattle on April 1.
---
Sister act Krewella has become renowned in the scene for their blend of emotional lyrics and hard-hitting beats. Since their debut, the duo has reached a global fanbase with tracks like "Alive," "Live For The Night," and a plethora of fierce collaborations, while also playing some of the biggest festivals and clubs along the way.
Now, with a fresh year on their minds, Krewella is gifting their fans with new music as well. Today, they announced the initial details for their forthcoming album, The Body Never Lies. Officially due out on March 4, this release will see Krewella offer up some fresh sounds to explore across its ten tracks that are sure to be dynamic and dripping in emotion.
While some of the tunes won't be unveiled until the release date, a handful of them have already been teased for their faithful following to immerse themselves in. This includes "Never Been Hurt" featuring BEAUZ and "No Control" featuring MADGRRL which first surfaced in 2021. More tracks will be revealed in the coming weeks, but that's not all that Krewella had in store as they announced an album tour as well.
Krewella is set to kick off The Body Never Lies tour, where they will be hitting the road with a brand new live show and a series of DJ sets, on Friday, April 1 at The Showbox in Seattle. From there, the duo will treat their fans with shows at The Fonda Theatre in Los Angeles, Webster Hall in New York, the Ogden Theatre in Denver, while also touching down in other cities like Austin, Vancouver, Dallas, Atlanta, San Francisco, and more throughout North America.
The presale for Krewella's forthcoming tour begins today with a passcode via Discord, with tickets for the general public going on sale this Friday, January 21 at 10am local time on their website. Be sure to grab your tickets and let us know what shows you'll be attending in our comment section.
---
Krewella's The Body Never Lies Tour: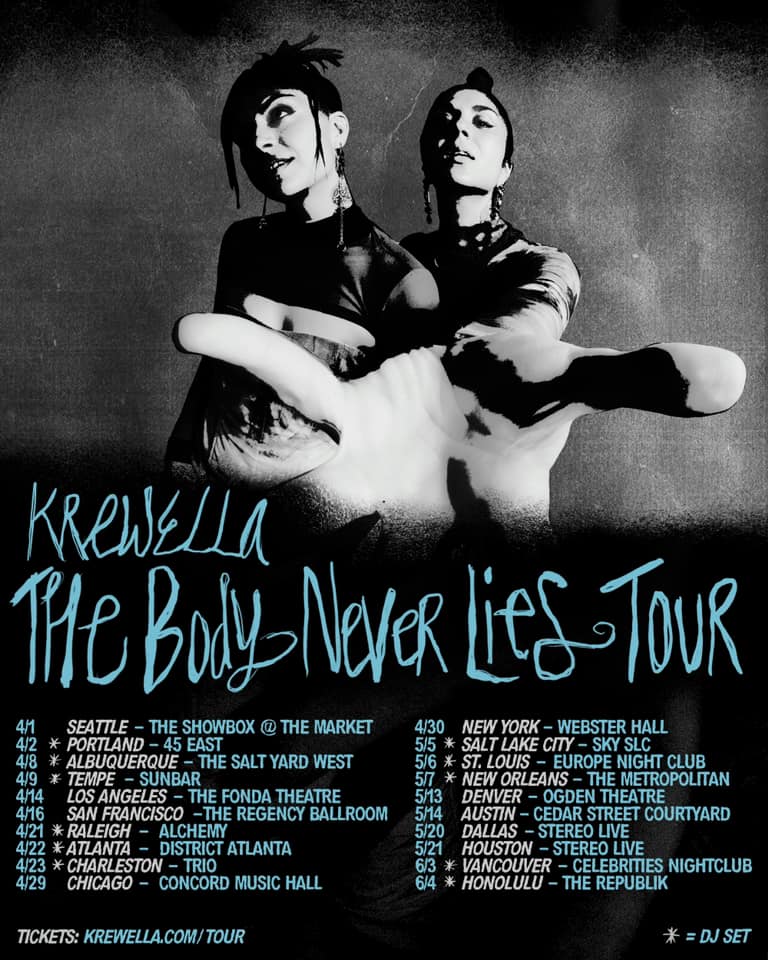 ---
Krewella's The Body Never Lies North American Tour – Dates & Venues:
Friday, April 1 – Seattle, WA – The Showbox @ The Market
Saturday, April 2 – Portland, OR – 45 East (DJ Set)
Friday, April 8 – Albuquerque, NM – The Salt Yard West (DJ Set)
Saturday, April 9 – Tempe, AZ – Sunbar (DJ Set)
Thursday, April 14 – Los Angeles, CA – The Fonda Theatre
Saturday, April 16 – San Francisco, CA – The Regency Ballroom
Thursday, April 21 – Raleigh, NC – Alchemy (DJ Set)
Friday, April 22 – Atlanta, GA – District Atlanta (DJ Set)
Saturday, April 23 – Charleston, SC – Trio (DJ Set)
Friday, April 29 – Chicago, IL – Concord Miusic Hall
Saturday, April 30 – New York, NY – Webster Hall
Thursday, May 5 – Salt Lake City, UT – SKY SLC (DJ Set)
Friday, May 6 – St. Louis, MO – Europe Night Club (DJ Set)
Saturday, May 7 – New Orleans, LA – The Metropolitan (DJ Set)
Friday, May 13 – Denver, CO – Ogden Theatre
Saturday, May 14 – Austin, TX – Cedar St. Courtyard
Friday, May 20 – Dallas, TX – Stereo Live
Saturday, May 21 – Houston, TX – Stereo Live
Friday, June 3 – Vancouver, BC – Celebrities Nightclub (DJ Set)
Saturay, June 4 – Honolulu, HI – The Republik (DJ Set)
---
Follow Krewella on Social Media:
Website | Facebook | Twitter | Instagram | SoundCloud | YouTube | Twitch