Subtronics headlined the iconic Red Rocks Amphitheatre for the first time and curated an event that showcased himself as well as his favorite smaller acts.
---
Finally, after years of hard work and dedication, Subtronics received the golden opportunity desired by musicians around the world; a headlining slot at Red Rocks. Not only that but a headlining slot for the first full capacity show at the quintessential venue since COVID restrictions have been lifted for the state of Colorado. His ascent through the bass scene spans nearly a decade so his curated show, Cyclops Rocks, at Red Rocks was both long-awaited and well deserved.
While the hype for Cyclops Rocks was immense, I approached the event with zero expectations and was simply ecstatic to be attending live music again, especially at the iconic venue. This was my first show at Red Rocks, even after having visited the park several times before, and I could not wait to catch a dubstep show in the bass capital of the world. It all felt so fitting; going to my first show there, as a new Colorado resident, and seeing one of the forerunners of the current bass music movement take the stage.
While you won't always find me at a heavy bass set, I do love to get nasty at them from time to time – and I had the time of my life at this event.
It's widely known that Subtronics has a work ethic that is absolutely bonkers – he's clearly passionate about his art. He's also had some incredible support from larger bass acts over the years and wanted to pay that forward as well. To accomplish this, he assembled a lineup of up and coming bass artists to perform in the form of b2bs including EAZYBAKED, smith., Space Wizard, Guppi, Level Up, and Ace Aura.
This decision was made intentionally in order to give these artists the same platform Subtronics received that solidified him as a force in bass music. The planning and effort put forth by each and every artist and member of the team was evident in not only the sets but even in the moments between them. Artist changes happened quickly, sometimes with up to five DJs on stage at once in order to avoid dead air in the venue.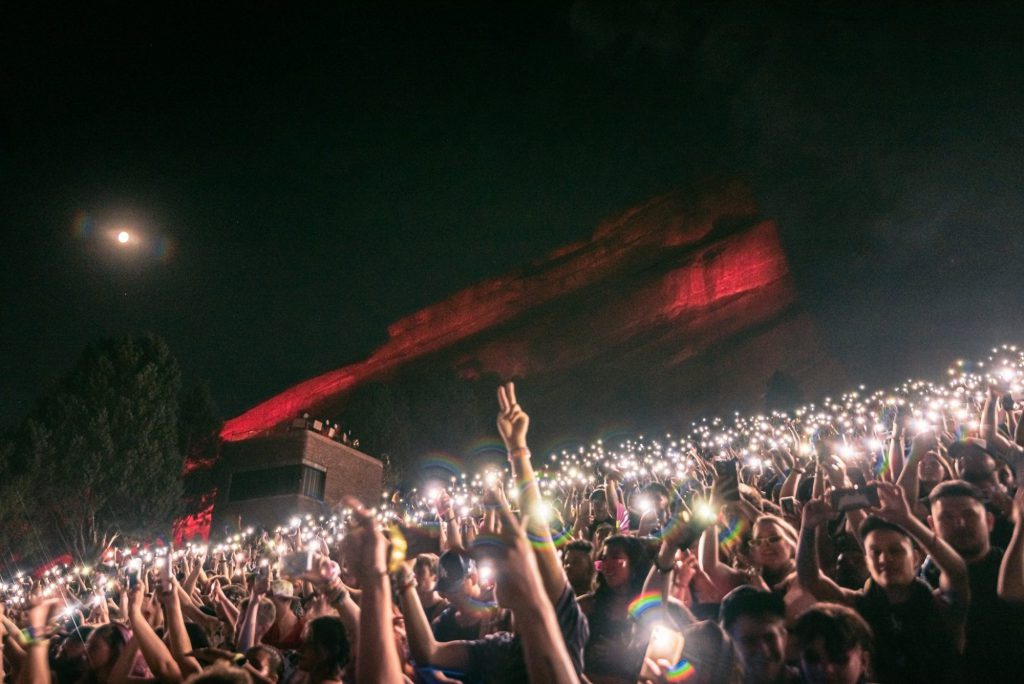 Taking the stage first was EAZYBAKED and smith. starting the night with something a little different.
These producers played the experimental, psychedelic, freeform sound that they're known for during the opening set. While it warmed up some of the crowd, it seemed that there was a bit left to be desired for the heavy dubstep fans in attendance. Space Wizard and Guppi took the stage next and these guys brought the bass that the rest of the crowd was thirsting for mixed with some of the same experimental bass that EAZYBAKED b2b smith. played. One notable song from this act was Space Wizard's bootleg of Rüfüs Du Sol's "Innerbloom." The original version is one of my favorite songs, so the addition of some weird bass was really up my alley.
Then, Level Up and Ace Aura jumped on the decks and played a plethora of heavy bass and classics that everyone sang along to. Level Up included her remix of "Rescue" by Zed's Dead as well as her remix of Borgore's "Daddy" that came out just about a week before the Red Rocks performance. This duo was the perfect transition into Subtronic's headlining set.
The short time we waited after their performance created an energy in the crowd similar to that of a festival. The crowd experienced anticipation, excitement, some fear, and of course, went on a quick snack/water/potty break, during this time. But then the low piano music came on, the lights lowered, and the entire crowd rumbled with excitement.
When Subtronics hit the stage he did it with vigor and confidence and proceeded to ruin all 10,000 headbangers in attendance.
Subtronics opened with a robotic monologue outlining how hard quarantining has been on him, us, and the music industry and how exciting it was to be there and then proceeded to melt our faces with his ID with Sullivan King. That was all she wrote, folks; from that point on it was Subtronics' world and we were just living in it.
Subtronics packed his set with new tunes, bangers from the past, and nods to more up-and-coming bass artists. He played tons of remixes and featured several new collaborations including songs with Alison Wonderland, GRiZ, and Slander. In addition to the unreleased IDs and remixes, Subtronics included tunes that set off every member of the Cyclops Army that was in attendance. "Blastin'," "Clockwork," "Wicked Witch," "House Party" with Marshmello, "Scream Saver," and the list goes on. He even added tracks from smaller artists like Mize and Leotrix in for good measure. We wobbled, headbanged, and lost our minds all night to the dirty chops of his skillful set.
Toward the end of the set, Subtronics played a song that resonated with me more than the rest. He introduced it as something he put together in the throes of the pandemic when he, like many of us, felt scared and alone. My friend and I were positioned toward the top of the amphitheater where I got a view of not only the stage but the lights from the city of Denver in the background as well. I sat during the song and looked out over Denver, watched the purple visuals on the screen, and felt the mountain breeze as well as every emotion that Subtronics conveyed in that song.
Along with Subtronics' two-hour performance of heavy bass music, he featured visuals from his usual artist, Aaron Brooks. All night I was hypnotized by cyclops, spirals, rainbows, and especially the pyrotechnics at the front of the stage. All around, the production of the event for every set was beyond my expectations.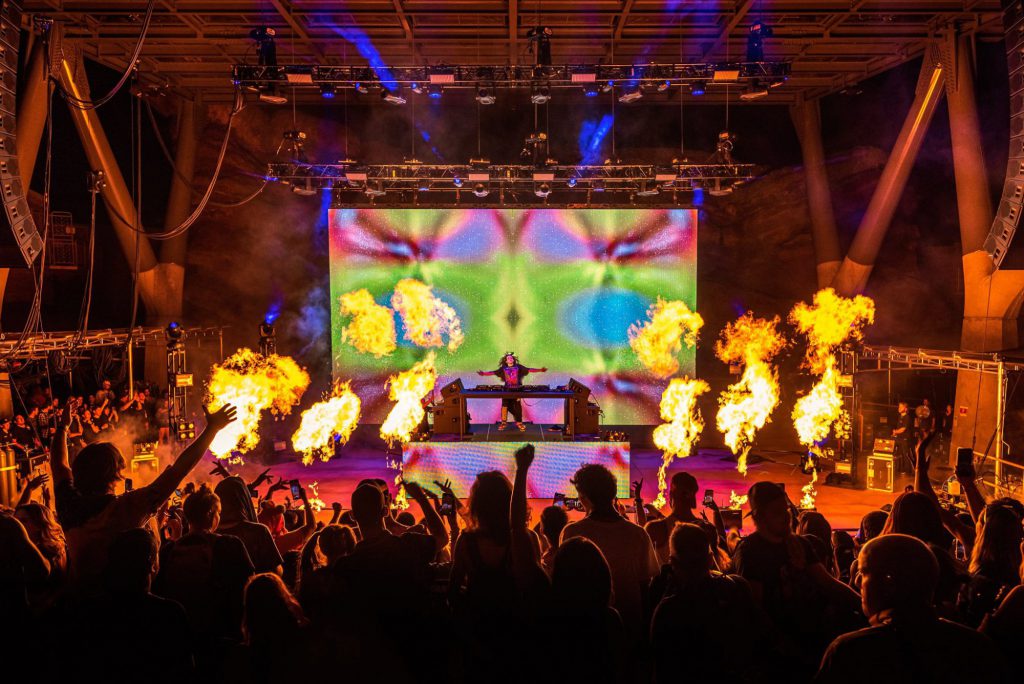 While all of the music was on point, the crowd was a bit of a let down.
Crowds at dubstep shows can get aggressive period– mosh pits, heavy drops, and headbanging aren't exactly "chill"– but, this show had an extra edge. Fans traveled from far and wide to attend this event and for most, it was their first live event in over one year, so there was extra pent-up energy and excitement and maybe even some etiquette that may have been forgotten.
I didn't have as much interaction with the crowd because the spot my friend and I chose was towards the back, however, many people expressed that they encountered rudeness and a general lack of couth. Hopefully, as we get into a groove of more live events this energy and excitement will level out and we can go back to the loving, friendly crowds we know and love.
Overall, Subtronics collected a win with Cyclops Rocks.
At the end of the night, none of the negative crowd interaction at this event changed the way I feel about Red Rocks or large crowds or dubstep shows. It did, however, amplify my respect for Subtronics; it is clear how grateful he is for his platform, for his opportunities, and for his community. Subtronics took this opportunity to play Red Rocks and ran with it; he introduced thousands of people to new artists and music and he gave these smaller musicians thousands of new fans. Subtronics proved that he deserves to be sitting in that dirty, wooky throne that he has achieved.
Thank you, Subtronics, for being a real human as well as a world-class DJ and producer and for your passion and your dope–ass wubs. While I might not live for heavy dubstep, I look forward to attending another edition of Cyclops Rocks in the future!
---
Follow Subtronics on Social Media:
Website | Facebook | Twitter | Instagram | SoundCloud | YouTube | Twitch