In 2011, Afrojack and Steve Aoki released one of the scene's most iconic tracks, "No Beef," and it's now received some fresh remixes.
---
Turn back the clock over a decade in the dance music scene and you'll find that while some things have remained the same, many are starkly different. Festival stages have become larger than life, a wide array of genres have swung in and out of popularity, and the crowds have become more massive than ever before. But there's something special about that era of the scene when EDM was beginning to boom in popularity and many tracks that stood tall then, like "No Beef," still hold their ground to this day.
If there's one song that encapsulated the energy that was found during the bubbling of the scene in 2011, it's Afrojack and Steve Aoki's massive hit "No Beef." This tune didn't just feature an electro-house beat that had ravers shuffling away to it but its music video is a snapshot of the fun that was had while the scene began to truly blossom once again. Now, 11 years after its release, the two artists have looked to others in the scene to remix the iconic track and put their spin on it.
The first series of "No Beef" remixes have arrived today and brings forth fresh takes from the minds of Goodboys, LUM!X, Riot Ten & Crankdat, and Steve Aoki himself. UK-based duo Goodboys leads the charge by twisting the track into a deeper jam that offers up new vocals and a house groove that's dancefloor-ready through and through. Steve Aoki's "11 Years Later" remix lands next as he expands on the track by layering in chopped elements from the original that will spark even more energy.
German artist LUM!X throws down one of the most exciting edits of "No Beef." He begins with a deeper build into the remix's drop which is filled to the brim triplet beats to make for some pure, mainstage magic. And to close out this offering, Afrojack and Steve Aoki look to Riot Ten and Crankdat to take the tune to the realm of dubstep. This cut begins with a focus on Miss Palmer's vocals before decimating everyone with an aggressive drop that will have anyone looking for the nearest rail so they can headbang it out.
Listen to the first four remixes of "No Beef" on Spotify or your preferred platform, and stay tuned for the next helping that's due out soon.
Stream Afrojack & Steve Aoki – "No Beef" (feat. Miss Palmer) [The Remixes Part 1]:
---
Afrojack & Steve Aoki – "No Beef" (feat. Miss Palmer) [The Remixes Part 1] – Tracklist:
No Beef (Goodboys Remix)
No Beef (11 Year's Later Remix)
No Beef (LUM!X Remix)
No Beef (Riot Ten & Crankdat Remix)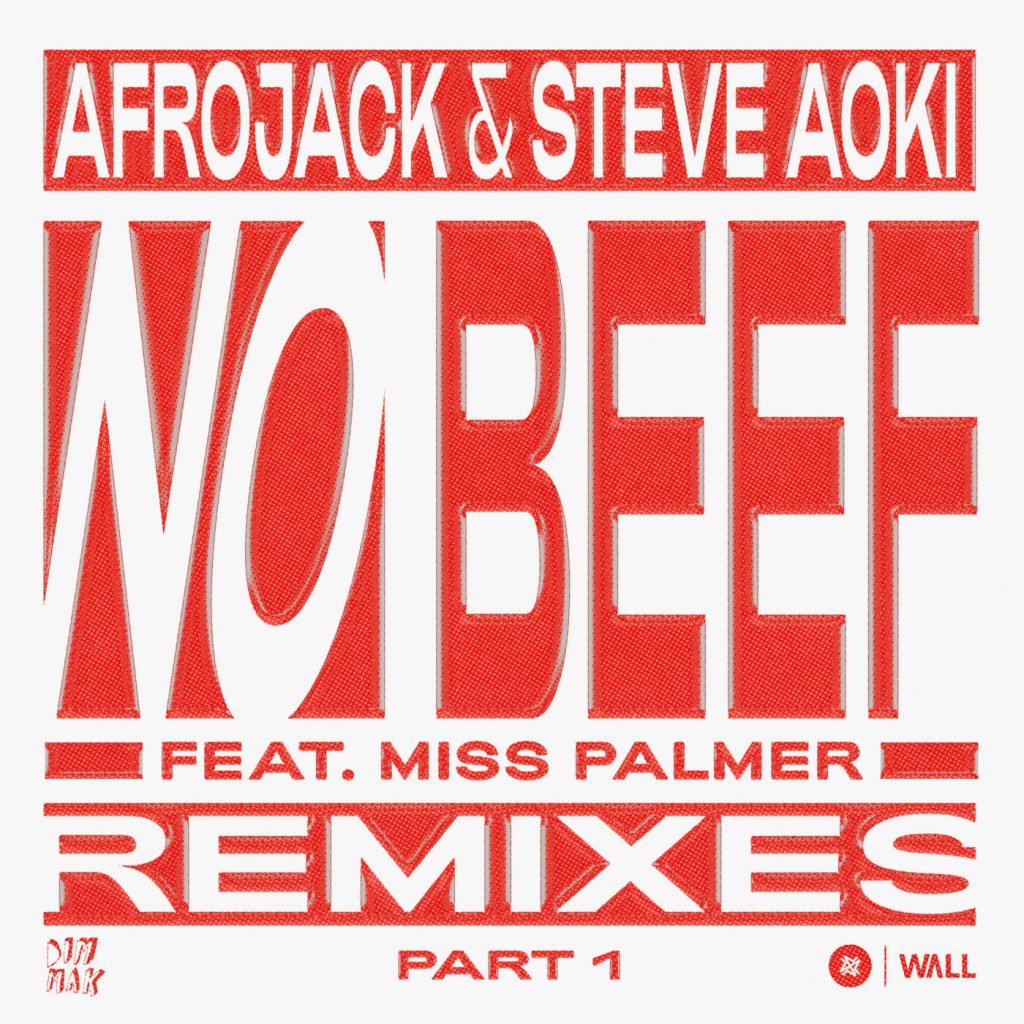 ---
Connect with Afrojack on Social Media:
Website | Facebook | Twitter | Instagram | SoundCloud | YouTube
Follow Steve Aoki on Social Media:
Website | Facebook | Twitter | Instagram | SoundCloud | YouTube