Fresh off the release of "Anywhere With You," Afrojack swung by to chat about the creation of the track, EDC Las Vegas, and more.
---
Few artists in the scene have created the kind of legacy that Afrojack has throughout his career. Countless releases have dominated speakers around the world from the mind of this house music maestro and he's graced the stage everywhere from nightclubs in Ibiza to the main stages at some of the largest festivals like EDC Las Vegas and Tomorrowland. And he continues to help grow the scene as well by constantly searching for new artists to support through his label Wall Recordings as well.
While last year dashed plans for him to take the stage at major festivals, Afrojack pressed on with some live stream performances and went to work in the studio to craft up some fresh tunes. Now, in 2021, he's reemerged and is ready to dominate the scene yet again. Already playing a massive set at Untold Festival in Romania, he has his sights set on returning to the US for a tour with additional sets at EDC Las Vegas and EDC Orlando in the coming weeks.
On the release front, Afrojack has already delivered a hefty offering of tunes for his global fanbase to feast their ears on as well. This included his collaboration with David Guetta, "Hero," as well as "All Night Long" with Azteck and "Stay Mine" with Timmy Trumpet. Additionally, Afrojack also debuted his new project Never Sleeps by dropping "You Got The Love" with Chico Rose, marking the first release on the newly minted Tomorrowland Music.
Looking to rev the engines of dance music lovers and get everyone grooving again, Afrojack looked to DubVision and Lucas & Steve to craft up his latest tune "Anywhere With You." This track features uplifting melodies that will fill anyone who listens to it with the positive energy and mainstage magic that's been sorely missed during the pandemic. After the release of the track, we were able to catch up with this legend to pick his brain about its creation and what's to come. So check out the music video for the track on YouTube, download or stream "Anywhere With You" on your preferred platform, and read on for the full conversation!
Watch the music video for "Anywhere With You" on YouTube:
---
Hi Nick, thanks so much for chatting with us today – and congrats on your tune "Anywhere With You" with DubVision and Lucas & Steve. It's a tune that's filled with uplifting melodies and was clearly made with festivals like Tomorrowland in mind. Can you share what the production process was like on this one?
So it was all digital efforts. Everything went through email, making calls, making voice notes. I started with DubVision in Dubai on it a year ago or something, but it was just the idea. It wasn't like, let's do it together; it was more like, let's just try something with it. Then later, when I was finishing the record, I thought, "Well, I can do it in my sound. But I love the mix that DubVision has." So I asked them if they wanted to get involved, and they said okay, let's do it together. 
Then the record was basically done, but it was very festival-centric. So we thought it was going to need some happy sounds for the radio to make it a little bit more relaxing to listen to. Lucas & Steve have been very successful doing that side of the spectrum; they're more radio dance songs, whereas DubVision is more dance anthems. 
So we got them too to try to make the record as good as it can be. Then it came to the way it is now, after a lot of back and forth. I'm very conceptual, DubVision works very festival, and Lucas & Steve are very radio; So I was constantly stuck in between the steps, figuring out if this is too much, is this not enough, there should be more, it should be less, etc. But I've been working with the stems most of the time after the first production was done.
That's awesome. So you're kind of balancing the in-between there to make sure that it was polished, you know? 
You know, I usually do all the production and button tweaking myself. But in this case, I know it's the DubVision sound. That mainstage, closing anthem power, why not give the credit where credit is due. I could also try to emulate their sound, but why would I try to emulate the sound if I can call them and say like, "yo, let's do this together!"
I feel that for sure. It does have that like closing energy, and you also just closed the Untold Festival with the track.
Yeah, but I fucked that up, though. That was the first bass festival mix demo. It had a lot of mixing errors. So, I played it, and the first moment that drop kicked in, I was like, "Oh, shit, that's the wrong one. Shit. Shit." But it worked out. It was just to try out, but there was already a newer version at that time. And I didn't download it because I was at the festival.
That's kind of cool because you have that progression of how that how the track was going.
Yeah, and the other IDs, I'm very excited to release them, but I'm looking for the right way because I feel just like releasing the mp3 is not very artistic anymore. I want to try to make something special of it, especially the opening track. I put a lot of time into that one, so I don't know how I'm going to do it yet.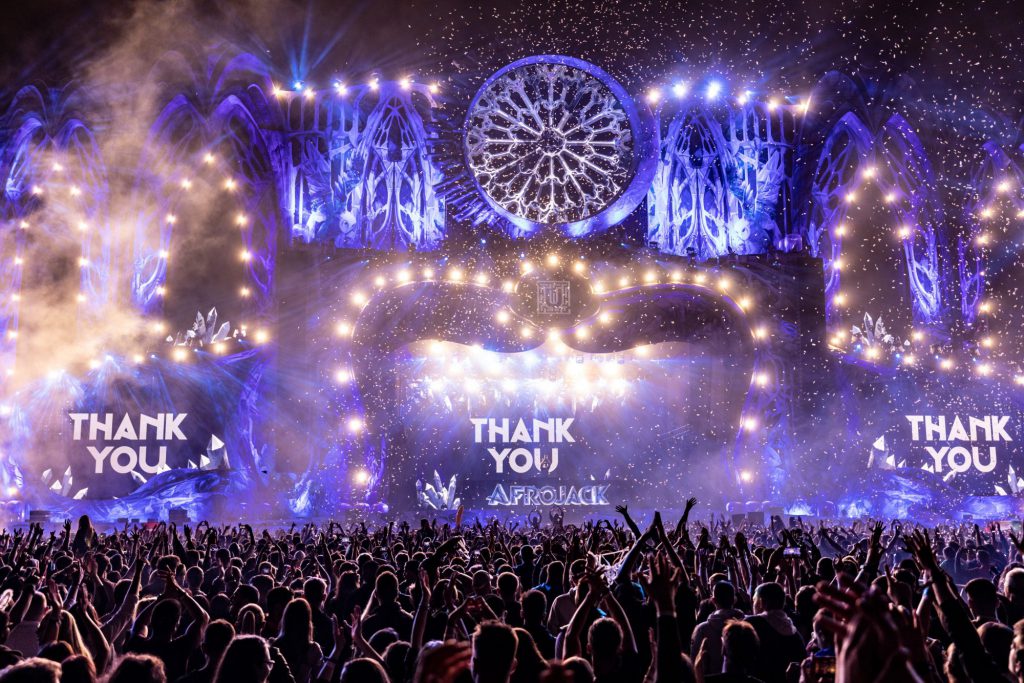 Another one of the tracks you recently dropped was "You Got The Love" with Chico Rose under the Never Sleeps project, which was also the debut on Tomorrowland Music. How did that project come to life?
The main thing we wanted to do with Never Sleeps is to give an option for artists who aren't able to release cool club stuff because their management says it's too outdated, or it won't work for radio, or whatever. So we started Never Sleeps with an old-school progressive track. And the next song is going to be in probably with Timmy Trumpet and more of an aggressive, psytrance type record, but also something you would call a non-streamer. 
We want to take all this dope music that people have that usually only gets released like a B-side and really give it the attention it deserves. I love dance music. I know all the people that go to these festivals love dance music, so why not celebrate that? Like why would we only celebrate the pop records that happened to get on the right playlist? You know, like that's not what we are. 
It's part of what we are because it's part of the business, but every DJ's heart and soul is what they do on the stage; it's not what we play on the radio, and that's what Never Sleeps is about. That's why it's called Never Sleeps because dance music never sleeps – there's always a party. 
I have to say it's very ironic that we make the track for the dance floor, yet it's streaming very well and it's getting played on the radio; Which makes no sense because the sound is super outdated according to the industry, but apparently it's not so there you go. Sometimes your passion works out.
Yeah, it's kind of interesting because I feel like a lot of "outdated sounds" are coming back right now. There's a lot of electro house being played.
I know I see it, and I love it. Actually, I hope my fellow artists will see this because they take, for example, Swedish House Mafia. I love Swedish House Mafia. I don't know anything about selling out arenas around the world as they did with their last tour. They're doing this whole marketing stunt with the new song with Ty Dolla $ign, which is dope, and the new underground edit breakbeat thing of "It Gets Better." But all the other festival-goers and I are like, "Yo release the club mix bro! Release the one you played at your show!" 
And that's what Never Sleeps is for. No pressure, just music. I think this is going to be a new normal in five years, but it's still very special for now. I'm very thankful for Tomorrowland giving me the opportunity to really blow it up.
Finally, we were pretty heartbroken about the news that AMF wasn't going to be moving forward this year during ADE. We were excited for your Two is One set. Do you have any plans to bring that project to the US anytime soon? I know that you also teased an upcoming tour as well on Twitter.
I'm going on tour next month to America, so it will be good to be back. The company that runs AMF owns the "Two Is One" concept, and they want new artists every year. So I'm great with Nicky; we're working on some songs. So it kind of depends on if AMF still wants to do it next year. We're open to it; we're down. But right now, my focus is on being in America for a month and playing every weekend like three or four shows and playing both EDCs. I'm lucky. I'm lucky to be part of this, and I'm very excited.
Yeah, I'm really excited for your set with R3HAB at EDC Las Vegas. It's always so great to see you in Vegas.
So I'm really thinking about that set. Are we going to try to fit in and play Chris Lake music? Or are we just going to do 2012 EDM? I think we should do 2012 EDM.
I think so too. I'd love to see that for sure.
That's probably why they booked us, right? I don't think they booked us to try to pretend that we're Fisher and Chris Lake.
I mean, yeah, we were just talking about the push back to the sounds of the past, which aren't old sounds to me. Like I loved seeing you at EDC in 2012 as well. So I'd love to think that that's really like the energy that the scene needs right now.
I just hope people will find out it's okay. Not everything has to be underground and cool and special and brand new all the time. It's like Axwell's mix of "In My Mind," like we shouldn't play it anymore because it's eight years old? No, I love that song.
That's a great song.
It's a great song. Why not?
Yeah, same with "No Beef," they're great songs. Anyways, thanks for chatting with us today, and thank you for everything you do for the scene. I'll see you at EDC.
Amazing. I will play some EDM for you!
---
Connect with Afrojack on Social Media:
Website | Facebook | Twitter | Instagram | SoundCloud | YouTube