Relentless Beats Founder Thomas Turner reflects on 2021 and talks about upcoming editions of Decadence AZ, Body Language, and more.
---
The dance music scene has rapidly grown in many cities around the United States and in Phoenix, one brand is leading the charge – Relentless Beats. Founded by Thomas Turner, this brand has played a pivotal role in the growth of electronic dance music in Arizona by bringing some of the scene's largest names to their community and hosting the largest production events in the state.
Over the years, Relentless Beats has grown to host hundreds of festivals, concerts, and one-off club events that draw thousands of attendees. This includes everything from homegrown festivals like Phoenix Lights and Goldrush to partnered events like Crush with Insomniac and Decadence AZ with Global Dance, all of which have played host to stunning lineups featuring artists such as Kaskade, Eric Prydz, Above & Beyond, DJ Snake, GRiZ, and Zeds Dead, to name a few.
While Thomas Turner and the Relentless Beats crew have their sights set on ringing in the new in style at Decadence AZ this weekend, they also had a special announcement for house and techno lovers as well. March 4-6 will mark the debut of their latest festival, Body Language, which boasts of an initial lineup featuring major artists such as Adam Beyer, Boris Brejcha, Carl Cox, and Kaskade. Check it out for yourself and stay tuned for more names to be released in the coming weeks.
Before the year fully winds down, we got the chance to chat with Thomas Turner about Relentless Beats, the challenges that the past few years presented, and the grand plans he and the brand have for 2022. Read on for the full conversation!
---
Hi Thomas! Thank you for taking the time to answer our questions today. Relentless Beats has made a big return to live music after a tough year in the industry. What were some of the struggles for the brand and how did you stay motivated over the course of the year?
We, like anyone, found ourselves feeling hopeless to start the covid period, but drive-ins, pod shows, and a total return to live entertainment kept our team in motion, thankfully.
Over the years, Relentless Beats has helped shape electronic dance culture in Arizona by bringing a vast array of genres to their events. What are your goals for 2022 to continue expanding on that endeavor?
Absolutely, and our new three-day festival Body Language is a flag in the house and techno space for RBDeep that our scene has been lacking. You can catch Carl Cox, Adam Beyer, Boris Brejcha, Eats Everything, Kyle Watson, Dombresky, Noizu, Township Rebellion, Malaa, and many more with a massive phase two to be announced.
Particularly, one of your events, Goldrush, has grown to be a destination festival for electronic music lovers. What is it about this festival that makes it so special and are there any details you can reveal about next year's event?
The 1880s Western Town we produce Goldrush is an iconic Arizona attraction that sets the scene for an unparalleled festival experience. Growing up, I'd go to Rawhide with my parents to see western shootouts and enjoy the sawdust-covered steakhouse and saloon floors. So to bring it back to life for three days over 30 years later is surreal.
Another way Relentless Beats helps grow the culture of dance music in Arizona is by fostering up-and-coming artists by giving them a platform to play at these large-scale festivals on the Discovery stage. Who are some artists that should be on our radar in 2022?
We book hundreds of deejays each year and always have some names making their way into national recognition positions. This year, names to keep an eye on include Anatta, Avitas, Dark Mark, Austin Feldman, Animate, 2SOON, Medicine Mike, our Goldrush DJ competition winner Peachy Keen, and many, many others.
You're set to ring in the New Year at Decadence AZ with artists like DJ Snake, Fisher, Nora En Pure, Seven Lions, and more. What can fans expect from this year's edition as opposed to previous ones?
The focus on our experience is at an all-time high. Previous learning experiences are driving this Decadence to our best yet. That's something I say every year, but it's true. Our superstructure will feature production throughout the whole structure, and we are investing over a million dollars in experience alone.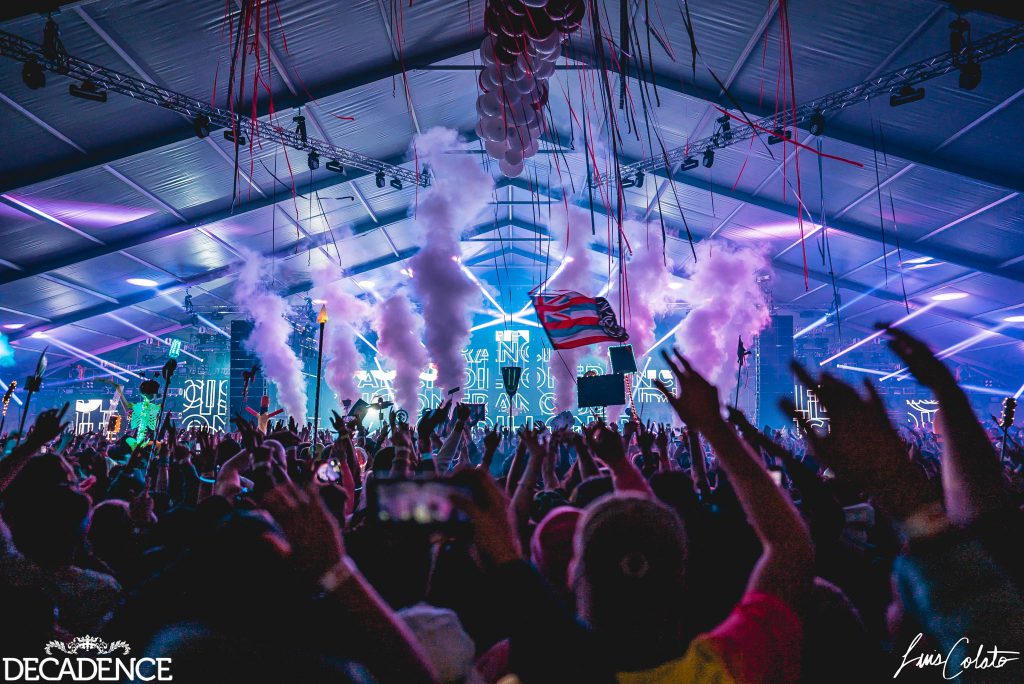 As we wind down toward the end of 2021, what have been some of your favorite releases this year?
Chris Lake – A Drug from God, Roy Rosenfeld & Sebastian Leger- Cherry On Top, Mano Le Tough- Aye Aye Mi Mi, and anything by WhoMadeWho is ace right now.
Finally, Relentless Beats has taken over Rawhide Event Center and other local establishments like Shady Park, AURA, and Sun Bar. Are there any other venues that you have your eye on to host Relentless Beats events?
We are working on a few new environments I'm excited to share soon.
---
Follow Relentless Beats on Social Media:
Website | Facebook | Twitter | Instagram | SoundCloud | YouTube | Twitch