This year's edition of Goldrush Music Festival was full of activities and epic performances that set a high bar for the future.
---
Relentless Beats' Goldrush Music Festival is a wonderful success story that dates back to its beginnings in 2017. It's been incredible to watch this festival grow over the past few years to become the behemoth it is today. While the show couldn't go on in 2020, Arizona was blessed once again with an edition of the festival at Rawhide Event Center & Western Town that featured a stacked lineup, plenty of activities, and more for attendees to experience.
This year saw Goldrush Music Festival expand from its standard two days to three, but that wasn't the only big area of growth that was present. The smallest stage at this year's edition was the size of the main stage at the first event, making the growth of the festival apparent from the moment we walked in. Relentless Beats also added even more for attendees to check out including everything from Kandi making stations and a climbing wall to exclusive activities for VIPs like axe throwing and a beauty bar.
There were three primary stages, The Golden Gorge, The Hideout, and Pioneers Peak. The Hideout featured house acts with sick beats, minimal lighting, and very cool lasers. Pioneer's Peak was mostly bass and dubstep and featured huge LED panels and crazy laser arrays and of course pyrotechnics. Finally and the Golden Gorge was the main stage and not only had basically all the same stage effects as both the Hideout and Pioneers Peak with the addition of Confetti/Streamers cannons and sparklers.
If you were a local artist there were two additional areas that you might be performing. The first was the Mission Patio silent disco. There were two DJ's mostly playing opposite genres every day which is a really cool way to double up on sets. The second was Tumbleweed Park that featured an art car. While this area was off the beaten path, it featured great local artists who were spinning on the decks.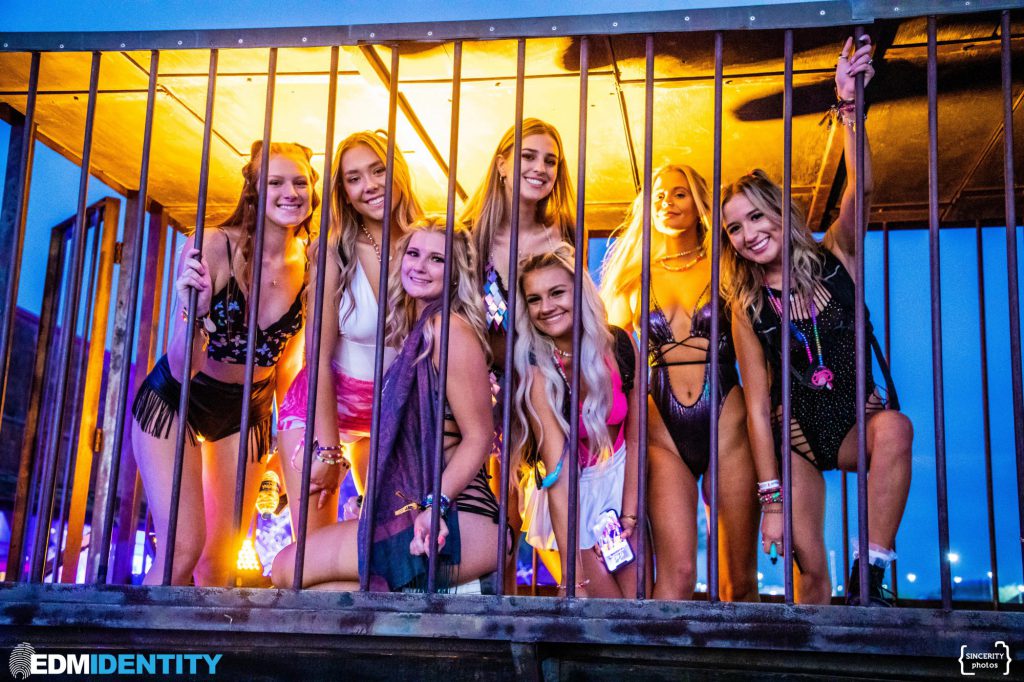 Relentless Beats really upped the ante on the performers at Goldrush this year.
Every night at 9pm and 11pm a parade of circus performers would start at the Goldrush Stage and walk the festival loop ending at their tent by the Hideout stage. Led by a woman on a wooden tiger carried by four men and followed by a range of performers such as jugglers, acrobats, and stilt walkers, it was quite a fun sight to see. I couldn't remember the last time I had been to a circus so experiencing Zoppé's Variety Show was definitely a treat.
Since the Hideout stage was so close it made sense that many of the performers would also be found at this stage. They had a little area fenced off for the fire performers who captivated so many attendees with their moves. The circus tent was also a great place to find shade during the day and catch performances throughout the night. The other side of the tent had an area full of vendors and picnic tables for those who wanted to shop, eat, or sit down for a bit. The only downside to this food court area was that the noise bleed from the Hideout and the Golden Gorge made it impossible to enjoy, so we grabbed some chicken strips and headed over the green space close to the Hideout.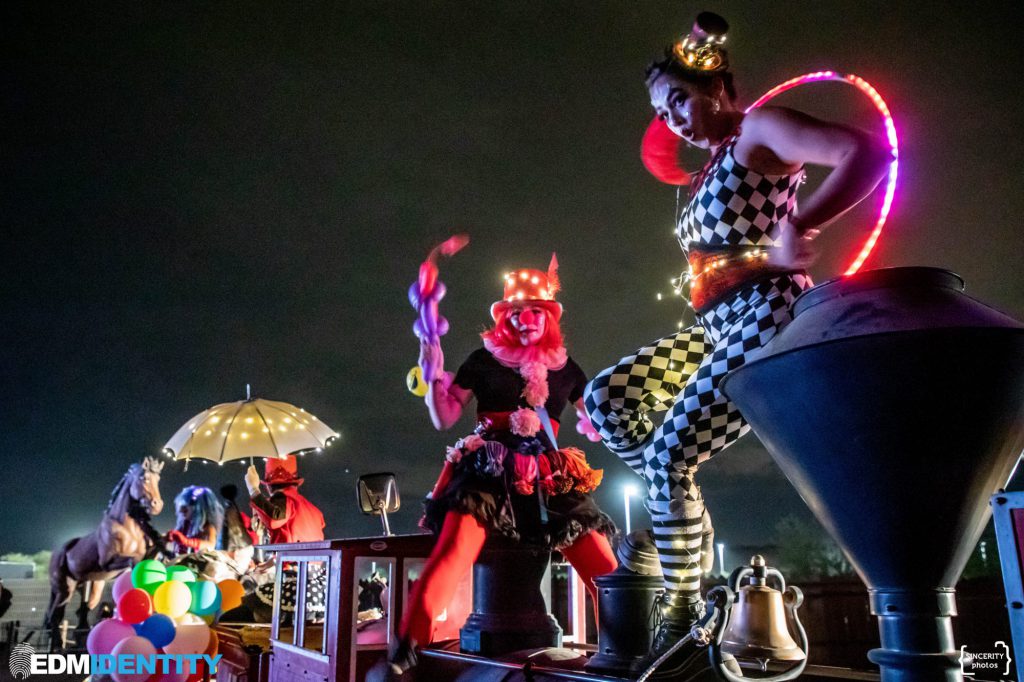 While the experience was great, the main focus of the festival for me was the music and the sets were full of surprises.
As one of the first attendees through the gates, I began on the first day by discovering Ekonovah. I stayed through his set to catch Devault and Louis Futon, where I was pleasantly surprised to find that he had live performers. From there it was time to split some sets as I did a loop around the festival, catching artists like PhaseOne, ATLiens, and Virtual Riot, each set going harder than the last. I also caught large portions of Technasia and Seth Troxler b2b Tiga, both of which I enjoyed every second of.
Who to close out with on the first night was a difficult choice, but I opted for Illenium. Having just seen him at Life is Beautiful I expected a similar set, however, the biggest difference came when he asked the crowd if they wanted to close it out with "Tiny Fractures" or some unreleased track to which the crowd resoundingly chose instead. With a quick, "I'll probably get in trouble for this, but I don't care," Illenium dropped a track that was beautiful to end the first night of Goldrush.
Every set was incredible on the second day, but the ones that really stood out were Above & Beyond and Wax Motif b2b Chris Lorenzo.
Even before Wax Motif and Chris Lorenzo took the stage together, the energy of the crowd was unreal – everyone was ready to get down on the dancefloor to some solid house tunes. The two artists delivered in full while wearing matching bucket hats and playing a hearty offering of tunes that were bouncy, deep, and ultimately fun. It went well beyond all of my expectations.
Later on at that stage was Above & Beyond and after having not seen them for quite a while, I was definitely ready for some Group Therapy at Goldrush. Their set was simply stunning as they guided the crowd through some of their latest singles and most beloved tunes. At the end of their set, Above & Beyond added their signature thank you message to the Anjunafamily in attendance, leaving everyone with a beautiful moment that reminded us that we're not alone and that this music ties us together.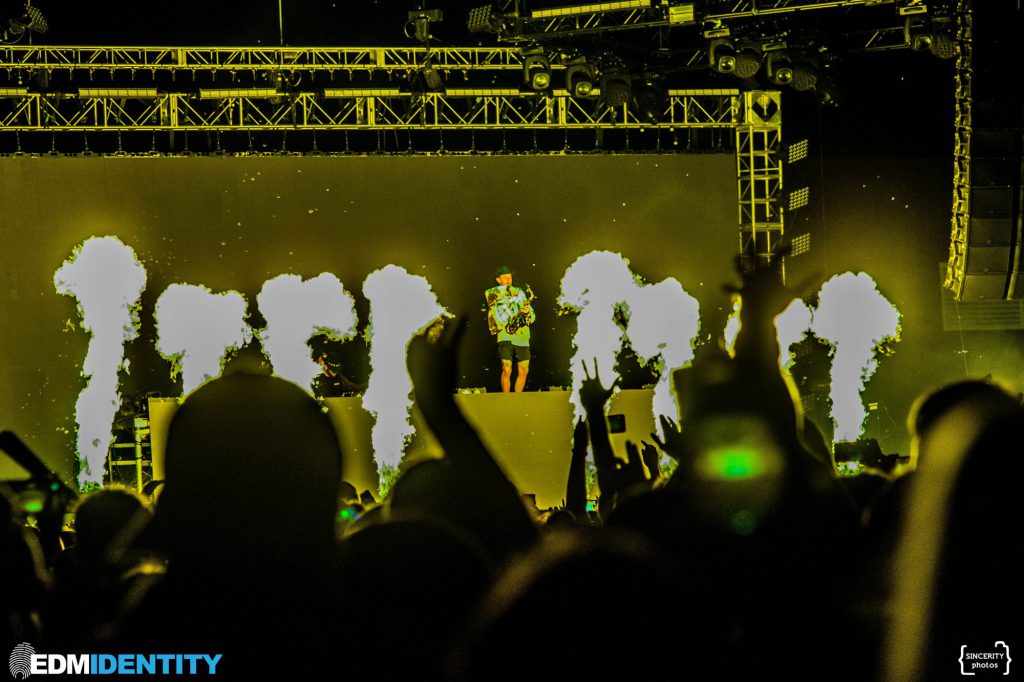 Two of my most-anticipated sets arrived on the third day of the festival, Zeds Dead b2b GRiZ and CloZee.
I quite honestly didn't know what to expect from Zeds Dead b2b GRiZ, yet I'm glad I was there to catch all the action. Throughout the day there were countless people buzzing about this b2b, and once the smoke rolled in and the countdown started, you could feel the excitement in the air. Once Zeds Dead and GRiZ took the stage wearing cowboy hats the crowd went absolutely wild.
The set was unlike anything I had caught before, especially during the moments when they were spinning a Zeds Dead track with GRiZ was playing the saxophone live over it – truly next level. The crowd was loving every minute of it with their dedicated fans singing every word while lasers, pyro, streamers, confetti, and the most incredible sacred geometry visuals in so many vibrant colors boomed from the stage.
To close out the festival I had to catch CloZee, especially since I hadn't seen her since Electric Forest 2019. Her set was filled to the brim with vibes that were out of this world. Every track and instrument seemed to blend over and into each other. It felt as though there was an invisible line tying all our dance moves together, and the love and gratitude she expressed to her fans was top-tier. I couldn't think of a better way to end my experience at Gold Rush than on this high note.
The Goldrush glow up is real and I can't wait to see what Relentess Beats does next.
Goldrush has grown close to my heart after these last few years and is quickly becoming a must-attend festival for me. The headliners and activities are great, but the local artists and the community in Arizona make it even better. This year's edition highlighted the space that can be made for both established and rising artists alike, and I hope that they continue to make that a priority. I can't wait to rush back for next year's edition of the festival and I hope to see you there!
---
Connect with Goldrush Music Festival on Social Media: