Monty takes listeners by the hand as he leads them down a road filled with eerie yet easily tempting soundscapes on Hit the Lights.
---
Monty has been making waves in the drum and bass game and is continuing to wet our toes with his recent splashes within the scene. With a mentor like Alix Perez on your side and the amazing talent that Monty possesses the possibilities are endless. This year alone, Monty has been on several of Alix Perez's 1985 curated event lineups, played at HIGHRISE festival in Bristol, and has had several noteworthy singles with outstanding artists including Visages. As if 2021 couldn't have been any more fruitful with tasty tunes from the artist, he decided to bless everyone once again with his debut album, Hit the Lights.
This 16 track album is filled to the brim with enough DNB goodness to cure your midnight cravings. Being released by 1985, it comes as no surprise that there are many amazing collaborations involved in the mix. To join Monty on his debut album there are songs with Alix Perez, Visages, and Chimpo just to name a few. The artist dropped several teaser tracks such as "Vibin" featuring Alix Perez blessing our cochleas, keeping the anticipation bursting at the seams, but now the wait is finally over.
Listen to Hit the Lights on Spotify or your preferred streaming platform now and keep reading for our thoughts on the album!
Stream Monty – Hit the Lights on Spotify:
---
Flip the switch to "ON" to begin your decent into the underworld of Monty's mind.
From the moment you start the album you fall into the intro "ON" and you feel as if you just walked into an old asylum that hasn't had any light shed on it in years until you arrived. Awakening its past memories, what will be there to greet you now that you've dusted off the cobwebs? Keep listening to find out.
One of the singles we were lucky enough to obsess over before the album dropped, "Vibin" with Visages, brings an energy you weren't necessarily expecting after the first song. This more upbeat song brings all the good vibes. The lyrics alone make you want to get wild add that with breakbeats that could make even the non-DNB fan dance along.
The next two tracks bring us back to the darker side as "Cargo" and "Dreamer" with Alix Perez bring in some heavier beats. From the sounds of flies buzzing around to chilling vocals, these two songs will have you biting your nails when you're not busy using them to signal that they're a certified banger.
To bring us back from our terror state, "Walking Home" grabs our hand and takes us on an enjoyable stroll within sounds until it politely drops us off at our home. To greet us with tasty UK vocals, Chimpo joins in on the fun with "Meet You There," which comes into play and makes you want to rewind this track again and again to memorize the skill of his flow.
Get a glimpse at the lighter side of Monty's sounds with the next helping of tunes.
"Cinnamon" sees Monty team up with Trail for a tune that's as spicy and sweet to your ears as its name implies. Infused with lighthearted nostalgic sounds you can't help but feel as if a light is surrounding your body and choosing your movements for you. These movements lead you to "Birdland" a place where you feel as free as a bird – and the combo of these two songs leave you feeling delightfully light as a feather.
The title track of the album "Hit the Lights" meets us in the middle and brings so much texture you need a few times listening to it to fully grasp what all you heard layered within it. Monty mentioned that out of all of the songs, this one was the most challenging to develop. Thankfully he stuck it out and saw it through because it is a true masterpiece.
Showing off some of that 1985 style, "Ancient" and "Hardware" with Visages, PAV4N, and Strategy show us their best rude boy sounds. With low vibrations that'll cause a chill to go up and down your spine and the bad boy attitude to match it, you're sure to be in the grasp of their clutches by both songs' runtime.
Greeted immediately by Eva Mango's angelic voice "I Knew So" will have you mesmerized instantly. "Stylz" comes in next with sounds sure to wake you up from the leftover mesmerization from the previous track. To follow its footsteps and lead you further into the darkness as take your last breath and are laid to "Rest" from the shock of the otherworldly sounds you just encountered.
We might be reaching the end of the journey, but don't worry, Monty knows how to make a masterpiece from start to finish.
"Direct Sense" gives us computer sounds mixed with that live instrument flare, a combo that I will gladly order off the menu repeatedly. Going out as he came in "OFF" leaves us with an overwhelmingly sinister feeling. This song makes you feel like you're the one standing on the album cover, completely unsure of what is to come after this light of death engulfs you.
Monty kept you on your toes during all 16 tracks of Hit the Lights. From light nostalgic sounds from the skies to the swampy depths of the dark seas, this album shows off Monty's producing skills flawlessly. What unknowns did you uncover while the light was ON till you found your way of escape to turn them OFF during Hit the Lights? Let us know in the comments.
---
Monty – Hit the Lights – Tracklist:
ON
Vibin' ft. Visages
Cargo
Dreamer ft. Alix Perez
Walking Home
Meet You There ft. Chimpo
Cinnamon ft. Trail
Birdland
Hit the Lights
Ancient
Hardware ft. Visages/PAV4N/Strategy
I Knew So ft. Eva Mango
Stylz
Rest
Direct Sense
OFF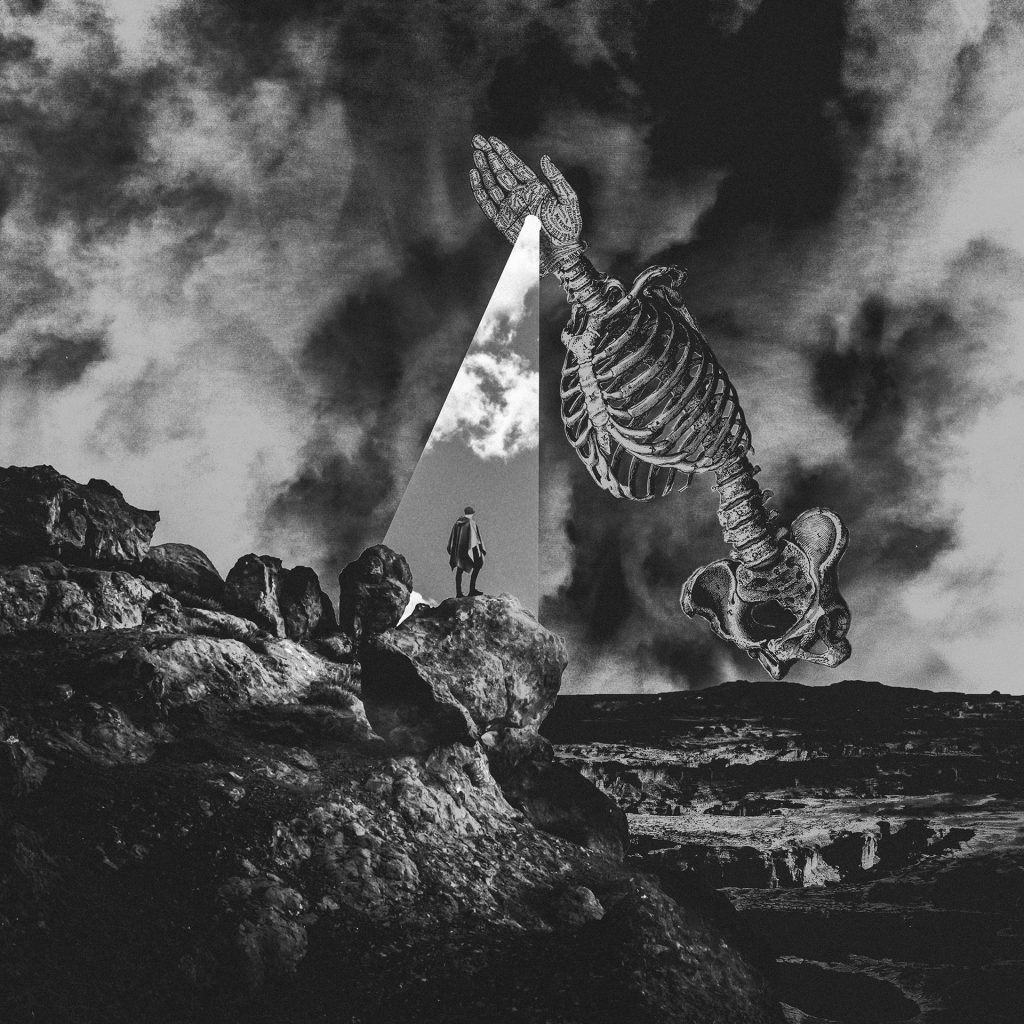 ---
Connect with Monty on Social Media: