Boston is not kidding around for New Year's events with Big Night Live hosting marquee names like GRiZ, Alesso, and Rezz for a stacked week!
---
Blockbuster names are coming to a blockbuster venue in Boston to help ring in the new year. Big Night Live has hosted some terrific acts since reopening this summer and their booking department clearly hasn't rested since. The week leading up to and including New Year's is always a power play in the dance music world and the venues definitely step up their booking game. At the same time, there are only so many marquee names to go around.
So when Big Night Live announces a six-night lineup of this caliber, you know they worked hard to close these deals. Opening the week are the Anjunafamily bosses themselves, Above & Beyond on Monday, followed by Alesso on Tuesday. GRiZ is up next on Wednesday with the one show that sold out almost instantly after being announced, and then Rezz is up next on Thursday. For the main event on New Year's Eve, Gryffin will be on stage and, finally, on New Year's Day is Gordo with special guest Kyle Walker.
If there's a name on this list that you've wanted to see but haven't had the chance, your time is now. Whether you are a new fan or an old one, getting out to one (or many) of these Big Night Live events is a must to round out your New Year's plans. You can use these events as a build-up to your own personal countdown plans, or get out for Gryffin and let him showcase the countdown for you. Either way, you really can't go wrong!
Check out the flyer and ticket links below. Tickets are currently on sale for all shows other than GRiZ which sold out in only an hour!
---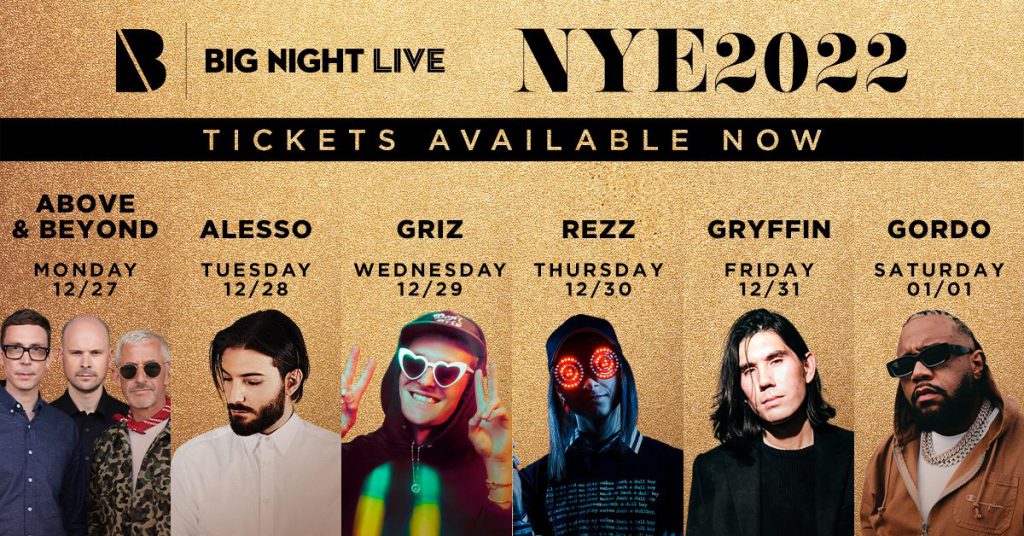 Big Night Live New Year's Week Schedule:
---
Follow Big Night Live on Social Media: