After releasing The Lee Jenningsest EP on Never Say Die, Neonix swung by to chat about its production, playing Red Rocks, and plenty more!
---
Neonix enjoyed a flourishing year and continued to give his growing fanbase hard-hitting bass tracks. Building off the momentum from last year, Neonix wasted no time and entered the year with his The Lee Jenningser EP which brought forth wild tracks like "Space Porn" and "Dig It." He then went on to release The Lee Tapes on Cyclops Recordings and returned to touring, taking the stage at Red Red Rocks Amphitheater to support Svdden Death and playing in support of MUST DIE! as well.
One thing is for certain, the bass community is gravitating towards this talented producer and his creative tracks. Now, Neonix is closing out his year with The Lee Jenningsest EP, out now on Never Say Die. This EP rounds out the trilogy that started with his Lee Jennings EP, which dropped in 2020 on Never Say Die: Black Label – and its four tracks present some of the most innovative sound design that we have heard all year, especially on "Watch This" and "Water Bass."
After the release of The Lee Jenningsest EP and witnessing Neonix's rise in the bass scene, we knew we had to chat with him on how this new EP came about, playing Red Rocks, and more. Check out the release on Spotify, download or stream it on your favorite platform, and read on for the conversation!
Stream Neonix – The Lee Jenningsest EP on Spotify:
---
Hey Neonix, thanks for chatting with us! Let's talk about your latest release The Lee Jenningsest EP, out now on Never Say Die. This marks your second EP on Never Say Die this year. What was the process behind this EP and did it differ from your previous releases?
With this EP, I really wanted to stretch the range of style across the board–whereas with the previous ones I was more or less just rolling with the punches. The 'est EP was definitely a big leap in terms of what people might come to expect of me, but I'm happy the music won't necessarily hold me down to one or two styles going forward.
The Lee Jenningsest EP is the third and final chapter in this saga of EPs, which plays off of your real name. What is the general feeling you have around this saga ending? 
It's bittersweet, yunno! I had a lot of fun writing those guys, and I think they do a good job showcasing that you don't necessarily have to take yourself too seriously or have a cohesive single vision to present. They were meant to serve as vessels for which I can be myself, and while they're done, that sentiment will stick with me forever.
One of my favorite tracks off the EP is "Pornograffiti." You mixed in a ton of different styles into one track effortlessly. What is your production process when crafting up a track like this?
Honestly, "Pornograffiti" was a bit of a weird process as it kinda came out of the blue. I listen to a lot of UKG/house in my free time so the track originally started out as a UKG tune until I dropped it to halftime. From there, I think I mostly just tried to implement all of my usual staples into the groove.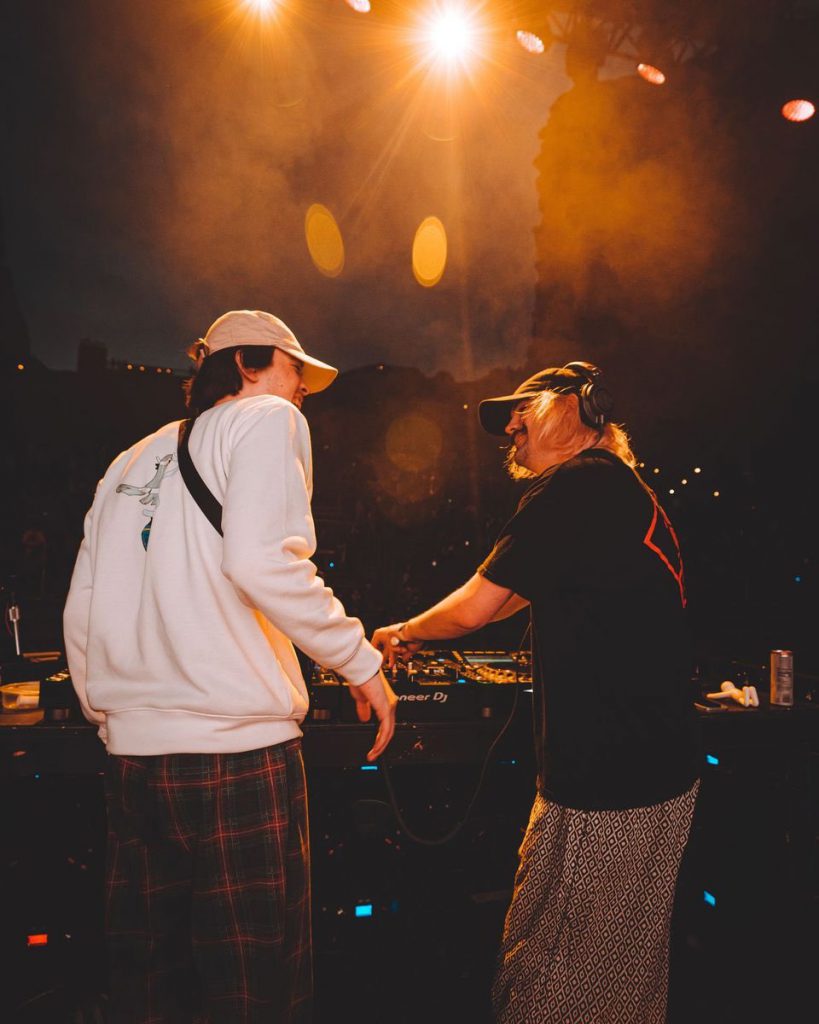 Earlier this year, you played at Red Rocks for the first time in a b2b with Syzy. How was that experience playing at such an iconic venue?
IT WAS INCREDIBLE. Gotta shout out Svdden Death for being a big sexy boy and bringing us out for that one. It was pretty much the dubstep super bowl for the year in my opinion.
As we close out 2021, do you have any goals you would like to achieve in 2022 that you are already thinking about?
I'd definitely like to branch out into releasing some other genres. It seems like everyone has been digging my UKG/house stuff so I think I might have to pull the trigger on that.
Final question, what are some tips you can give to maintain a sweet mustache like yours?
Au Natural baby!!! Just make sure you're trimming it maybe once a month, and keep twisting the ends from the point you start growing it until it becomes a habit.
---
Connect with Neonix on Social Media:
Facebook | Twitter | Instagram | SoundCloud