Following up on a stream of killer releases, Neonix delivers massive bass on The Lee Tapes EP out now on Cyclops Recordings.
---
Ever since Subtronics announced the launch of Cyclops Recordings last year, the imprint has been cranking out some of the biggest heat the bass world has seen to date. From the label's debut compilation Boot Camp to solo releases from the likes of Space Wizard and Guppi, it's been full steam ahead for the label and there's no end in sight. Now, the latest from the imprint comes in the form of The Lee Tapes EP from up-and-comer Neonix.
Since breaking on the scene, this rising bass star has found a home for his releases on Bassrush, Never Say Die: Black Label, and Circus Records, and has stood tall with tracks like "Spacewalk" and "Normalize" featuring Akeos. On his latest EP, the Dallas-based producer shows no signs of slowing down as he delivers four wicked new tunes for listeners to immerse themselves in.
The Lee Tapes EP kicks things off with "Stephen" a tune that is pure madness and immediately hones in on Neonix's signature glitchy sound. Each drop goes pedal to the metal with a rush of punching drums and deliciously ferocious modular work. Then, on "Josh," the producer taps into this same sound while incorporating vibrant arpeggiated melodies and rhythmic head-bobbing basslines.
The EP's second half comes in with a maniacal collab with Syzy on "Froggie Anime" featuring DUM DUM. Neonix doesn't stray from his trademark blips and glitches, and Syzy's sound design merges flawlessly into the track making it easily recognizable and one you'll want to replay soon after it ends. To close out the release, Neonix goes solo again on "Pain Packer," providing massive build-ups that explode into a flurry of distorted bass as he delivers the finishing blow.
If there's one thing for certain after listening to The Lee Tapes, it's that Neonix is an artist that any bass lovers should be keeping their ears tuned to. Get a taste of what he's been cooking up by streaming the EP on Spotify below or download it on your preferred streaming platform, and let us know your favorite track in the comments!
Stream Neonix – The Lee Tapes EP on Spotify:
---
Neonix – The Lee Tapes EP – Tracklist:
Stephen
Josh
Froggie Anime with Syzy and DUM DUM
Pain Packer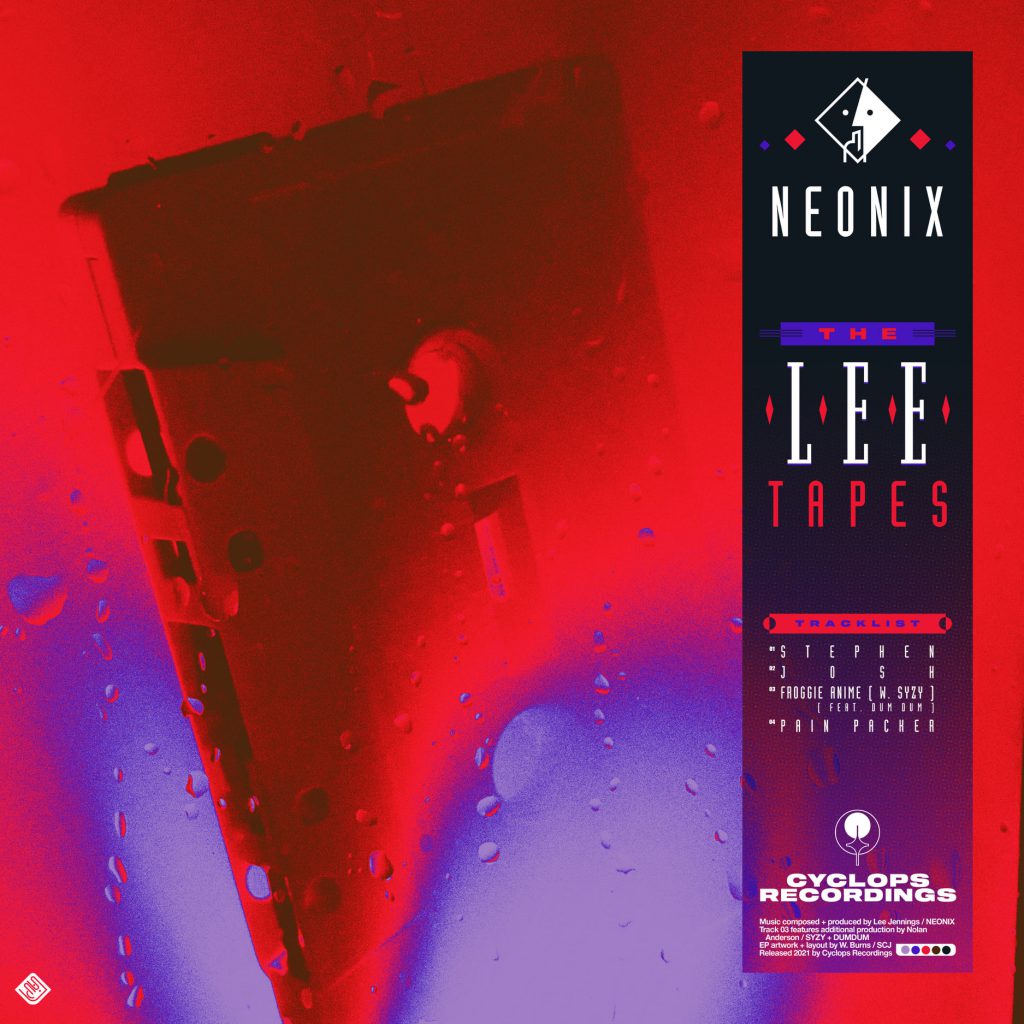 ---
Follow Neonix on Social Media:
Facebook | Twitter | Instagram | SoundCloud