Are you ready to fight for Team Basscon or Team Bassrush this weekend at Project Z? Get prepped with all the essential info!
---
While Insomniac's Bassrush and Basscon have both stood out over the years with some fantastic events and stage takeovers, there are few things that are quite nearly as epic as when the two go toe-to-toe at Project Z. Hosted at the NOS Events Center in San Bernardino, this single-day event brings some of the best from the bass music and hard dance scenes, pitting the two hard-hitting genres against each other for an experience unlike any other.
This year will see some of the biggest artists who have graced the scene take the stage on November 27 with immediate must-sees including artists such as NERO, The Glitch Mob, Rusko, Lil Texas, Frontliner, DJ The Prophet, and ATLiens, among others. Additionally, the sets from CharlestheFirst, Jantsen, HVDES, and LNY TNZ are ones you should definitely check out, while the b2b featuring 12th Planet and Barely Alive is set to be out of this world as well.
Beyond the music at Project Z, attendees will be able to play some games of laser tag, check out the vendor village, and grab some food as well to refuel their engines. To help everyone prepare for the battle ahead, we've compiled all the info you need to know before you go. So check out the set times, festival map, and more below – and let us know who you're most excited to catch!
---
Project Z 2021 – Essential Info:
Date: Saturday, November 27, 2021
Hours: 3pm – 2am PT
Venue Address: 689 S. E St San Bernardino, CA 92408
Tickets: Purchase HERE
Facebook Event Page: RSVP HERE
COVID-19 Policy
In an effort to keep attendees safe, Dreamstate SoCal will be following all guidelines set by the CDC and state and local officials, which can be found on their website. To be admitted into the festival, attendees must provide proof of vaccination or proof of a negative COVID test taken within 72-hours prior to entering the festival. A photo on your phone of your vaccination card or negative result is sufficient for entry. You will need to show these to staff upon entry.
Download the Insomniac App in iTunes or Play Store for the latest set times and updates for Project Z 2021. 
---
Project Z 2021 – Set Times:
---
Project Z 2021 – Festival Map: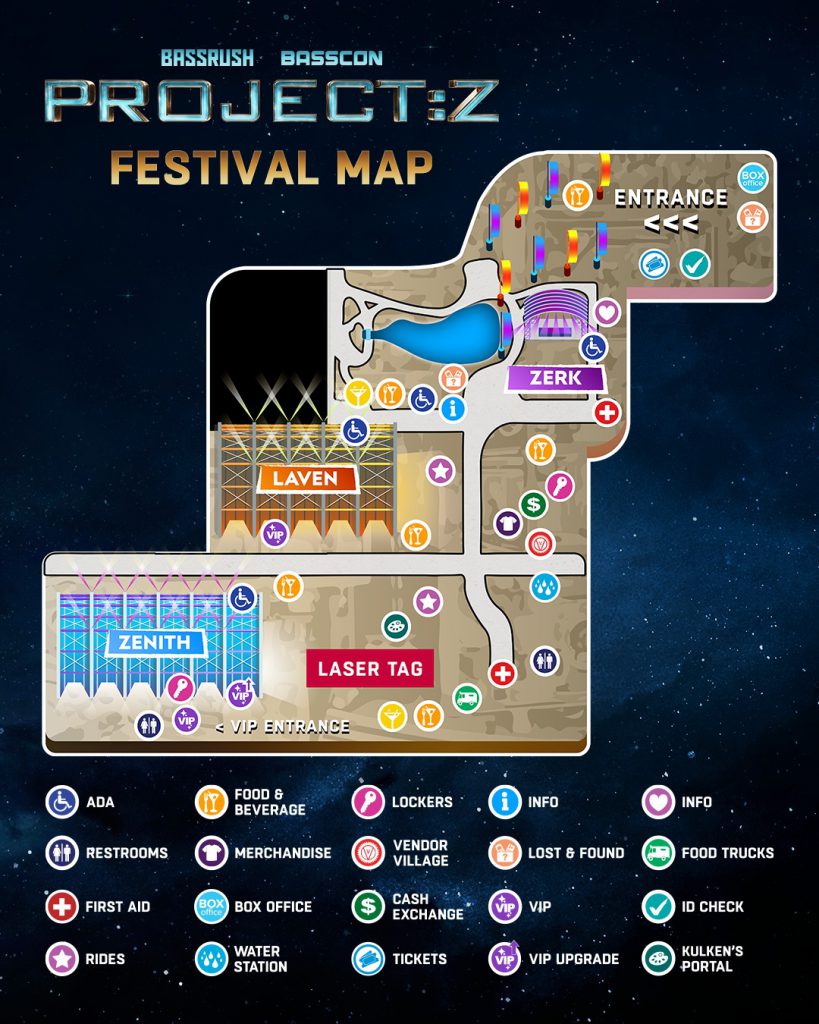 ---
Reminder To Mind Your Belongings:
Unfortunately, many people have reported pickpockets, bag slashings, and theft of wallets, smartphones, purses and other valuables during this festival season. While this small number of bad apples in the bunch doesn't define an entire crowd, there are opportunistic people who come to these events to take advantage of unsuspecting partygoers and it's important to be mindful of your valuables while at Project Z 2021.
Looking for tips to keep your belongings safe? Check our post highlighting some ideas!
---
Project Z 2021 – Do's & Don'ts:
Prohibited Items
Professional photo, video, or audio recording equipment (no detachable lenses, tripods, big zooms or commercial-use rigs)
Laser pointers and air horns
Drones, remote-controlled aircraft, toys
Toy guns, water guns, slingshots
Balls or Frisbees
Tents, large umbrellas, chairs, or blankets
Weapons of any kind (includes pocket knives, pepper spray, fireworks, etc.)
Illegal substances
Drugs or drug paraphernalia
Massagers
Eye drops
LED gloves or microlights used for light shows
Masks: No Hard Materials. No ceramic. Headliners must remove them during entry. Security staff may ask them to disassemble them for inspection. All masks are subject to security's discretion.
Aerosol products/cans
Over-the-counter medication (available inside festival at first aid station)
Liquid makeup
Unsealed tampons (upon entry)
Open packs of cigarettes (upon entry)
E-liquid or E-juice of any kind (a selection of premium liquids from a variety of name-brand vendors will be available inside the venue)
Glass, cans, cups or coolers
Outside food or beverages (including alcohol and candy)
Markers, pens or spray paint
Large chains or spiked jewelry
Stickers, flyers
Bota bags
Large purses, bags, or backpacks (over 12″×12″)
Stuffed animals or dolls
Pets
Permitted Items
Cell phones and portable chargers/external batteries
Non-professional flash/still cameras, handheld video devices under 6″ (Sony Action Cam, GoPro, etc.)
Selfie sticks
Small bags, single-compartment backpacks, plush backpacks, purses (maximum 12"x12")
Official Insomniac water bottles—must be empty upon entry
Hydration packs with no more than two main compartments and one smaller compartment—must be empty upon entry
Fanny packs
Sunglasses & hats
Rain ponchos and umbrellas measuring less than 10″ when collapsed
Lighters and sealed packs of cigarettes
E-cigs/vapes (refillable liquid chambers OK, must be empty upon arrival—no E-liquid or E-juice of any kind will be permitted)
Physician-prescribed medication that is not expired (must show physician's prescription and consult with a safety officer upon entry)
Earplugs
Sealed lip balm & gloss
Sealed sunscreen lotion (inspected upon entry)
Powder makeup
Sealed tampons
Sealed wet wipes
Sealed packs of gum
Hula hoops (including LED hoops)
Glowsticks & glowing/illuminated costumes or jewelry
LED poi & orbitals
Inflatables (must be deflated upon entry)
Flags/banners or handmade signs (no corporate/company-branded and no hard flagpoles)
Festival totems or decorated pool noodles (see Totem Guidelines)
Totem Guidelines
Maximum height is 10 feet.
Totems must be made from a lightweight material (e.g., foam, PVC / no solid metal).
Collapsible/telescoping camera extenders that follow the above guidelines are OK (lightweight/hollow aluminum/polycarbonate).
PVC, light wood or aluminum poles must be no thicker than 1 inch in diameter.
Decorated pool noodles work great for easy entrance through security.
Inflatables attached to totems must be deflated upon entry.
Any item deemed dangerous will not be allowed.
Totems promoting illegal activity or hate speech will not be permitted. Please keep it PLUR.
---
Connect with Project Z on Social Media: