Project Z is where Basscon and Bassrush go toe-to-toe to determine which genre reigns supreme, and this year features an impressive lineup.
---
Insomniac's Bassrush and Basscon have a healthy rivalry going on that gets settled every year in the battlegrounds dubbed Project Z. For one night in Southern California, the growling wubs of bass music and the distorted sounds of hard dance go toe-to-toe in an epic battle where only one can reign supreme.
Earlier this year, Insomniac announced that Project Z: Retribution would make a return to its home at the NOS Events Center on November 27, promising fresh faces, new rivalries, and of course, ground-shaking beats. And with today's announcement of the lineup, they've delivered on that promise with some of the scene's finest in both corners of the ring.
Team Bassrush has called on experienced veterans such as NERO, Zomboy, Rusko, Adventure Club, ATLiens, and The Glitch Mob to carry their banner into battle. In addition, they've also looked to others such as HVDES, Eliminate, Zeke Beats, and G-Space who are sure to bring some fresh sounds and new strategies to dominate the decks.
Hearing the call to arms, Team Basscon looked to bring heavy artillery to Project Z this year with legends including Deadly Guns, Frontliner, The Prophet, LNY TNZ, and Atmozfears leading the charge. American and European styles will also unite for a massive B2B set between Audiofreq and Darksiderz, while they also recruited plenty of homegrown talent to help in battle including LIL TEXAS, Pulsatorz, Illuminize, and Talon.
The battle between Basscon and Bassrush has officially commenced. Tickets are on sale now, so head over to the Project Z website for sales and more information about the event. Check out the lineup down below and let us know in the comments if you will be attending.
---
Project Z: Retribution 2021 – Lineup: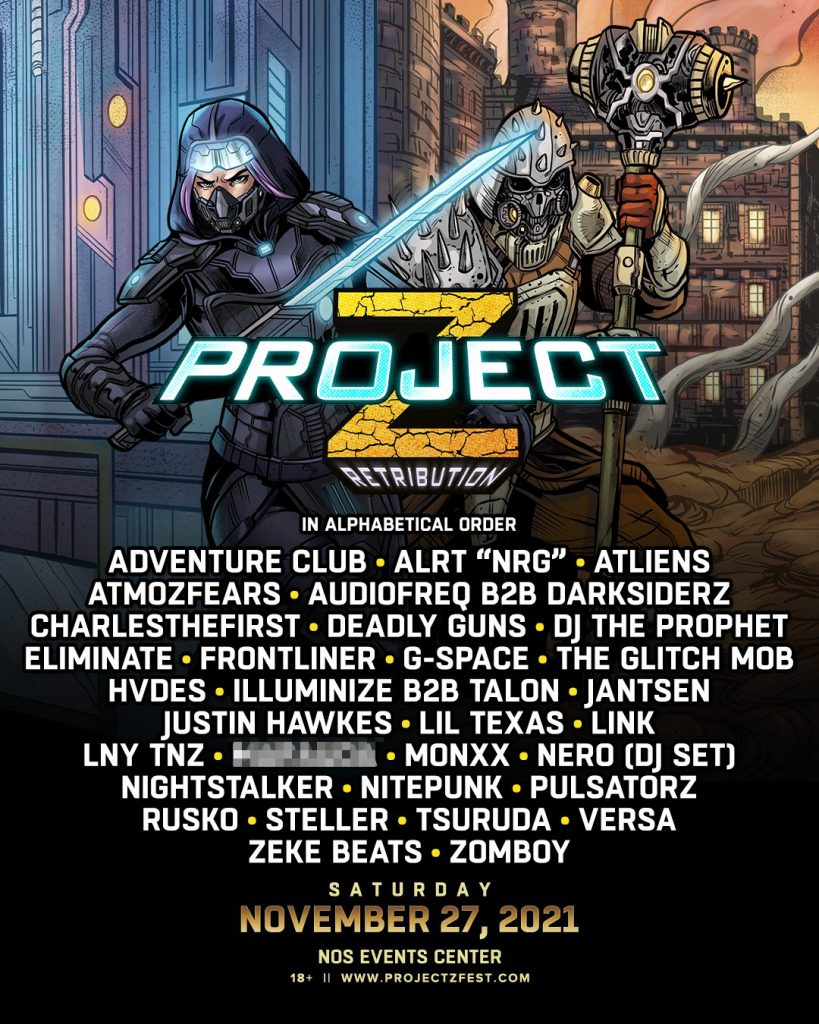 ---
Project Z: Retribution 2021 – Lineup By Artist:
Adventure Club
ALRT "NRG"
ATLiens
Atmozfears
Audiofreq B2B Darksiderz
CharlesTheFirst
Deadly Guns
DJ The Prophet
Eliminate
Frontliner
G-Space
The Glitch Mob
HVDES
Illuminize B2B Talon
Jantsen
Justin Hawkes
LIL TEXAS
LINK
LNY TNZ
Monxx
Nero (DJ Set)
Nightstalker
Nitepunk
Pulsatorz
Rusko
Stellar
Tsuruda
Versa
Zeke Beats
Zomboy
---
Connect with Project Z on Social Media: