Following the release of MOSAIIK Chapter One, Cosmic Gate will set out on tour across North America starting in January 2022.
---
This summer, Cosmic Gate graced the ears of fans with the first chapter of their album, MOSAIIK, featuring singles "Blame," "Nothing to Hide," and "Vertigo." Starting in January 2022, the trance duo will embark on a North American album tour, celebrating Chapter One and shepherding in MOSAIIK Chapter Two, due out in May.
As live events return and anticipation has built for artists to begin touring again, it's safe to say that Cosmic Gate has something special in store for this tour. Fans should expect to hear songs they love from Chapter One, as well as get first listens from the second chapter at each stop.
Starting on January 15 in Charlotte, the tour will make its way through cities including Denver, Los Angeles, Vancouver, San Francisco, and Chicago. From March through May, the duo will make additional stops in Orlando, Seattle, Dallas, Boston, and Montreal with more to be announced – so stay tuned!
Tickets for the MOSAIIK tour are on sale now. For more information and to purchase yours, visit Cosmic Gate's official website.
---
Cosmic Gate MOSAIIK North America Tour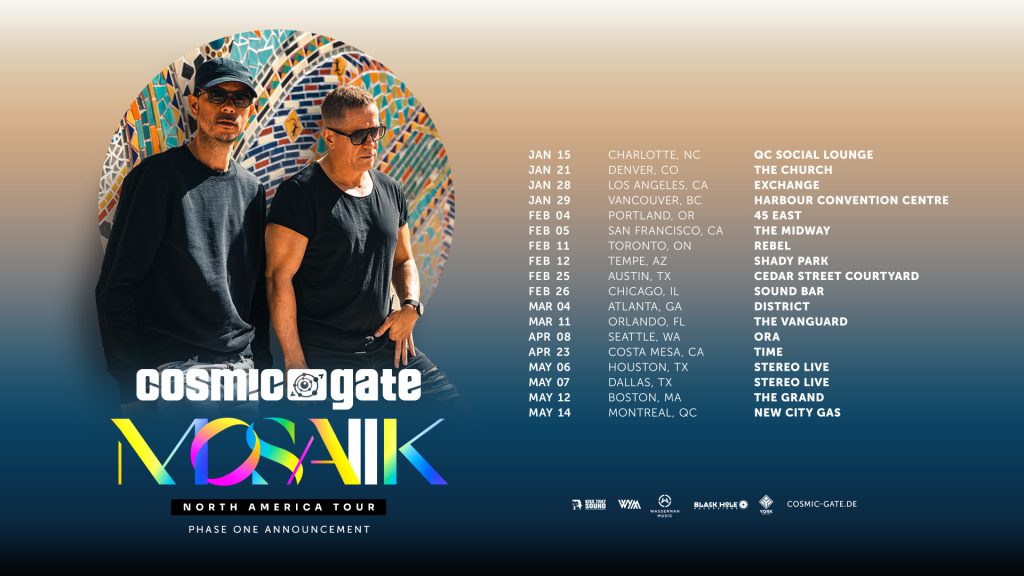 ---
Cosmic Gate MOSAIIK North America Tour – Dates and Venues:
Jan 15 – Charlotte, NC – QC Social Lounge
Jan 21 – Denver, CO – The Church
Jan 28 – Los Angeles, CA – Exchange
Jan 29 – Vancouver, BC – Harbour Convention Cent
Feb 04 – Portland, OR – 45 East
Feb 05 – San Francisco, CA – The Midway
Feb 11 – Toronto, ON – Rebel
Feb 12 – Tempe, AZ – Shady Park
Feb 25 – Austin, TX – Cedar Street Courtyard
Feb 26 – Chicago, IL – Sound Bar
Mar 04 – Atlanta, GA – District
Mar 11 – Orlando, FL – The Vanguard
Apr 08 – Seattle, WA – Ora
Apr 23 – Costa Mesa, CA – Time
May 06 – Houston, TX – Stereo Live
May 07 – Dallas, TX – Stereo Live
May 12 – Boston, MA – The Grand
May 14 – Montreal, QC – New City Gas
---
Follow Cosmic Gate on Social Media:
Website | Facebook | Twitter | Instagram | SoundCloud | YouTube