Electronic music superstar and mind magician Rezz releases her fourth album, Spiral, and takes a new turn on her signature sound.
---
Ever since her debut on the scene in 2015, Rezz has become one of the most beloved artists in the dance music scene. Countless headlining tours, chart-topping singles, fantastic albums, and packed crowds at the biggest festivals in the world have all contributed to her becoming a force to be reckoned with. This year, Rezz has been on a roll with new singles and mixes anticipating the release of her new album Spiral, but now the wait is over.
Spiral, out now on RCA Records, encapsulates the evolution that Rezz has gone through this year as she explores new reaches of her production style. As she puts it, the album "will showcase an evolved version of my music while also maintaining a very hypnotic sound which originally captivated my audience." The full-length 11-track project puts her growth on display while featuring a new side of Rezz's sound, including a unique array of synths, fusions, and techniques all while sticking to her classic deep, minimal, hypnotic groove.
The album is filled with notable features and collabs, including the recently released "Vortex" with PEEKABOO and the chart-topping "Taste of You" with Dove Cameron. These tracks have received nothing but stellar feedback from her listeners, previewing some of them at her Red Rocks two-night run back in September that got fans itching for more.
Listen to Spiral on Spotify or your favorite platform, catch Rezz on tour in 2022 in a city near you, and read on for a deeper dive into the album.
Stream Rezz – Spiral on Spotify:
---
Opening the portal is "Chemical Bond," a collaboration with DEATHPACT that will leave you stopped in your tracks with the smooth, yet gritty monster-sized bass layers.
Starting strong with a no-holds-barred approach, "Chemical Bond" with DEATHPACT creates a haunting intro paired with a wall-to-wall bass drop. Easing into the next track, "Let Me In" with fknsyd sees the two artists create a captivating narrative through her sonic vocals accompanied by the deep, grooving synths that weave in and out on a journey of heartbreak. Spiral's third track, "Levitate," is a specific track that left me breathless – a newer, unexpected sound from Rezz, with an ambient, chopped, almost hip-hop style melody that drops you face-first with a breathtaking, sine-wave crushing drop.
"Sacrificial" with PVRIS has to be one of the big fan favorites on this entire album. The collaboration with the rock group creates a seamless blend of both genres, bringing out the signature sound of both styles and showcasing the talent brought into one track. The album continues with other fantastic songs as well such as the catchy and captivating "Paper Walls" with Metric, the mind-melting deep dub solo track "Spun," and the future dancefloor anthem "Out Of My Head" with Shadow Cliq.
The eighth track, "Taste of You," sees Rezz work with Dove Cameron and dropped earlier this year. This one sent a shockwave within the community with its tale of intense love sung by Dove that was paired with the mystic groove from Rezz to make this notable. Keeping the energy flowing, "Vortex" opens us to a classic Rezz melody sprinkled into the tune, mixed with PEEKABOO's multi-layered, grimy 808s that leave us begging for more.
Then, "Time" with EDDIE and "Breathe" featuring Fortress of Graves arrive to mark the end of the album. These two tracks see Rezz deliver her minimal, melodic intros that drop you down a hole of floor-shaking waves and synths over a sonic bassline while showcasing the talents of her collaborators along the way.
Spiral is a piece of art that constitutes the wide evolution and development Rezz has curated and formulated in her sound.
Overall, Spiral is anticipated to be one of the most talked-about releases of the year and one that fans will be bumping on their speakers into 2022. This album really shows off the hard work Rezz put in this year and it's exciting to see how this new era of her career will continue to blossom. It's no secret that 2022 will possibly be one of the biggest years yet for Rezz, so make sure you stay tuned!
---
Rezz – Spiral – Tracklist:
Chemical Bond (with DEATHPACT)
Let Me In (with fknsyd)
Levitate
Sacrificial (with PVRIS)
Paper Walls (with Metric)
Spun
Out of My Head (with Shadow Cliq)
Taste of You (with Dove Cameron)
Vortex (with PEEKABOO)
Time (with EDDIE)
Breathe (with Fortress of Graves)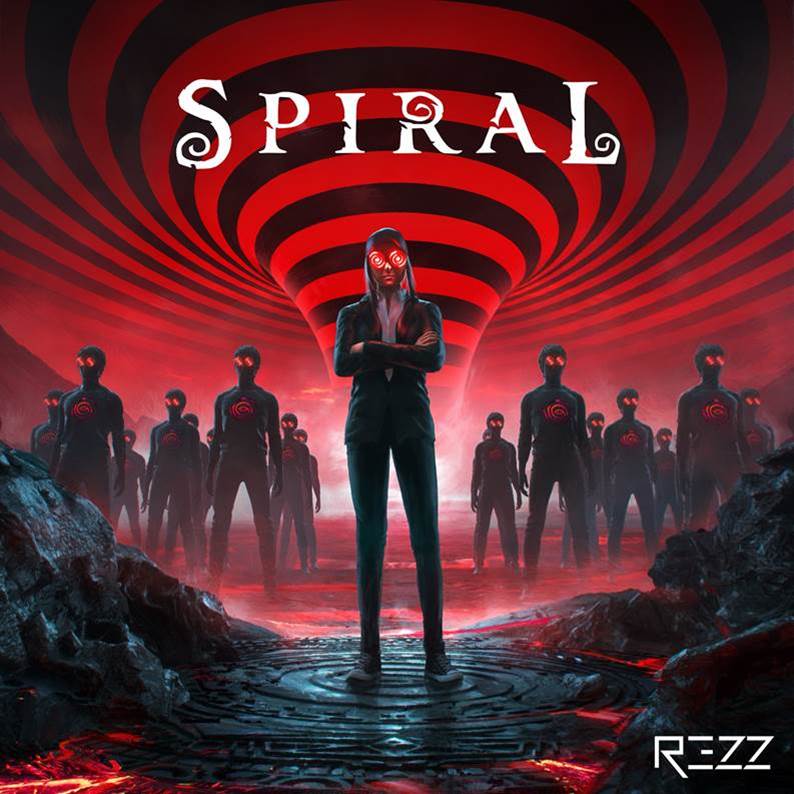 ---
Follow Rezz on Social Media: