Tommy Trash is hitting the road in 2022 on the Jaguwawa Tour with stops in San Diego, New York, Chicago, Las Vegas, Austin, and more.
---
After taking some time off from his career to embark on an ayahuasca sabbatical, Tommy Trash is back and roaring into the spotlight. Earlier this year he helped usher in mau5trap's new sublabel hau5trap and launched his own imprint, Milky Wave, in October as well. Now, the decorated DJ and producer known for smash hits like "Dreamer" and "Reload" with Sebastion Ingrosso is looking to grace the stage in select cities across North America in 2022.
Riding the wave of his new imprint's launch and the release of "Satisfy," Tommy Trash will be guiding his fans to a state of dancefloor bliss on the Jaguwawa tour. Set to kick off on January 7 in Calgary, he will then traverse the continent with stops in cities such as Boston, Dallas, Chicago, Austin, San Francisco, and Las Vegas. The final two stops on the tour will see Tommy Trash take the stage in San Diego at Parq on February 25 before he jet sets his way up to Seattle to play at The Underground on February 26.
Tickets for Tommy Trash's Jaguwawa Tour are on sale now. Head over to his website to snag yours because you won't want to miss him when he heads to a city near you!
---
Tommy Trash Presents Jaguwawa North America Tour 2022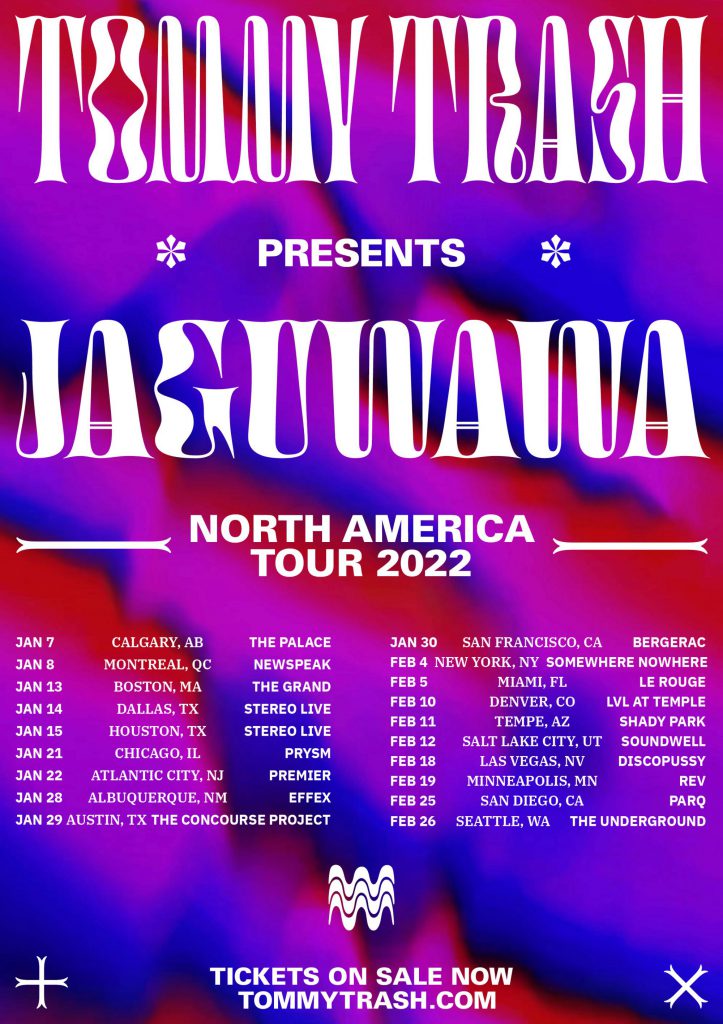 ---
Tommy Trash Presents Jaguwawa North America Tour 2022 – Dates & Venues:
Jan 7 – Calgary, AB – The Palace
Jan 8 – Montreal, QC – Newspeak
Jan 13 – Boston, MA – The Grand
Jan 14 – Houston, TX – Stereo Live
Jan 15 – Dallas, TX – Stereo Live
Jan 21 – Chicago, IL – PRYSM
Jan 22 – Atlantic City, NJ – Premier 
Jan 28 – Albuquerque, NM – Effex
Jan 29 – Austin, TX – The Concourse Project
Jan 30 – San Francisco, CA – Bergerac
Feb 4 – New York, NY – Somewhere Nowhere
Feb 5 – Miami, FL – Le Rouge  
Feb 10 – Denver, CO – LVL at Temple
Feb 11 – Tempe, AZ – Shady Park
Feb 12 – Salt Lake City, UT – Soundwell
Feb 18 – Las Vegas, NV – Discopussy
Feb 19 – Minneapolis, MN – REV 
Feb 25 – San Diego, CA – Parq 
Feb 26 – Seattle, WA – The Underground
---
Follow Tommy Trash on Social Media:
Facebook | Twitter | Instagram | SoundCloud