RÜFÜS DU SOL is heading to the sandy shores of Mexico in March 2022 with Bob Moses, Monolink, and more for the debut of Sundream Tulum.
---
Few artists in the scene have continued to capture the hearts and minds of music lovers quite like RÜFÜS DU SOL has lately. Whether you've had emotions stirred up while hearing "Innerbloom" or danced away to the sounds of SOLACE and Surrender, it's been seemingly impossible to not fall in love with the Aussie trio. Further, they've captivated audiences during their recent tours and festival appearances, while also cultivating fresh sounds on their Rose Avenue Records imprint as well.
Now, just days after fans basked in the glory of their sold-out run of shows in Los Angeles, RÜFÜS DU SOL announced their latest immersive experience with Papa Playa Project – Sundream Tulum. Set to take place on March 10-13, 2022, this four-day festival features three days of music along with a recovery day, all spent in the tropical paradise that has become a destination for dance music lovers over the past few years.
Joining RÜFÜS DU SOL at Sundream Tulum is a solid lineup of artists who are sure to bring their sensational sounds along with them. This includes Bob Moses, Monolink, Adam Port, WhoMadeWho, Eelke Kleijn, and Cassian, while rising stars such as Paraleven and Lastlings will help show off the future of the scene. There will also be activities for fans to participate in and more!
Those looking to make the trip to Sundream Tulum next spring will be able to purchase passes to attend the event if they plan on figuring out their own lodging. Those looking for an all-encompassing trip have the option of grabbing a hotel package with Jungle and Oceanview rooms, as well as Beachfront Villas available as well.
Four-day passes and packages with hotel stays will be available on Friday, November 19 at 11am PT (2pm ET). Head to the Sundream Tulum website for more details and to grab your passes!
---
Sundream Tulum 2022 – Lineup: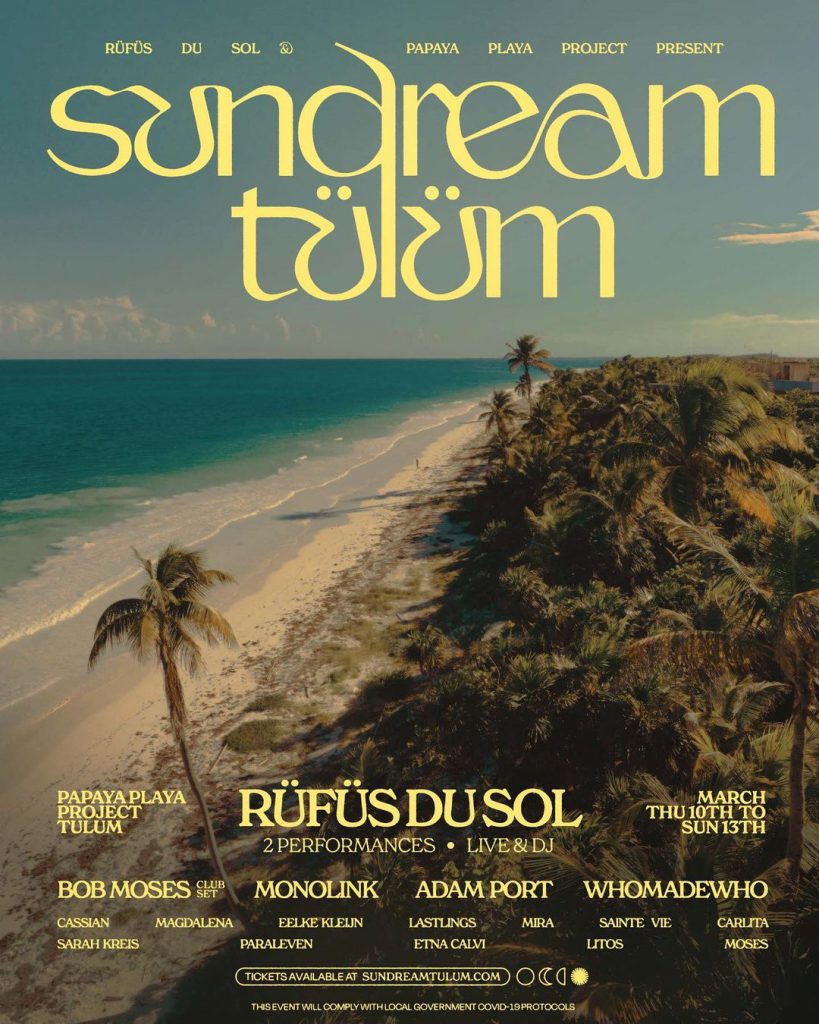 ---
Sundream Tulum 2022 – Lineup By Artist:
RÜFÜS DU SOL (2 Performances)
Bob Moses (Club Set)
Monolink
Adam Port
WhoMadeWho
Cassian
Magdalena
Eelke Kleijn
Lastlings
Mira
Sainte Vie
Carlita
Sarah Kreis
Paraleven
Etna Calvi
Litos
Moses
---
Follow Sundream Tulum on Social Media:
Connect with RÜFÜS DU SOL on Social Media:
Website | Facebook | Twitter | Instagram | SoundCloud | YouTube