Suwannee Hulaween successfully pulled out all the stops for the seventh annual gathering of music, art, and all-around love. 
---
The Spirit of Suwannee Music Park is a venue that has redefined the meaning of home for the tens of thousands of patrons that make their way to Hulaween each year. From the absolutely awe-inspiring sights of Spirit Lake to the beating wings of the bats around the open fields, no other place is more fitting for the spooky season than this serene slice of heaven.
An affirmed haven for families and festival fiends alike, Suwannee Hulaween is as wholesome as it is happening. Every installation captivates you through an array of aspects, arguably the most imminent of them being the relentless acceptance of humans from all walks of life – something we so desperately crave in these controversial times. Needless to say, I along with the masses of music-lovers in attendance, were over the moon to be back in that enchanted element, where just for a few days we traded the trying times of real-life for freakishly fun forest shenanigans.
Despite the inevitable anxieties of entering any festival, Hulaween started off seamlessly. 
The initial drive through the majestic moss-draped streets of Suwannee Hulaween is one that ignites palpable excitement. That refreshing feeling of being back home – no matter how little or far you've trekked – is an unparalleled sensation that I've yet to experience anywhere else.
From what I experienced, check-in went off without a hitch. The wait was practically nonexistent and depending on what time regular attendees arrived, the lines moved fairly fast and it wasn't long until we were taking in the sweet Suwannee air. As a full-fledged veteran of the festival, I can confidently vouch for the SOSMP staff making sure everyone entered in a safe and organized fashion. Hats off to them, because I can't imagine enduring the grueling hours they worked to ensure smooth sailing day after day, year after year.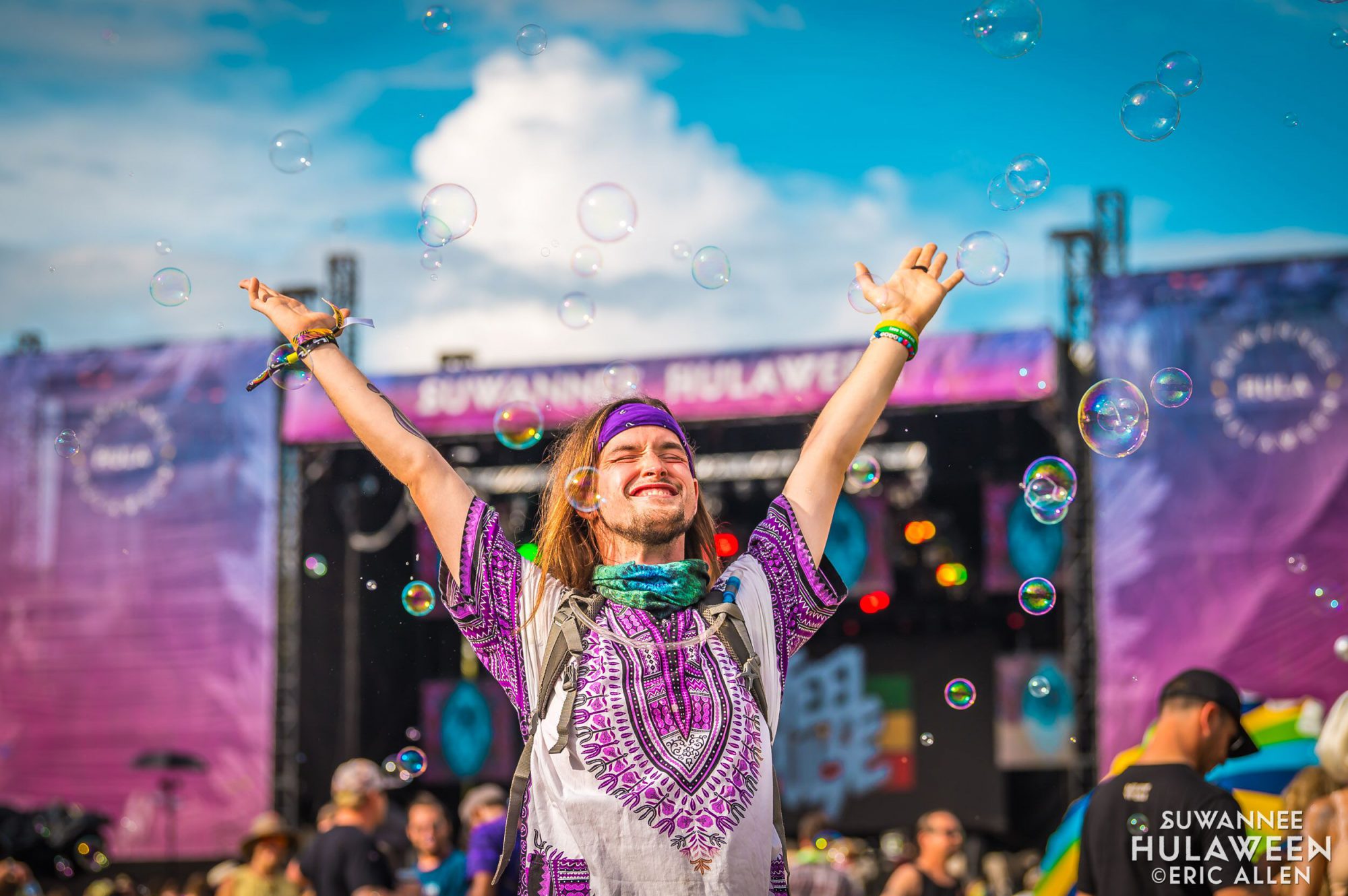 After passes were secured and parking passes obtained, we giddily forged onward to settle into our home away from home.
Seven years of Hulaween and countless destroyed tents later, I was elated to finally have progressed to the upper-echelons of elite camper status. Of course, I'm talking about none other than the luxuries of RV life, which we were extremely grateful for after realizing the heat was not going to subside. Though our spot was a significant distance from the thick of the stages, we were happy campers, literally, nestled deep in the grounds of Suwannee behind the Patch stage.
The walk to and from the RV was quite a commute, but there was always a light at the end of the tunnel.
Nothing beat returning to our site and relishing in the AC, whipping up late-night snacks, and taking intentional ice-cold showers. On the contrary, mornings were blissed-out with cold champagne on deck (after re-hydrating of course), sizzling skillets of bacon, and another ice-cold shower, all accompanied by mood music. If you have the means, RV camping is a solid game-changer; but I can guarantee you will be forever bougie after you see how green the grass is on the other side.
All in all, the venue is far more ideal for camping than most festivals out there. Patrons who arrived in good timing were able to secure shaded spots under the bountiful oak trees and set up shop right in the midst of Mother Nature, getting nothing short of the full Suwannee experience.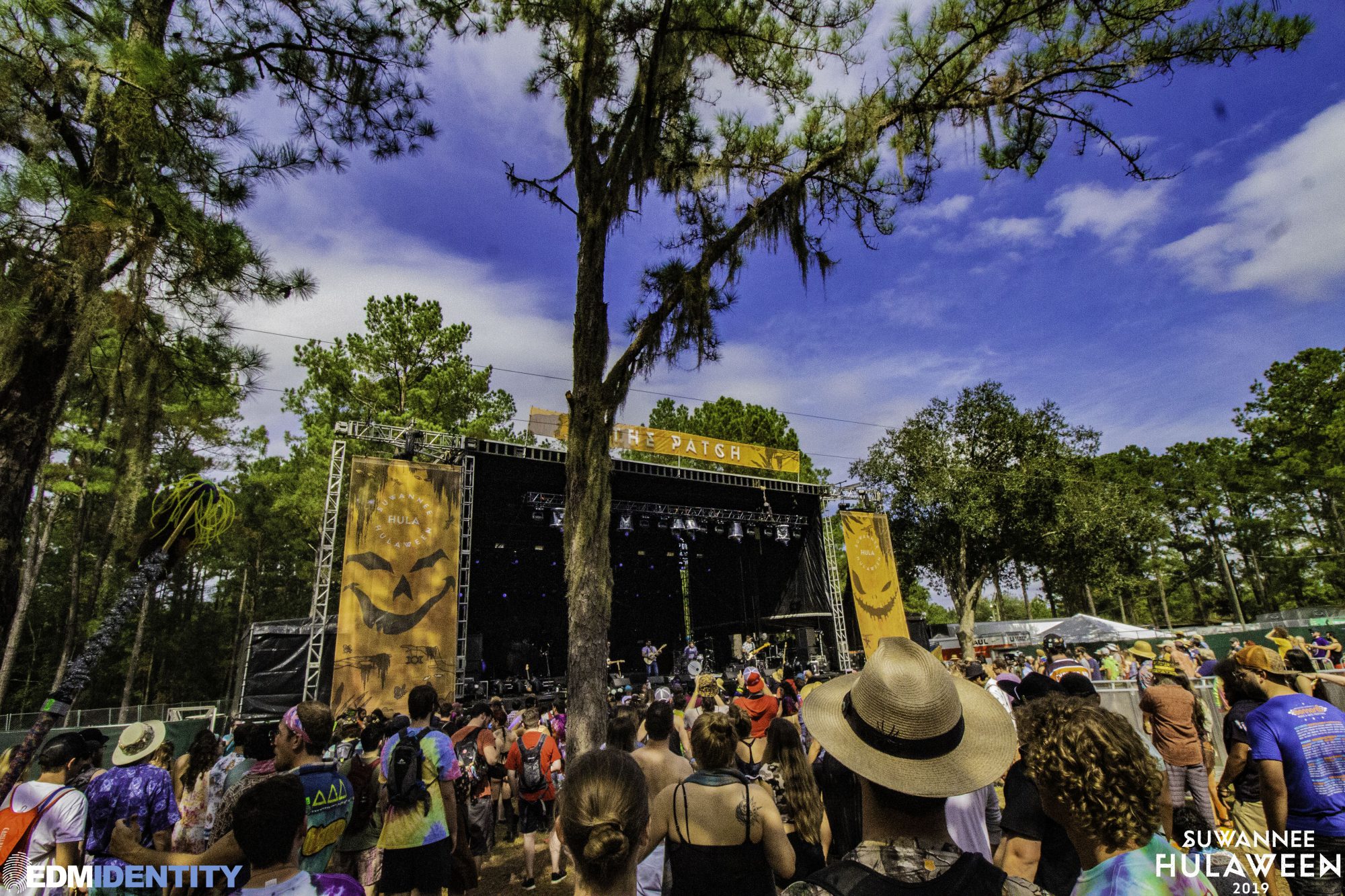 The sights and sounds did not cease to amaze us, with a definite emphasis on the sound. 
Though there was a lot of speculation and skepticism leading up to Hulaween due to investment issues and an unexpected buyout, this was the same great gathering that I've come to know and love – except better. There have been complaints regarding sound quality in areas like the Meadow and Amphitheater stages, whether the volumes were too low for the crowd in the back or too much/little bass.
I was more than pleased with the production upgrades in these areas this year and found it refreshing that Suwannee took action to make this the loudest and crispest execution thus far while still respecting the surrounding inhabited areas. Of course, there will always be those stubborn attendees that will never be content with the production, but no one was paying mind to them anyhow.
The first testament to the sound improvements was experienced when we went to check out Magic City Hippies on the Patch stage.
I was familiar with the band but not versed in any of their music. That feeling you get from stepping foot into the first set of the weekend are always goosebump worthy; it really sets in that you are where you are, dancing and vibing with friends old and new, smiling ear-to-ear while thinking of what's in store. Magic City Hippies delivered an uplifting and energized performance as fans sang along and swayed to some of their favorites.
EOTO is indubitably one of the most fun and far-fetched acts I've ever encountered and they did just that for their amped-up set at the Amphitheater. From glitchy trap to live dubstep, this dynamic duo (comprised of Jason Hann and Michael Travis of SCI) uses improv as a main component of their performance. Needless to say, no one really knew what to expect when EOTO hit the stage.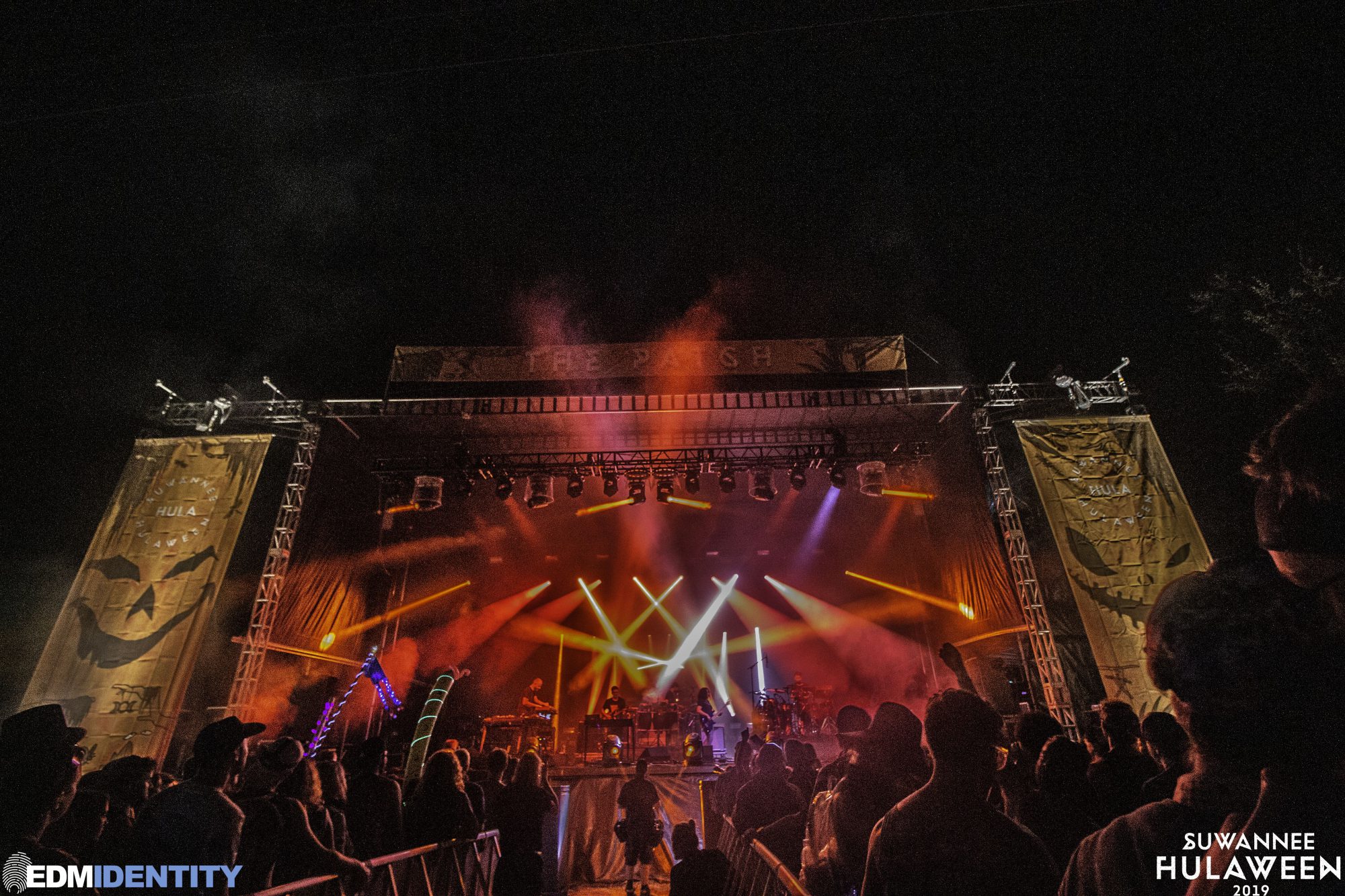 Another one of my all-time favorites, STS9, dominated the Patch stage and dug deep into their discography.
They performed their staple songs like "When The Dust Settles" and "EHM". This sensational orchestra is one of the first groups that brought live, organic electronic music to light for me, and seeing them alongside my best friends is always something I cherish – especially at home.
Never in my life did I think I would be in the presence of the legendary Tom Morello, frontman of Rage Against The Machine, but if ever there was a place for it to happen, it would be Hulaween. He absolutely shredded on stage and ignited quite the mosh pit while closing out with arguably the most influential song in RATM history, "Killing In The Name Of".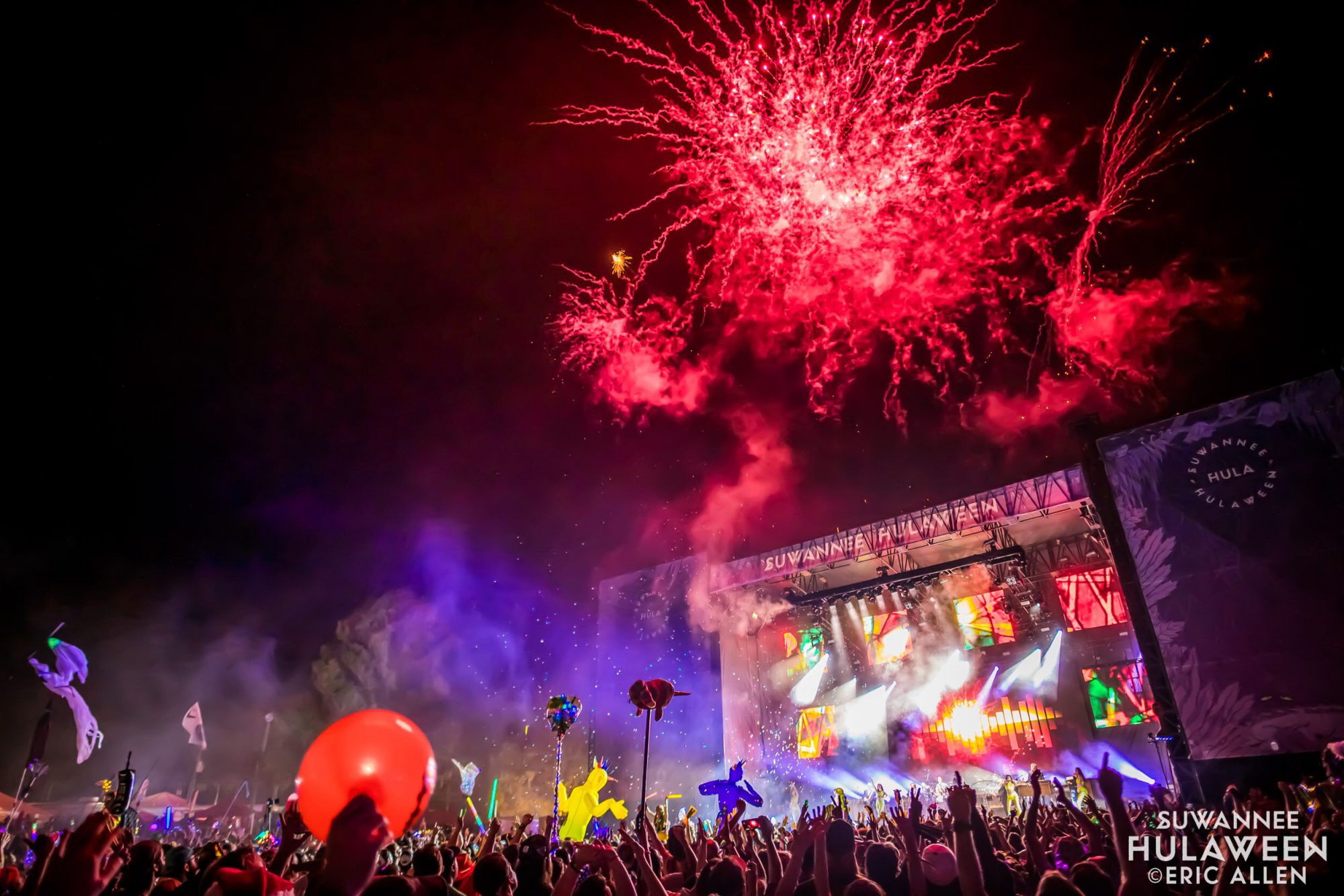 Each year The String Cheese Incident caters relentlessly to the theme of Hulaween, and they truly went above and beyond on Saturday evening.
This bold brigade covered TLC's "Waterfalls", Red Hot Chili Peppers' "Give It Away", Nirvana's "Smells Like Teen Spirit", Radiohead's "Creep" and so much more. These nostalgic numbers reminded us of the magnitude of SCI's versatility, one of the many attributes that attract their massive fan base.
Bassnectar's set was larger than life and significantly louder than his 2017 set.
Although Bassnectar is my favorite producer, I have never been inclined to hurl myself to the front of the crowd for his sets, completely disregarding those standing and sitting on the trek to the rail. So I did what I always do at his sets: smile and calmly let everyone get past me so I can have my own spacious spot to wild out and headbang with my freak family. Highlights of his set for me was when he dropped "Duck Trumpet" by Bukez Finezt and "Griztronics" by GRiZ and Subtronics, both of which had us going ballistic. I'd be lying if I said my neck wasn't still recovering a week later.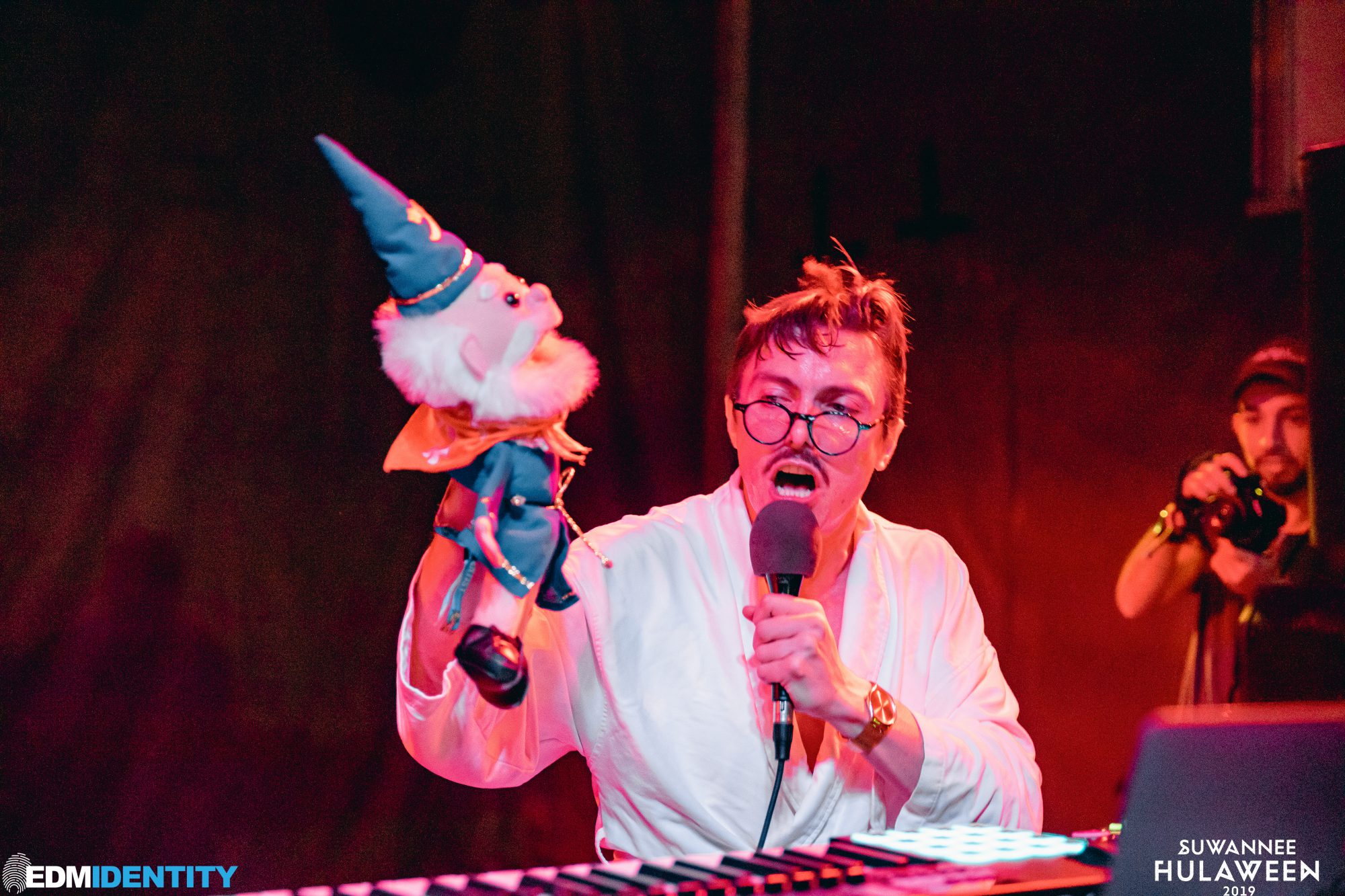 Although I faced some mixed reactions from my squad when I told them I was missing the beginning of Bassnectar for Marc Rebillet. 
A master of innovative improv and samples, Marc had us geeking out and grooving at the same time as he looped the phrase "who the f*** is Bassnectar" into a banger of a track and praised those attending his set rather than Bassnectar's. I believe his bashing to be taken lightly and all in good fun but found that a lot of hardcore bassheads were rather butthurt about it – which is comical given the fact that Marc performed barefoot in a white bathrobe on stage.
Anderson .Paak & The Free Nationals were both tricking and treating the crowd as they took the stage convincingly costumed as the members of KISS, all the while impressing us with fan favorites like "Suede" and "Tints" (ft. Kendrick Lamar). They closed out with an emotional tribute to the late and great Mac Miller with their collaborative song "Dang!", sending chills down our spines and tears down our smiling faces.
Tchami closing out the festival was not something I could've envisioned until I encountered that bittersweet moment.
I was skeptical at first, but shortly thereafter I was ready to be taken to church on that sweaty Sunday evening. Songs like Anti Up's "Pizza" bumped throughout the Amp, sending hammocks in a swinging frenzy. "Missing You" by Tchami is one of my personal favorites, so you better believe I executed my best attempt at shuffling when that fired off.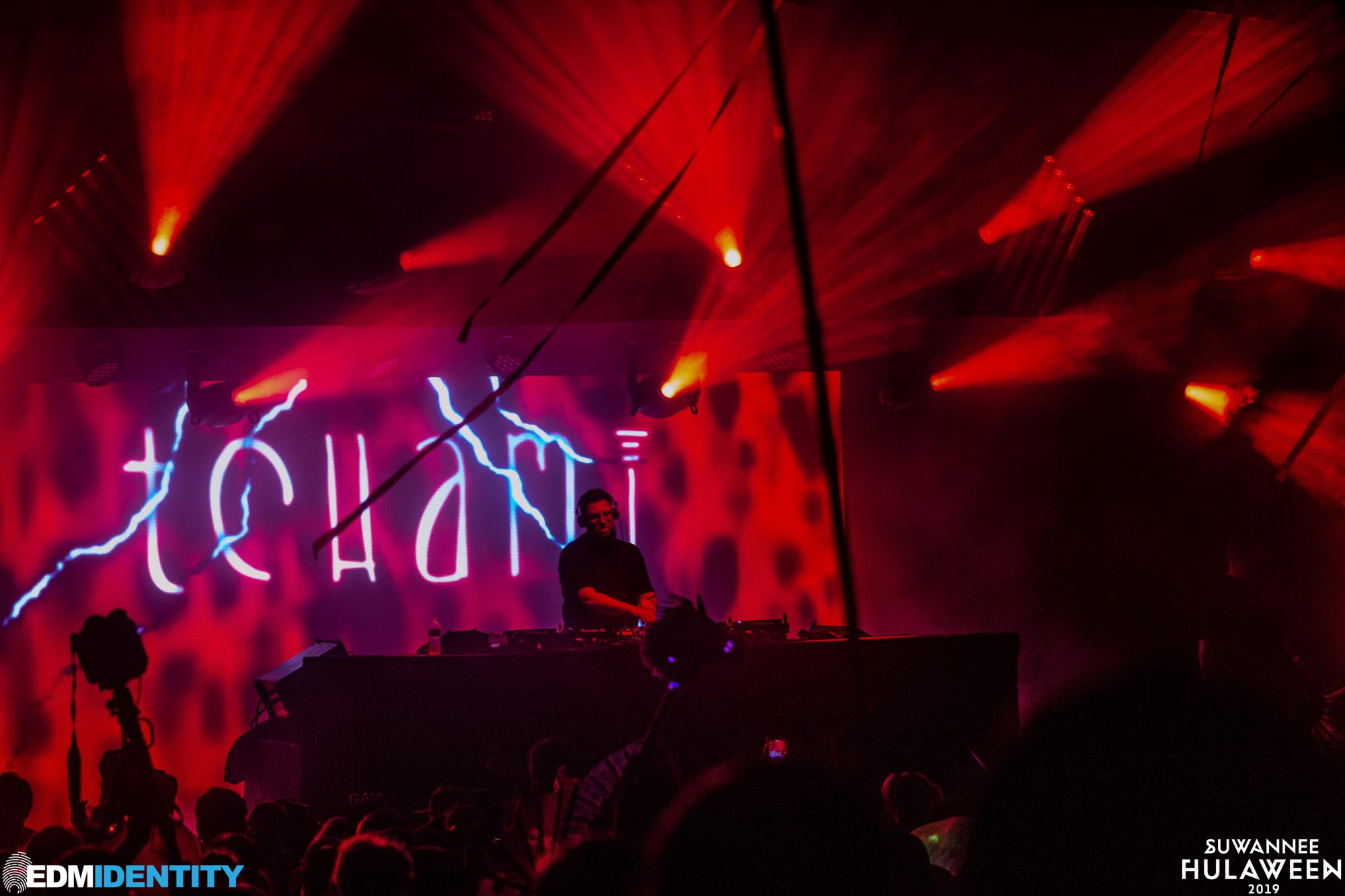 One of the best parts of photographing Suwannee Hulaween each year is capturing the cozy moments between couples and friends alike.
Love reverberates through the grounds of SOSMP, and it's next to impossible to not swoon over lovers in their natural state. Spirit Lake is definitely the most decked-out part of Suwannee Hulaween that I look forward to being surprised by every year. Structures new and old are ogled over, such as the fantastically creepy and eerie "House of Lost", a wooden wonderland set up as a spiritual church in the heart of Spirit Lake.
I speak for the masses when I say that every year Suwannee Hulaween comes and goes, we leave a piece of ourselves; a smidgen of our souls, in return for gaining another magical, memorable weekend in the books. Suwannee can't and won't stop, and if you're like me, you're already counting down the days till Halloween 2020. I can hardly wait to revisit the spookiest happy place on Earth, so until then, you fantastic freaks!
---
Connect with Suwannee Hulaween on Social Media: