Colorado artist Mersiv aims to heal through sound with his noteworthy debut album, Pretty Dark Loud.
Established on the intention of bringing people into the present through sound with The Mersiv Sound Project, Anderson Gallegos AKA Mersiv, could be described as one of electronic music's modern trailblazers. Based on personal experiences, his goal is to provide therapeutic energy to listeners through captivating tempo changes and a full spectrum sonic experience. After a personal tragedy, Mersiv began to explore his electronic music expression on a deeper level, ultimately gifting us with the creation of his debut album Pretty Dark Loud.
Since 2015, Mersiv has been developing his own "Pretty Dark Loud" style, to bring forward meaning and emotion to those who listen. With this unique style, he projects a rejuvenating therapy throughout this 20 track LP. Listeners are able to immerse themselves within a musical experience made with good intention. In addition to the music, be sure to admire the cover art for Pretty Dark Loud, hand painted by the one and only, Mr. Crumbs.
Get therapy by listening to Pretty Dark Loud on your preferred music platform, and let us know what you think in the comments. In addition, continue on for my thoughts on the album!
Stream Mersiv – Pretty Dark Loud on Spotify:
---
Begin your healing by pressing play on Pretty Dark Loud.
Once you begin listening, you're immediately engulfed in Mersiv's unique Pretty style with "Departure" and "Severing String," where a variety of melodies and tempos are utilized to create a narrative. These two tracks coincide with the sounds of "Floating Underwater Above the Clouds," the album's lead single. Light, free-floating emotions wash over you, providing a sense of calmness, right before you're overtaken by astonishing soundscapes, leaving your imagination running wild.
But, you can't see the light without experiencing some of the Dark. The Dark side is explored on the album's second single, "Forest Creature" featuring Killa Nova. This track places listeners into a jungle, portrayed through wind instruments and exotic bird sounds. Texturized layers of wubby noises paired with bouncy percussion will make you feel lost in another world. This showcases Mersiv's ability to create an atmosphere within a soundscape.
"A Worthy Opponent," is another track portraying the Dark side. With an eerie and futuristic sound, it leaves you wondering if there are any worthy opponents out there. Mersiv rounds out his album's spectrum of frequencies with Loud tracks like, "Fire Dance," a hip-hop-influenced change-up collaboration with Birmingham-Rapper, Attitude. Then, "The Death Note," brings a build-up of beats leading you up to a drop worthy of your best bass face.
Finish your journey through Mersiv's versatile sound with the last few tracks of PDL.
The storyline concludes with an amazing variety of music with lyrics filled with intention, surrounded by powerful bass, and sure to have your full attention. "Ghosts" featuring Akylla is filled with angelic vocals that will have you ascending into the heavens. His rework of Elephant Revival's "If I Was Raven" delivers slow, ethereal energy that then becomes an unexpected climatic switch up. This beautiful production was in dedication to Mersiv's Mother. Going out in style, "Arrival," ends this journey with a build-up that blasts you out of this beautiful realm you have been lost in and eases you gently back into your consciousness.
---
Mersiv – Pretty Dark Loud – Tracklist:
Departure
Dimension of the Isolated
Loosen Up
Floating Underwater Above The Clouds
Severing String
Night Vision
Forest Creature ft. Killa Nova
Fire Dance ft. Attitude
A Worthy Opponent
Tesseract
The Death Note
Nine Tails
Moon Chaser
Sky High ft. Knat Turner
Depth Perception
Ghosts ft. Akylla
Afterlife ft. Knat Turner
A Little Bit of Hope
If I Was a Raven ft. Elephant Revival
Arrival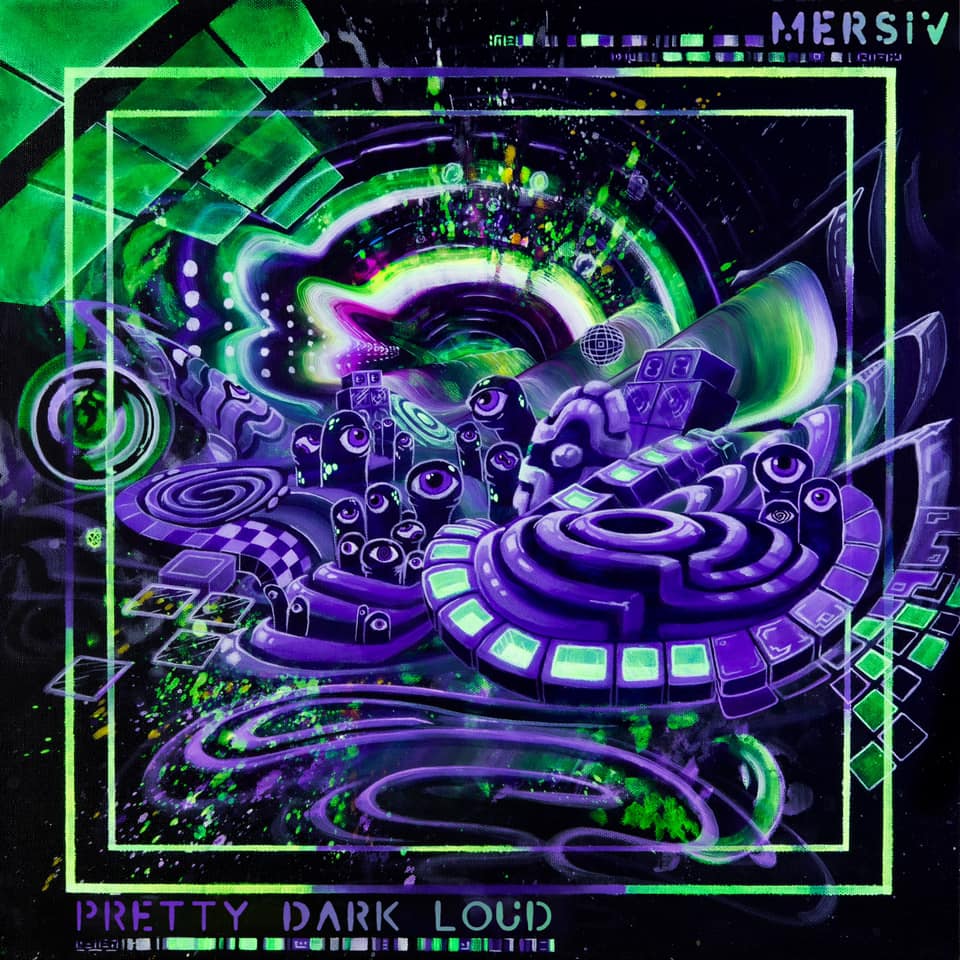 ---
Follow Mersiv on Social Media:
Facebook | Twitter | Instagram | SoundCloud | YouTube