Camp EDC re-emerged from its pandemic slumber this year and brought along a mixed bag of experiences for attendees.
---
Since its debut in 2018, Camp EDC has become a beloved home for thousands of ravers who make their annual pilgrimage to EDC Las Vegas. Those who make the trek range from seasoned veterans who simply are looking for a new experience to others who want to avoid the high costs (and traffic) that come with staying on the strip. The first year of Camp EDC was good with some minor bumps in the road, and the second saw Insomniac knock it out of the park – but as the new dates in October loomed on the horizon and the fallout from the pandemic became more apparent, many wondered what it would be like this year.
That answer arrived last week when Camp EDC opened its doors, and the results were a mixed bag from the jump. On Thursday, it became clear that this year's edition would be a tale of two worlds at the Las Vegas Motor Speedway. Hours after they opened the gates, social media was flooded with complaints from the staff not knowing what was happening to the lack of AC units in the ShiftPods. Yet, this was something that I didn't experience firsthand because instead of camping in Moon Glow or Desert Rose, I opted to go the RV route once again.
We'll get to those problems in a bit, but first, let's dive into the RV experience at Camp EDC.
Our group of four RVs arrived at the line practically on the dot at 9am after driving up from the KOA Campground nearby (which is an absolute must for me moving forward). The line didn't move for nearly half an hour as entry was still being situated, but it moved quickly once they began checking RVs, IDs, tickets, and proof of vaccination or a negative COVID test. Soon enough, we had parked in our spot, our crew began setting up our temporary home, we plugged in our power, and we were locked and loaded to explore the Mesa and start partying.
There was no one lugging bags across the campgrounds, no hiccups with entry, and no problems that would be cause for concern. The process was also seamless in getting RV members who parked in the companion lot into the venue and our spot. That being said, I still can't wrap my head around the need for a 75′ cable being "required" – I've questioned it in the past, and once again, the outlets were next to each spot.
While frustrating in their own way due to increased fees from rental companies and the need to plan extra days, perhaps the RVs are the way to go if you want more control of your experience. Gather up a strong group, find someone willing to drive that beast of a vehicle down the road, and choose that option if you're someone like me who wants the comforts of home and near-immediate party access.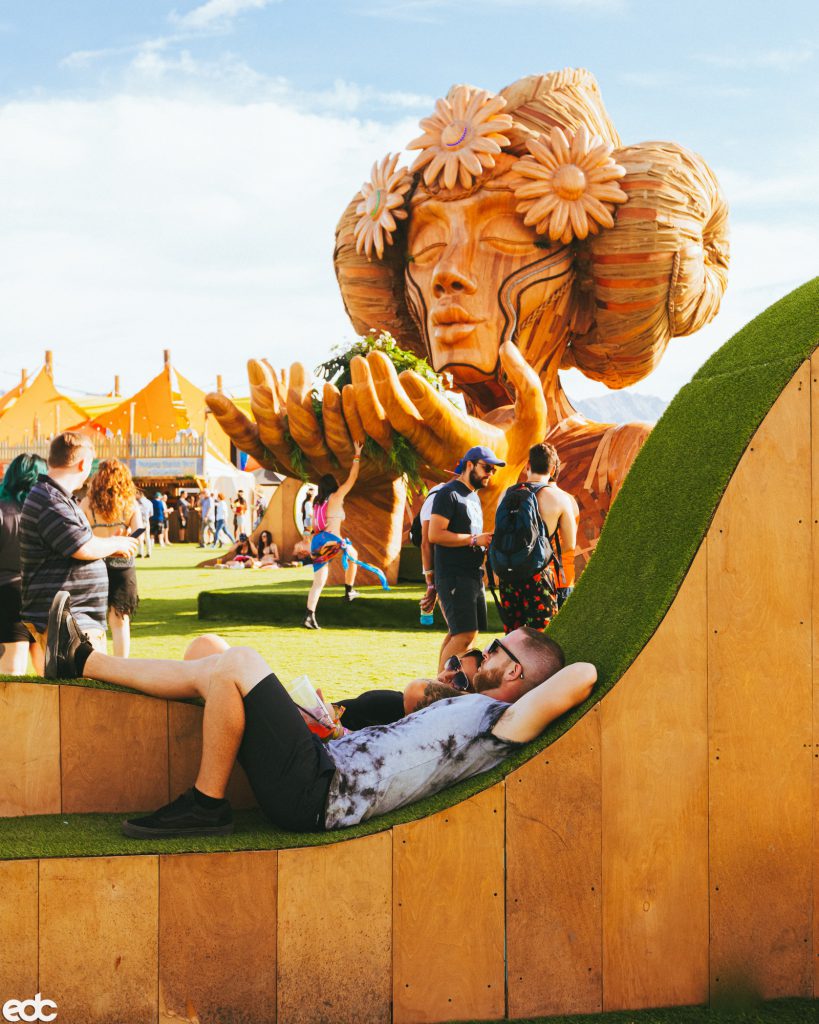 On the Moon Glow and Desert Rose side of Camp EDC, the situation was a bit bumpier.
While there were other problems that arose during the weekend, the biggest talk of the town on social media was the AC situation. The past two editions of Camp EDC were in May, when it is considerably hotter and far more dangerous to have ravers spend time in their tents with no AC. This time around, it was in October, which was much cooler during the day and night, so Insomniac made the executive decision to remove the units from the ShiftPods.
The removal of the AC units from the ShiftPods happened when the dates moved from May to October, but until Thursday, that wasn't communicated well to those staying at Camp EDC. While the website had changed (except for the policy page), it wasn't until 1:30pm on Thursday that an email was sent out regarding their removal.
With limited service and angry attendees, a text came through later that night that told everyone that if they didn't like it, they could pack up, leave, and get a refund. I don't know of anyone who left, but realistically the hotels in Las Vegas were already sold out or expensive, so there wasn't much of a choice. If this had been communicated earlier, attendees might have changed their minds about camping. Still, it also didn't seem to phase experienced campers who have battled through brutal temperatures at Coachella, Electric Forest, or Bonnaroo.
Desert Rose simply isn't worth the cost and needs to be changed.
I spoke about Desert Rose not being worth its price point in my review of Camp EDC in 2019, and if anything, it seemed that the experience just stagnated this year. Sure, you'll get the dedicated lane for check-in, there's an air mattress already set up for you, and bedding is included, but is that worth the extra $400? Even if you factor in the access to GA+ bathrooms in the festival itself, which were rarely checked by security, it doesn't justify the price tag compared to other festival glamping experiences.
I'm not expecting lavish accommodations, but there could at least be a bit more of a benefit to make it more appealing for 2022. Ideas that stir in my mind include Desert Rose campers getting a full GA+ upgrade to their festival ticket so they can enter EDCLV quickly, exclusive bathrooms and showers, a special area on The Mesa only for them, or even just something simple like a free merch bag. But until something changes, I cannot recommend Desert Rose unless you really can't take an air mattress and a blanket with you.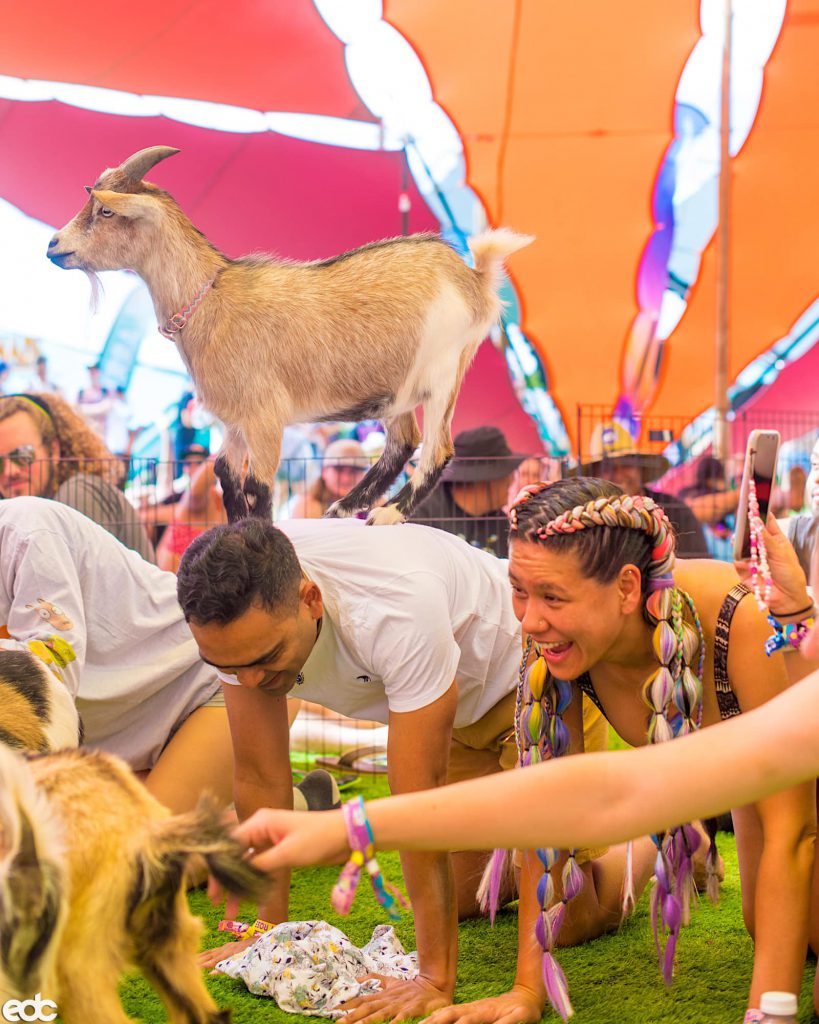 Those two issues aside, Camp EDC was great and The Mesa was constantly bumping with energy.
The new look for The Mesa this year was fantastic, and the changes that were made to its layout lent to a far better experience as a whole. It seemed that more people found their way to the shade structures and parties during the day this year, yet the grounds never felt overly packed to the point that it was uncomfortable. Perhaps that was an unintended result of the lack of AC, but it made for a more connected feeling throughout The Mesa, which the genuinely nice campers only further boosted.
The three giant shade structures hosted the different activities to try out, from Goat Yoga to Shuffling classes – and when walking by, there were always at least dozens of attendees participating. The roller rink was bustling with activity and funky beats as well. It was also easy to hop in a hammock to rest for a while, and the diversity of options for food and beverages was a pleasant surprise with very short lines the entire weekend. And if you forgot your favorite pashmina at home, there was an endless sea of them in the vendor village.
It was clear that Insomniac put a lot of effort into The Mesa this year, and the pre-parties and after-parties only further enhanced that experience. Camp EDC attendees were treated to a heavy offering of house and techno from John Summit, Lee Foss, Dom Dolla, Freak On, Westend, Wax Motif, and Noizu, among others. The pool couldn't have been more packed on Friday, though, when Bassrush took control with 12th Planet, Spag Heddy, BUKU, and Reaper playing. It'd be nice to see a touch more diversity in the future (and I'm still hoping for a trance pool party), but I had a blast while dancing in front of that pirate ship stage.
If you're looking to truly immerse yourself in the world of EDC Las Vegas, Camp EDC remains a must.
Having stayed at hotels for EDC Las Vegas for six years and attending Camp EDC for the past three, I don't know if I'd ever go back to staying on the strip. There's just no comparison to being able to wake up, take a shower, catch some insane beats, get your grub on, and then walk straight into the festival grounds. You save so much time, stress, and money if you stay at Camp EDC while also feeling more connected to the festival and other attendees along the way. See you next year in RV camping!
---
Connect with EDC Las Vegas on Social Media: