Wubaholics is back with the second edition of A Nightmare on Wub Street, featuring 13 devilish, chilling tracks from the underworld.
---
Wubaholics has become a well-respected and beloved underground music collective since emerging on the scene. They've given a platform to many talented entities and released a wide variety of experimental sounds. Some of these releases include UNKNWN's "All Love," bcon's "Fresh," and MYTHM's The Underworld. These are just a small dive into the different frequencies and genres that Wubaholics continue to push. And now, they're back with a spooktacular release and kick-starting this spooky weekend off right, with A Nightmare on Wub Street Vol. 2.
If you needed the perfect soundtrack for your Halloween shenanigans, the four tracks packed into A Nightmare on Wub Street are just what you need. Each tune is eerie and will surely raise some hairs and satisfy any unearthly craving that listeners may be having. Warning: if you plan on listening to these tracks anywhere dark, like a forest or graveyard, watch your back and make sure you aren't alone. Demons will be summoned by the sounds on this year's edition of A Nightmare on Wub Street.
Double, double, toil, and trouble, fire burn, and cauldron bubble… add some flavor to your Halloween festivities and stream A Nightmare on Wub Street Vol. 2 on your preferred music platform. Let us know which track was your favorite in the comments, and read on for a more in-depth dive into the madness of this spooky compilation!
Stream A Nightmare on Wub Street Vol. 2 on Spotify:
---
You may want to listen to A Nightmare on Wub Street Vol. 2 with the lights on because these sounds are hellishly eerie.
Kicking off this ghoulish compilation is Synthe and Bankaji with "Foul," a frightening tune that would wake the dead. The two artists will have you twisting and turning with each sinister synth and other supernatural elements. Allen Mock and Herbalistek follow up with their tracks "Chasm" and "Following." Allen Mock will have your head spinning as he surrounds you with frequencies that are so sinister, even a werewolf would be weary before listening. It's packed with echoey distortions and other elements that'll send ice-cold chills up and down your spine. Herbalistek lays down wobbly, low-end melodies that push you one way and pull you back another while weaving in vocal samples that'll have you checking over your shoulder, feeling like someone or something is following you.
PLSMA and blurrd vzn will drag their listeners to hell with their collaboration "Tint," a tune so spine-tingling the devil himself would be shaking in his boots. blurrd vzn layers in those signature distorted frequencies that make you feel like your head might spin right off your shoulders. They'll have listeners trying to escape the madhouse they'll be transported to throughout the track's entirety. Homemade Spaceship changes the mood on "Flight School" and gives listeners a jam-packed, new age "monster mash" of a creation. But don't fret; there are still strange and mysterious sounds to fill your soul up with curiosity and wonder of what lurks beyond.
As night begins to takeover and the creatures rise from their graves, listeners will find themselves lost amongst the next chapter in the story and this compilation.
Farside, Kick, and KNETICA has concocted the perfect potion to summon something "Dreaded" from the depths of the underworld – they drag listeners down with the petrifying bassline and other spell-like elements of the track. Then you'll drop into a "Pitfall" of hellish and dense, dark places with Dank Frank and his banger of a tune. This one is perfect for all the ghoulish souls who need a little extra oomph as they rise from their graves, ready to haunt any earthly being that stands in their way.
Next up on A Nightmare on Wub Street Vol. 2 is SAAS and smol with their collaboration "Here Kitty Kitty." There's no better way to bring this compilation than with the sounds these two talented producers created on this track. From beginning to end, SAAS and smol will have you crunching your face and running through the darkest and most haunted places in your mind. Then, Trigem will have listeners wandering the "Frontier" and fighting for their lives, attempting not to be abducted by the evil beings who chase them. Just wait till you reach that two-minute mark; things really take a turn.
BRWN BEAR causes "A TERRIFYING THING" to take place with his blood-curdling and petrifying basslines, while M!NGO pours "Extra Sauce" into a hot bubbly cauldron. These two artists bring impeccable energy to their tracks that are perfect for this nightmarish compilation. ADAME is up soon after with "Obsidian," which was a personal favorite of the compilation. This track felt like it should be the background in a Halloween movie with echoing bell-like sounds and foggy, scratchy elements that truly take it to the next level.
Rederick and KAINO bring the compilation to a close with their collaboration "Unsolved Mysterious."
The bassline is chunky and will have you fearing for your life while getting down and dirty to the nasty beats. Halfway through the track, they slow things down and take listeners on another wild ride as it begins to enter its final few moments to help wake listeners up from the nightmares during their deep sleep.
Wubaholics continues to push forth an abundance of different sounds from the underground, and A Nightmare on Wub Street Vol. 2 is the perfect reminder of that. The artists on this compilation all create such different frequencies and bring unique energy into their projects. But one thing they all have in common (aside from their talent) is the adoration and passion for the underground.
---
A Nightmare on Wub Street Vol. 2 – Tracklist:
Synthe, Bankaji – Foul
Allen Mock – Chasm
Herbalistek – Following
PLSMA, blurrd vzn – Tint
Homemade Spaceship – Flight School
Dank Frank – Pitfall
Farside, Kick, KNETICA – Dreaded
SAAS, smol – Here Kitty Kitty
Trigem – Frontier
BRNW BEAR – A TERRIFYING THING
M!NGO – Extra Sauce
ADAME – Obsidian
Rederick, KAINO – Unsolved Mysteries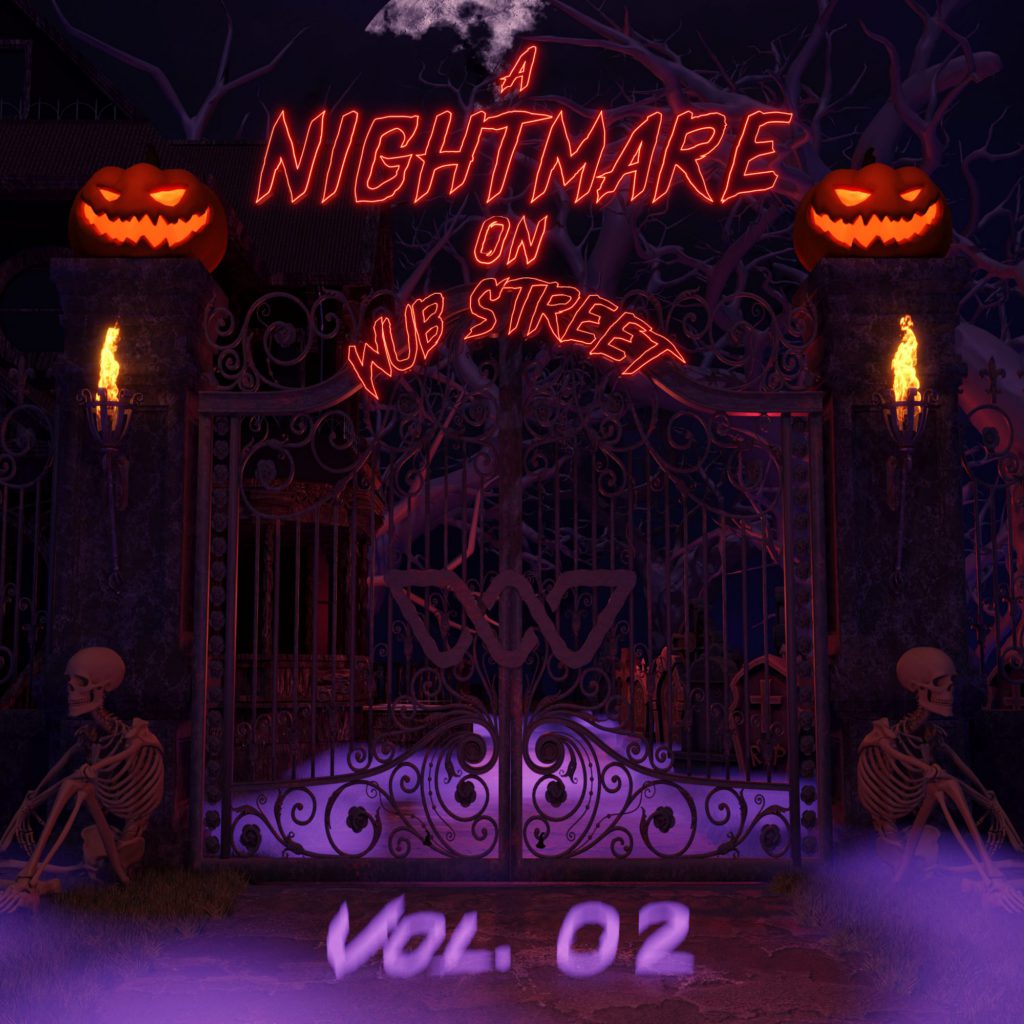 ---
Connect with Wubaholics on Social Media:
Website | Facebook | Twitter | Instagram | SoundCloud | YouTube | Twitch