This year's Halloween edition of Outside Lands is upon us! Get ready to go with set times, the festival map, and more.
---
After over two years of waiting, Outside Lands descends upon Golden Gate Park this weekend! With this year's edition, we can't wait to see what spooky surprises will be in store. Boasting a stacked, diverse lineup, immersive experiences, the brand new SOMA Tent, there will be no shortage of fun all weekend long. Whether you're dancing the night away at one of the San Francisco-themed stages or tasting local Bay Area wares, there is truly something for all palettes.
To get you prepped for Outside Lands 2021, we've compiled all the essential information you need to know before you go. Read on for a deeper dive into the set times, what not to bring, and more. Also, check out our ideas for OSL attire, and don't forget to bring layers because fall San Francisco weather can be unpredictable!
Outside Lands will also be streaming sets from this weekend on their Twitch channel. Watch exclusive backstage artist interviews, special Halloween tricks and treats, plus specialty programming focused on all that makes Outside Lands truly one of a kind. Tune in if you don't want to miss out!
Tickets are sold out but shuttle passes are still on sale. Check out all of the info you need to know before you make your way to Outside Lands! For more information, check out the official FAQs.
Outside Lands 2021 Essential Info:
Dates: October 29 – 31
Hours: 11am – 10pm Friday and Saturday, 11am – 9:40pm Sunday
Facebook Event Page: RSVP HERE
Venue Location: Golden Gate Park – San Francisco, CA
North Gate: Fulton St. & 30th Ave.
South Gate: Martin Luther King Dr. & Metson Rd.
ADA Entrance: John F Kennedy Dr. & 36th Ave.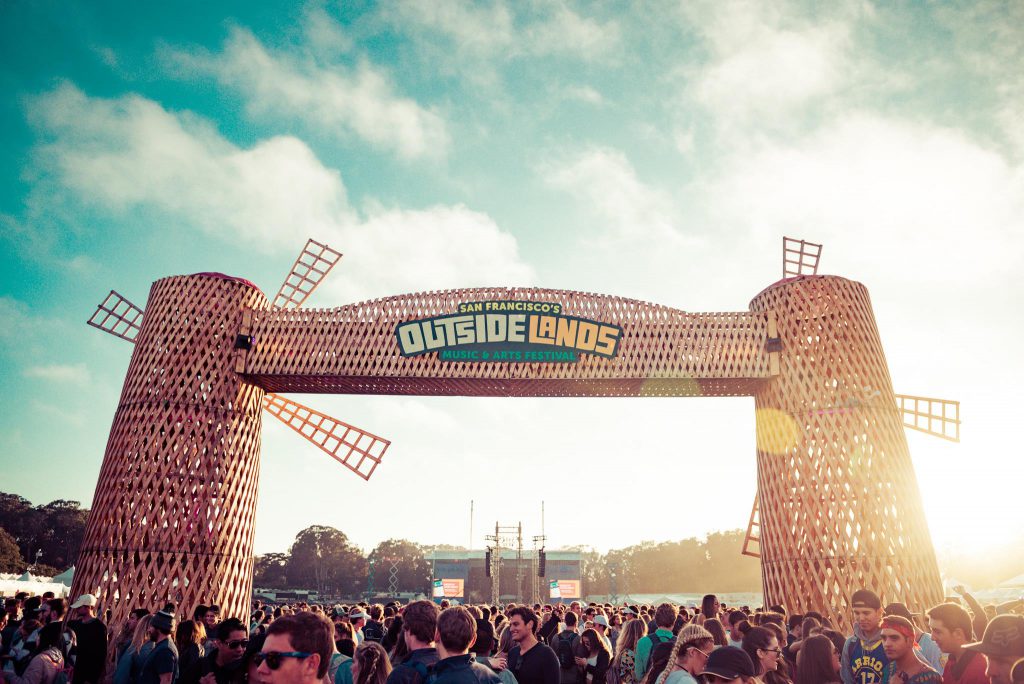 Health and Safety Policy:
All attendees of Outside Lands 2021 are required to either:
Provide proof that you are fully vaccinated against COVID-19 (you must receive your final vaccine dose 14 days prior to your entry date). Attendees can download the CLEAR app ahead of time to create your profile and take a picture of your vaccination card in the app. For more information, visit the Health & Safety page.
-OR-
Provide proof of a negative COVID-19 test within 72 hours of attending the festival. 3-Day ticket holders must get tested either Thursday, October 28th or Friday, October 29th for their negative COVID-19 result to be accepted on all three days of the festival.
If you choose not to use the CLEAR app or will provide a negative COVID-19 test for entry, we will require the following:
Government-issued Photo ID AND one of the following:
Original CDC Vaccination Card
CA Digital Vaccination Card
Printed copy of CDC Vaccination Card or Negative Test
Photo on a smartphone of your CDC Vaccination Card or Negative Test
Your photo ID must match the name on your Vaccination Card or Negative Test documentation
---
Outside Lands 2021 Set Times:
Full set times can be found on the Outside Lands website or on the Android and iOS apps.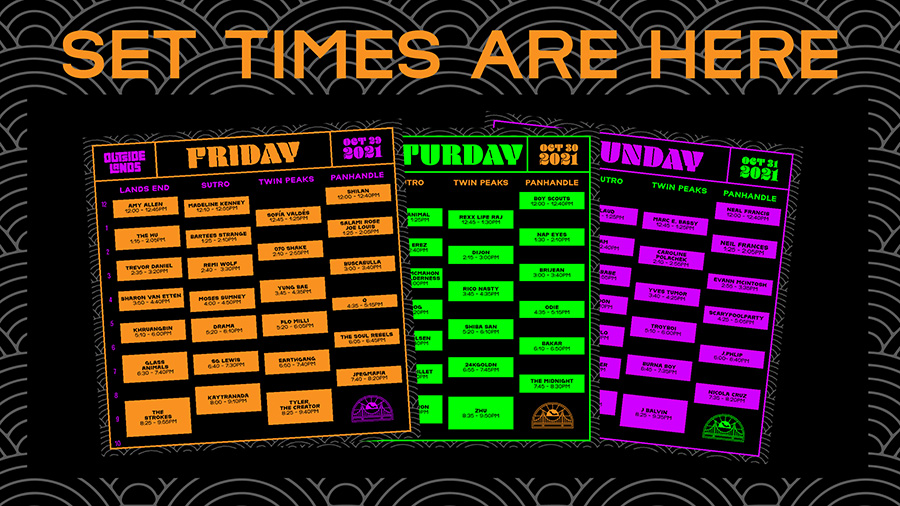 ---
Outside Lands 2021 Festival Map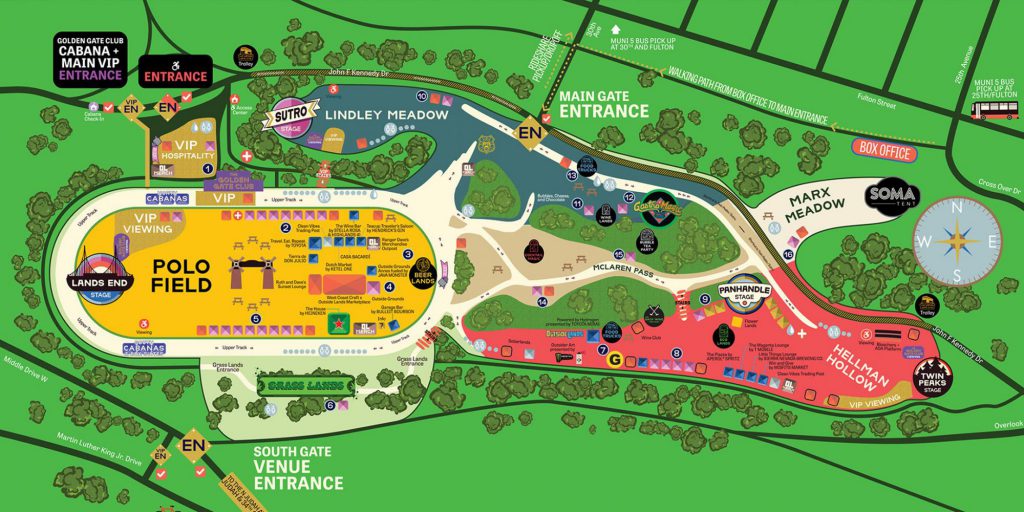 ---
Outside Lands 2021 Festival and Transportation Information:
Festival Entrances
North Gate: Fulton St. & 30th Ave.
South Gate: Martin Luther King Dr. & Metson Rd.
ADA Entrance: John F Kennedy Dr. & 36th Ave.
Main VIP Gate: John F Kennedy Dr. & 36th Ave.
South VIP Gate: Martin Luther King Dr. & Metson Rd.
Getting There
Parking: Parking will be limited so attendees are encouraged to take alternate forms of transportation
Drop offs: Some streets near Golden Gate Park will be blocked or closed completely to traffic. If you're getting dropped off, set your sights several blocks north or south of the park – Geary Blvd or Balboa St to the north, or Irving Street to the south are recommended.
Shuttles: A pre-paid shuttle service from Bill Graham Civic Auditorium to the south entrance of Outside Lands will be available from 11am – 8pm. Last shuttle leaves the festival site one hour after the music ends each night. Purchase your tickets here.
---
Outside Lands 2021 Do's & Don'ts:
Bag Policy
Backpacks and bags larger than 6" x 8" x 3" made of clear plastic, clear vinyl, or clear PVC
Small bags, fanny-packs, purses up to 6" x 8" x 3" (do not have to be clear)
Empty dedicated hydration packs with a bladder capacity of under 2.5L/150 in. and no more than two additional pockets. Standard size backpacks with hydration bladders will not be permitted.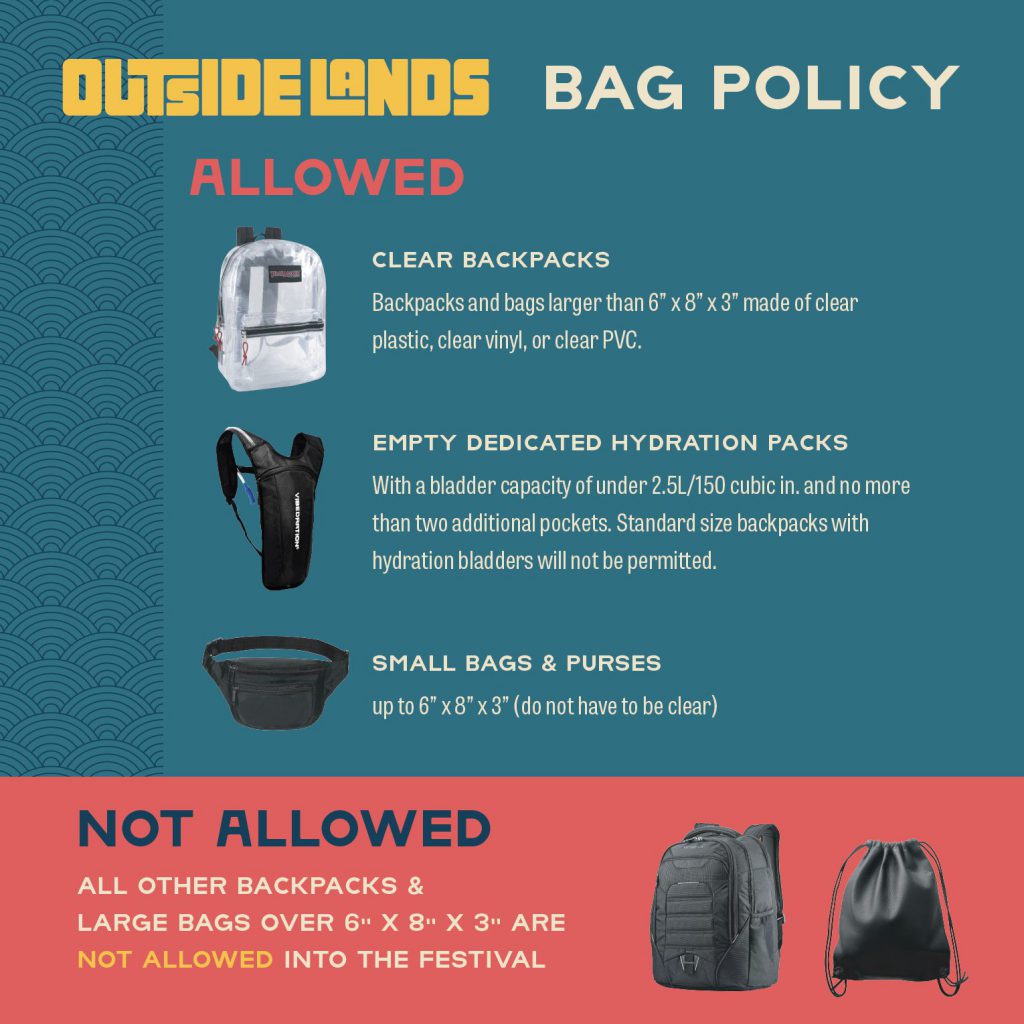 Prohibited Items
Non-clear backpacks and bags larger than 6″x8″x3″
Drawstring backpacks
Weapons of any kinds (including pocket knives)
Illegal substances
Glowsticks (glow bracelets and necklaces are permitted)
Alcohol (will be sold at the festival)
Glass or cans of ANY kind
Liquids of ANY kind
Video or audio recording equipment (including GoPros – no video recording will be allowed)
Professional still camera equipment with a detachable lens longer than 2 inches, tripods, big zooms, or commercial use rigs
Skateboards, scooters or personal motorized vehicles
Bicycles (not allowed inside festival grounds)
Strollers, wagons or carts of any kind
Hammocks or slack lines
Fireworks and explosives
Instruments and laser pointers
Umbrellas
Selfie sticks of ANY kind, including GoPro sticks
Spray paint, large markers or Aerosol cans
Picnic baskets
Coolers
Lawn furniture or any chairs with legs
Large inflatables
Tents
Pets (except service animals)
Drones
Totems or flags
Threatening signs or apparel
American Indian Headdresses
No illegal vending is permitted (no unauthorized or unlicensed vendors are allowed)
Costume Policy
Since this year falls on Halloween weekend, costumes are encouraged! Please be respectful when choosing out your festive outfits (i.e. no headdresses permitted) and leave toy weapons of any kind (guns, knives, baseball bats, etc) and fake blood at home. First responder costumes including law enforcement, medical staff and firefighters are strictly prohibited. Masks or costumes that cover your full face are not allowed, as well as any hard-sided helmets or headgear.
---
Reminder To Mind Your Belongings:
Unfortunately, many people have reported pickpockets, bag slashings, and theft of wallets, smartphones, purses and other valuables during this festival season. While this small number of bad apples in the bunch doesn't define an entire crowd, there are opportunistic people who come to these events to take advantage of unsuspecting partygoers and it's important to be mindful of your valuables while at Outside Lands.
Looking for tips to keep your belongings safe? Check our post highlighting some ideas!
---
Follow Outside Lands on Social Media: