Mersiv makes his grand return to WAKAAN and effortlessly creates dream-inducing soundscapes with heavy basslines on the Legion of Boom EP.
---
In 2017, the Mersiv Sound Project was started by Anderson Benoit Gallegos – and he's had the attention of the scene ever since. Coining his style as "Pretty Dark Loud," Mersiv masterfully blends enchanting harmonies with powerful bass, and he further proved that in March with "Morse Code" on WAKAAN. This vibey spell of uplifting chords and sizzling bass trills wasn't the artist's first release with the label, but it gave us a sneak peek of the ravenous energy he intends to bring to the table in 2021.
Now, he's returned to the imprint with his latest release, the four-track Legion of Boom EP, and it's the perfect addition to his beautifully twisted sonic repertoire. With support from several Colorado-based artists including Wriza, Killa Nova, Opalyte, and Chill Bobby, each track on Legion of Boom packs a resonating punch that bassheads won't be able to resist. In fact, it might just be one of the best EPs the bass music scene has received all year.
Mersiv refuses to hold anything back with each track on Legion of Boom. Check out the EP on your favorite platform and read on for a full review!
Stream Mersiv – Legion of Boom EP on Spotify:
---
The journey begins with "The Prologue," a vivacious collaboration with Wriza.
Don't let the name fool you – "The Prologue" is no easy-going opening track. The tune begins with a swarm of chanting vocals and otherworldly melodies that descend into a dangerously deep rapid-fire of heavy bass artillery. Each incendiary wobble pulses with an overwhelming amount of energy that is only tamed by a stream of feather-light chimes sounding delicately in the background. The second half of the track switches up completely, slowing down and stretching out each guttural bass wave with expertise.
Up next is "Go Down," an explosive collaboration with Killa Nova. The daunting instrumental introduction paired with snappy percussion alludes to the absolute beatdown to come, and sure enough, it does. The track melts into a breath-halting fusion of glitchy, heavy bass and alien clicks that are sure to completely rattle your cerebral in the best way possible.
The third track to arrive is "Ultimate Dragon" with Opalyte. Hauntingly beautiful vocals intertwine with blissful harmonies before building intensity and transforming into a flurry of revolutionary wobbles and intergalactic sound design. The layering and flow of this track alone are what makes it arguably my favorite on Legion of Boom. Then, for all the headbangers out there, Mersiv wraps up the EP with "Drop That Beat" with Chill Bobby. Rap vocals lead up to a blistering onslaught of vicious wobbles that intensify in explosive fervor with each passing second.
Having quickly gained traction within the bass community, Mersiv and his robust sound continue to pave the way for a wonderfully unique and boisterous style of bass music. If Legion of Boom is even half of what Mersiv has in store for 2021, the entire bass scene is in for a real treat.
---
Mersiv – Legion of Boom EP – Tracklist:
The Prologue w/ Wriza
Go Down w/ Killa Nova
Ultimate Dragon w/ Opalyte
Drop That Beat (feat. Chill Bobby)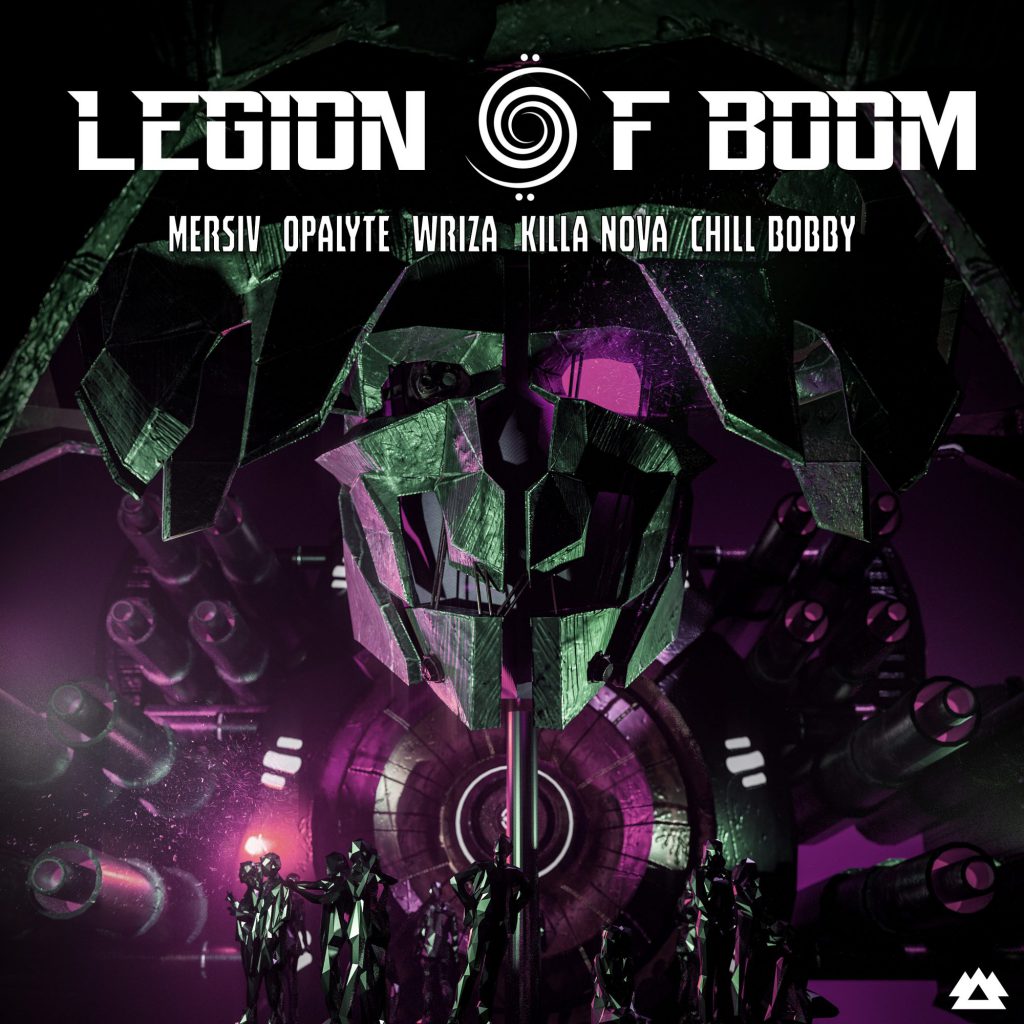 ---
Follow Mersiv on Social Media:
Website | Facebook | Twitter | Instagram | SoundCloud | YouTube