Day Zero Tulum celebrates its tenth anniversary in style featuring Nina Kraviz, Carl Craig, Martinez Brothers, and more!
---
There's simply nowhere else on earth more beautiful than the lush Mayan jungles of Mexico. The only way to make this natural wonder even more spectacular is to tuck a festival deep within, featuring the bold and beautiful underground sounds of house and techno. Since 2012, Day Zero, dreamt up and executed by founder Damian Lazarus, has been masterfully bringing this concept to life, and on the symbolic date of January 10, 2022, they celebrate ten years of partying under the canopy with a refined, refreshed, and reimagined experience that's going to blow your mind.
With a stacked lineup, the traditional opening ceremony will be performed by Sidartha Siliceo, welcoming the community as we become one with the spirits of the forest. From this point on, your body will become your guide as you twist and weave to intense basslines and magical melodies at multiple stages from the likes of superstars including Seth Troxler, The Martinez Brothers, Nina Kraviz, Carl Craig, and Michael Bibi.
Crosstown Rebels alum will certainly be present as Francesca Lombardo, Dennis Cruz, and Tibi Dabo will take you on a journey far outside yourself before the bossman Damian Lazarus welcomes the sunrise with a set you won't forget. What's more? Prepare for your mind for the next dimension with the debut of Wizardry, a spectacular b3b featuring Damian Lazarus, DJ Three, and DJ Tennis!
But, this is just a drop in the bucket when it comes to the DJs and performers lined up for Day Zero Tulum. In fact, Tijuana-based electronica duo Nortec has something mystical up their sleeves that you aren't going to want to miss. Additionally, live acts like AAAA, Isaac Soto, and Buena Tarde will take your experience to the next level. So, if you want to embark on a life-changing adventure then grab your tickets before they sell out!
Day Zero takes over Tulum on January 10, 2022, and tickets are on sale now. Continue on for the full lineup!
---
Day Zero Tulum 2022 Lineup: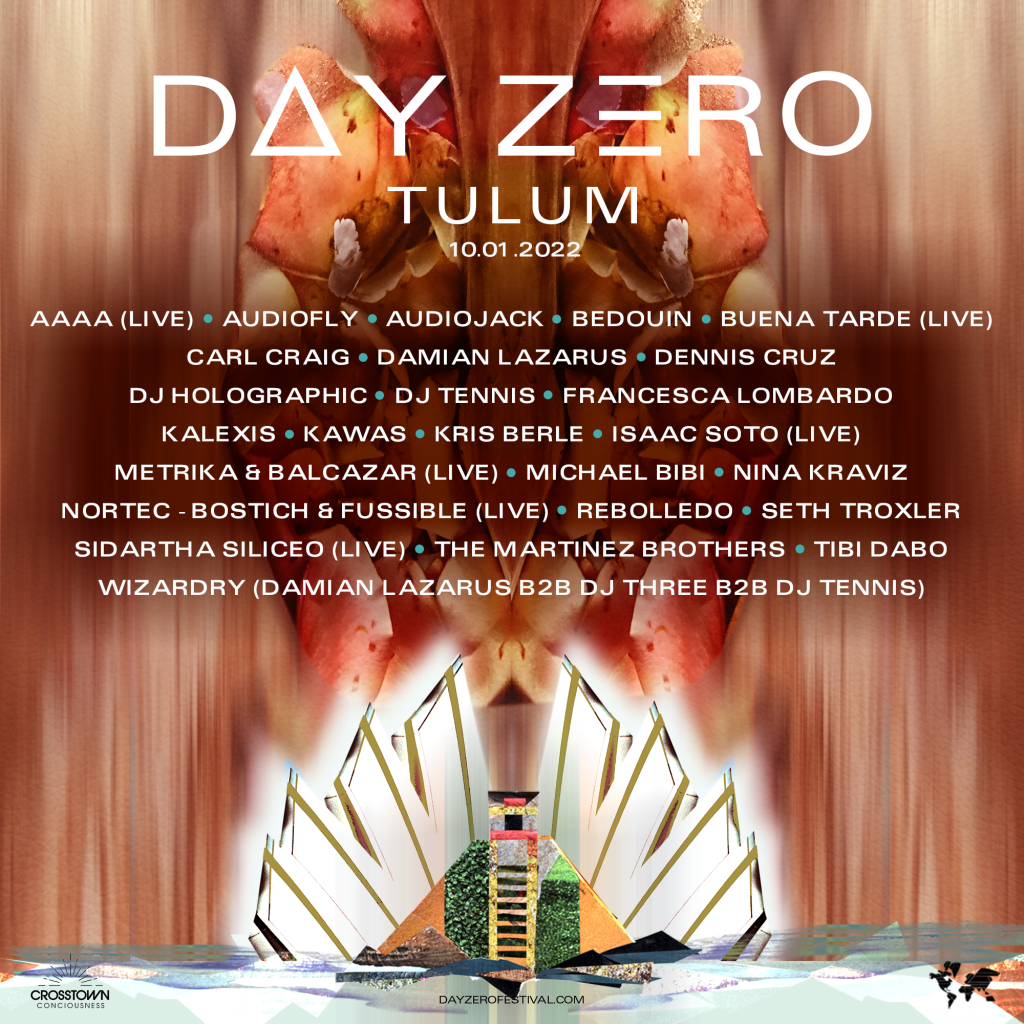 ---
Day Zero – Lineup By Artist:
AAAA (Live)
Audiofly
Audiojack
Bedouin
Buena Tarde (Live)
Carl Craig
Damian Lazarus
Dennis Cruz
DJ Holographic
DJ Tennis
Francesca Lombardo
Kalexis
Kawas
Kris Berle
Isaac Soto (Live)
Metrik A & Balcazar (Live)
Michael Bibi
Nina Kraviz
Nortec
Bostich & Fussible (Live)
Rebolledo
Seth Troxler
Sidartha Siliceo (Live)
The Martinez Brothers
Tibi Dabo
Wizardry (Damian Lazarus b2b DJ Three b2b DJ Tennis)
---
Follow Day Zero Festival on Social Media:
Website | Facebook | Twitter | Instagram | SoundCloud