Disclosure curates a fresh mix dubbed DJ-Kicks that's filled with some fantastic tunes that will light a fire in the depths of your soul.
---
Beloved dance music duo Disclosure has truly made an impression on the scene over the years. From major festivals like Coachella and EDC Las Vegas to the homes of house music lovers, their majestic releases and highly curated sets have permeated speakers around the world. Their dominance in the scene continued last year, even when live shows were put on pause. Not only did they gift some much-needed Energy to the world, but they also crafted up some unique experiences for their fans to feast on while being stuck in lockdown.
Now, Disclosure is back at the forefront of everyone's minds with their latest release, DJ-Kicks. This curated mix album features a bevy of hand-selected tunes from the likes of East End Dubs, Harry Wolfman, Arfa x Joe, and many more, along with two cuts of their own tracks as well. It's a mix that will get anyone grooving to the beat and dancing their worries away, and acts as a testament to their undying love for funky club beats and experimenting behind the decks.
DJ Kicks starts with "Recollection" by Pépe, which acts as a subtle, yet refreshing, introduction to the experience that listeners are about to witness. This track flutters into a daydream with delicate synths and sounds of nature before turning into a very faint disco beat and fading into Harry Wolfman's "LOTF" and its mystical upscale city feeling. You simply can't help but close your eyes and bop along to the steady rhythm of this tune.
After Cleanfield's "Conflict with Clayton" enters the speakers, Disclosure then gifts listeners with "Deep Sea." It slows down the pace and really emphasizes the feeling of swimming in the ocean and relaxing in the sand on a sunny day. But as day turns to night the duo mixes in &on&on's "Don't Say A Word," which brings nostalgic voice channeling a late-night lounge vibe. The pumping beats and radiating synths devolve into "Harmony in the Distance" by M-High. This one adds a futuristic element with its synths, claps, and steady drums while retaining its iconic disco sound as a voice echoes in the background. It's a vibe.
Another standout in the mix is none other than "Observer Effect" with its alien-like elements that will take everyone on a journey through outer space. This track from Disclosure beams with a funky vibe before bridging into a pounding club beat adding to the effect of an out-of-this-world party as futuristic undertones and heart-thumping synths dominate the senses. Then, "bRave" from East End Dubs enters the fray to keep the futuristic sounds churning and shufflers' feet moving along with it.
As the end of the mix approaches, Disclosure light a "Fire" in everyone's souls by dropping a heater of a tune from Ghana-born producer, Onipa. The unique instruments and vocals pulsate through the air and further exude the sense of celebration that the duo set off to achieve when creating DJ-Kicks. Then, "Recognise" by Arfa x Joe eloquently closes down the party with a funky breakbeat and horns to carry everyone to the finish line.
DJ-Kicks from Disclosure is available now across all streaming platforms so take a listen and let us know what you think in the comment section below.
Stream DJ-Kicks: Disclosure on Spotify:
---
DJ-Kicks: Disclosure – Tracklist:
Disc 1
Pépe – Recollection
Harry Wolfman – LOTF
Cleanfield – Conflict With Clayton
Disclosure – Deep Sea (DJ-Kicks)
Simon Hinter – Wanna Make Love
&on&on – Don't Say a Word
M-High – Harmony in the Distance
Slum Science – Mezermized
Disclosure – Observer Effect (DJ-Kicks)
East End Dubs – bRave
Onipa – Fire (Edit)
Arfa x Joe – Recognise
Disc 2
Harry Wolfman – LOTF
Disclosure – Deep Sea (DJ-Kicks)
Disclosure – Observer Effect (DJ-Kicks)
Arfa x Joe – Recognise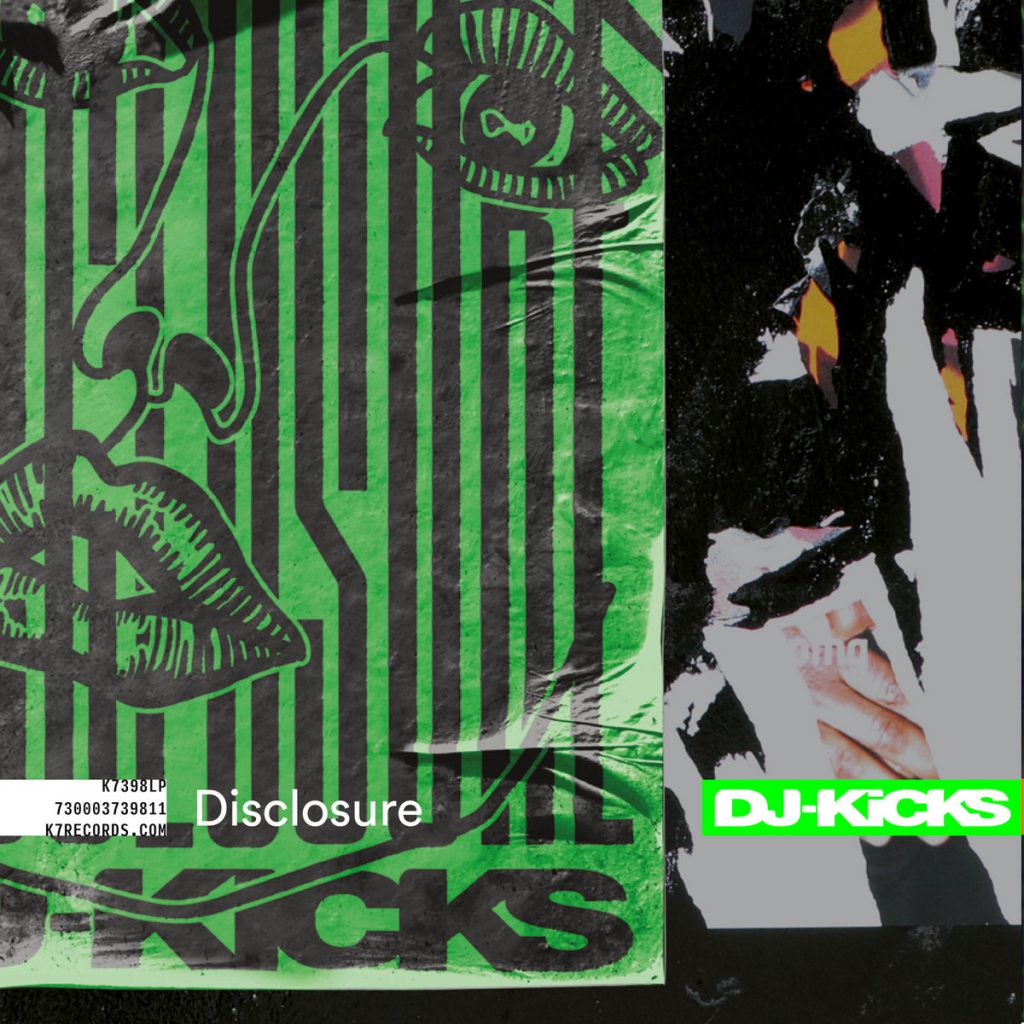 ---
Follow Disclosure on Social Media:
Website | Facebook | Twitter | Instagram | SoundCloud | YouTube | Twitch