Cheat Codes will set out across the US on their 36-stop Hellraisers Tour in January 2022. Find out if they're playing in a city near you!
---
Los Angeles-based trio Cheat Codes has created the best of pop-dance crossovers and kept the party going with the release of Hellraisers, Part 1 earlier this year. They're now bringing the party to life in their 2022 Hellraisers Tour. With 36 stops across North America and one streaming experience, this is one you won't want to miss.
The Hellraisers Tour will kick off on January 8 in Honolulu and make stops in Orlando, Washington DC, Chicago, Houston, Portland, and San Francisco before landing in Chico on March 6. To wrap up the tour on March 10, fans can also catch Cheat Codes during a special streaming experience. Several ticker tiers of the stream include access to a Q&A and Meet-and-Greet after the show!
Joining Cheat Codes on their biggest production yet is an impressive roster of supporting acts. Fans can see Morgan Page, along with Autograf, Haywyre, Party Pupils, Win and Woo, William Black, and plenty more on select dates. Tickets for the 2022 Hellraisers Tour are on sale now! Buy yours to raise hell with Cheat Codes and let us know which stop you're heading to!
---
Cheat Codes – The Hellraisers Tour 2022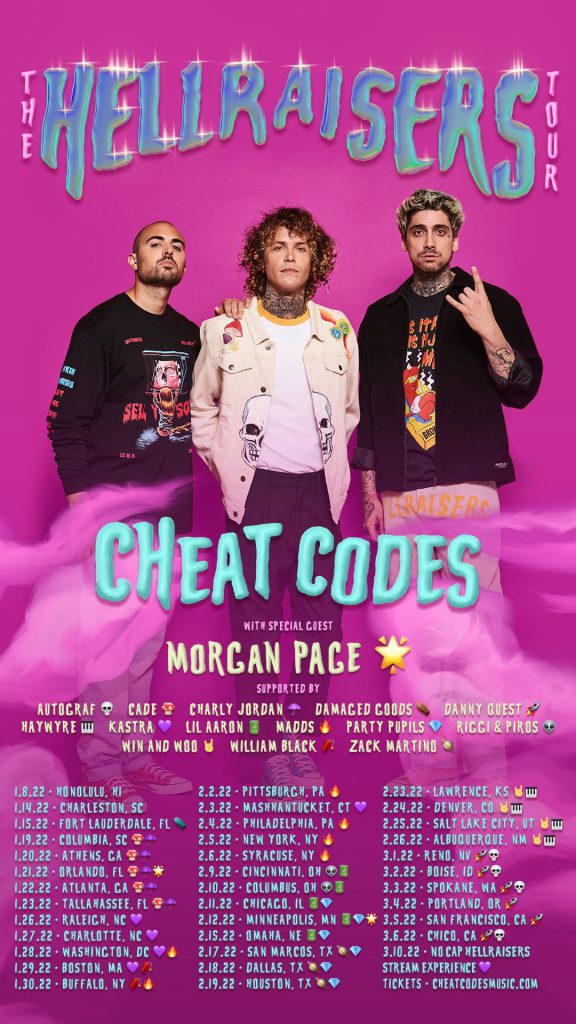 ---
Cheat Codes – The Hellraisers Tour 2022 Dates:
January 8 – Honolulu, HI
January 14 – Charleston, SC
January 15 – Fort Lauderdale, FL
January 19 – Columbia, SC
January 20 – Athens, GA
January 21 – Orlando, FL
January 22 – Atlanta, GA
January 23 – Tallahassee, FL
January 26 – Raleigh, NC
January 27 – Charlotte, NC
January 28 – Washington, DC
January 29 – Boston, MA
January 30 – Buffalo, NY
February 2 – Pittsburgh, PA
February 3 – Mashhantcket, CT
February 4 – Philadelphia, PA
February 5 – New York, NY
February 6 – Syracuse, NY
February 9 – Cincinnati, OH
February 10 – Columbus, OH
February 11 – Chicago, IL
February 12 – Minneapolis, MN
February 15 – Omaha, NE
February 17 – San Marcos, TX
February 18 – Dallas, TX
February 19 – Houston, TX
February 23 – Lawrence, KS
February 24 – Denver, CO
February 25 – Salt Lake City, UT
February 26 – Albuquerque, NM
March 1 – Reno, NV
March 2 – Boise, ID
March 3 – Spokane, WA
March 4 – Portland, OR
March 5 – San Francisco, CA
March 6 – Chico, CA
March 10 – No Cap Hellraisers Stream Experience
---
Follow Cheat Codes on Social Media:
Website | Facebook | Twitter | Instagram | SoundCloud | YouTube