Dial in your weekend ahead of Life is Beautiful by checking out the essential info you need to know before you head to Sin City.
---
The countdown to Life is Beautiful is almost up and there is so much to be excited for. From the incredible lineup of music to the culinary experiences, art installations, workshops, comedy, markets, and more the festival is sure to be healing for everyone that attends. That being said, the landscape of live music and festivals has changed throughout the course of the year, and event producers have announced essential information that will be crucial to having a smooth experience at Life is Beautiful.
To do this, Life Is Beautiful has enhanced its health and safety protocols to gain entry into the festival, attendees must have proof of vaccination or a negative COVID-19 test. Acceptable forms of proof include the Health Pass through the CLEAR App or government-issued identification paired with the original CDC vaccination card, a printed copy of the CDC vaccination card or a negative test, or a photo on your smartphone of your CDC vaccination card or negative test.
With that clear, the only additional preparation you will need to do is to get familiar with the set times, festival map, and figure out what you want to eat! And if you want to dive deeper into the music lineup check out our top non-electronic artists and electronic artists to see.
---
Life is Beautiful 2021 Essential Info:
Dates: September 17 – 19, 2021
Hours: Festival gates will be open each day from 2:00 PM – 1:00 AM daily, with performances starting at 3:00 PM.
Venue Address: The festival encompasses 18-city blocks within the heart of the city extending from 7th to 11th Street and from Mesquite to Carson Avenue. The festival entrances are located at Fremont & 7th street and Fremont & 11th Street.
Facebook Event Page: RSVP HERE
Acceptable Forms of Identification for Entry
Life is Beautiful is an all-ages festival. Everyone two years of age and over will need a festival wristband.
Must be 21+ to purchase or drink alcohol.
COVID-19 Protocols
Upon entry, all attendees are required to either:
Provide proof that you are fully vaccinated against COVID-19. In order to be considered "fully vaccinated" you must receive your final vaccine dose 14 days prior to your entry date*
or;
Provide proof of a negative COVID-19 test. Negative test must be obtained within the 72 hours leading up to Life is Beautiful. 3-day ticket holders may be tested Thursday, September 16th, or Friday, September 17th for their negative result to be honored on all three festival days. We strongly encourage unvaccinated guests to wear a mask at all times during the festival.
In order to be fully vaccinated for Life is Beautiful, you will need to receive your final dose of the COVID-19 vaccine at least 14 days prior to your entry date. Your single dose of Johnson & Johnson or your second dose of Pfizer or Moderna MUST have been received no later than Friday, September 3rd. We strongly encourage all guests to be fully vaccinated against COVID-19.
---
Life is Beautiful 2021 Set Times:
---
Life is Beautiful 2021 Festival Map: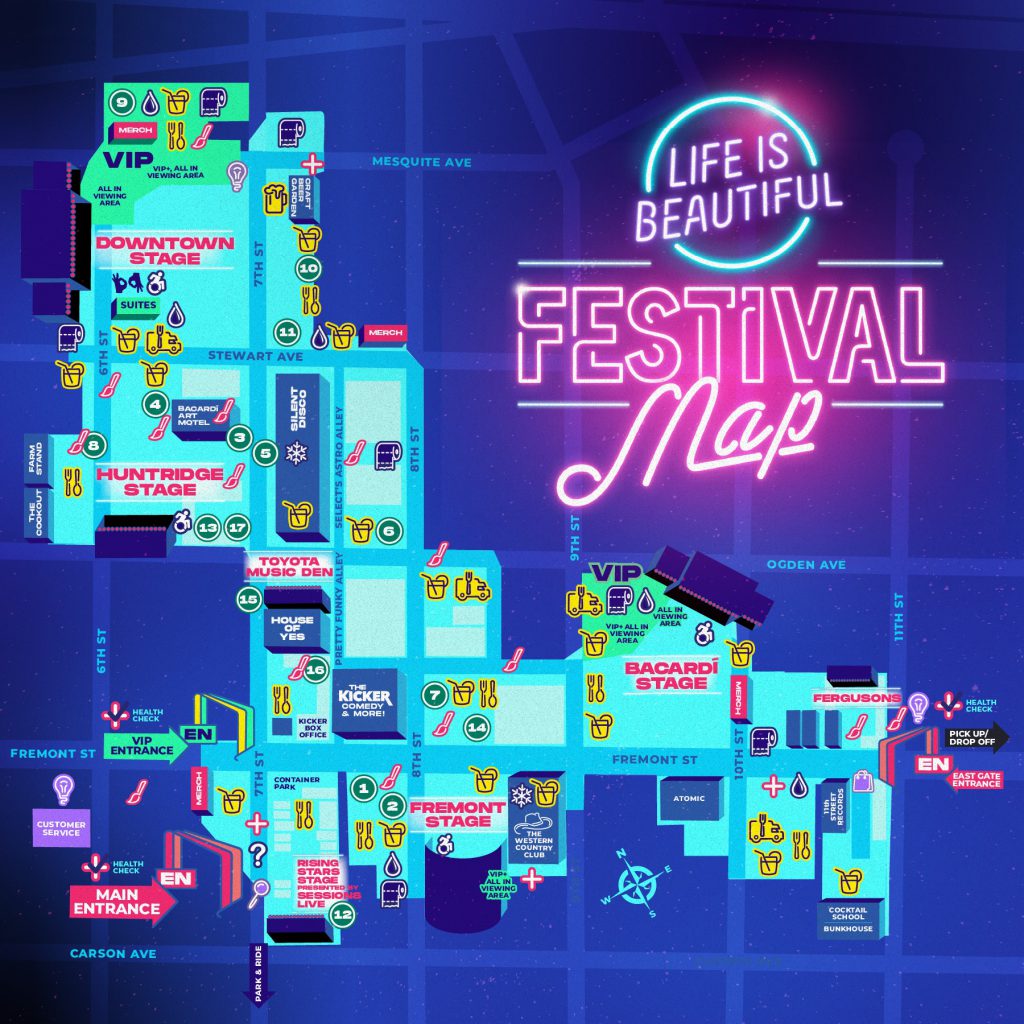 ---
Life is Beautiful 2021 Bag Policy: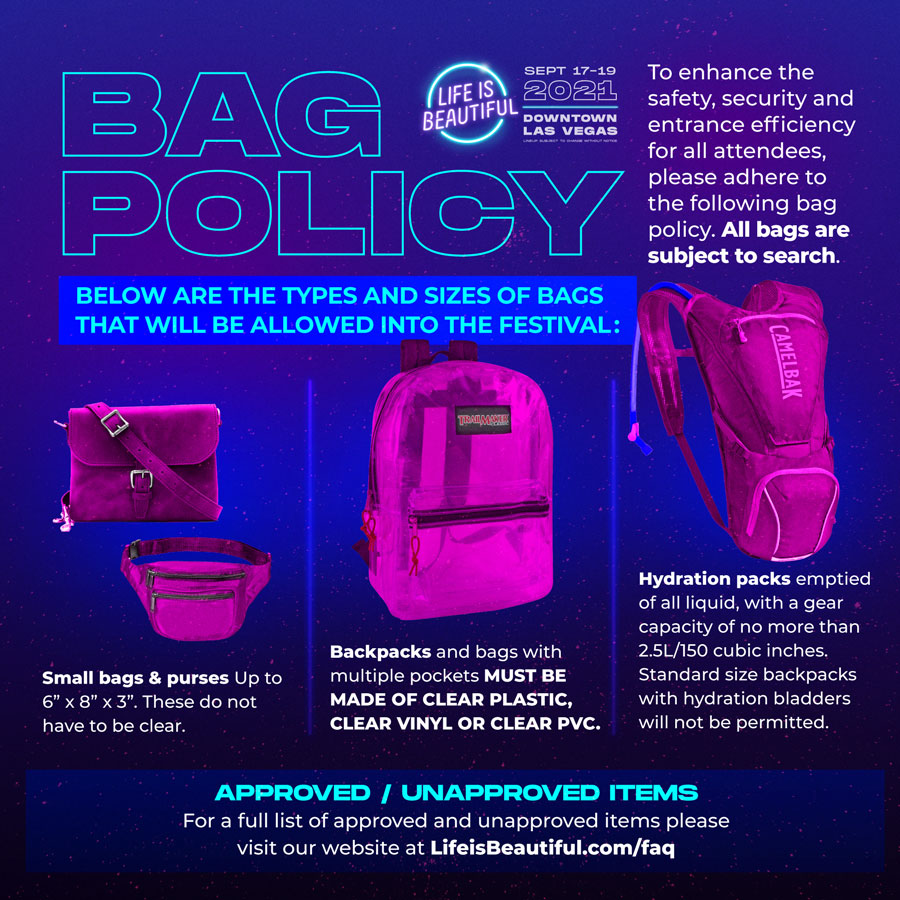 ---
Reminder To Mind Your Belongings:
Unfortunately, many people have reported pickpockets, bag slashings, and theft of wallets, smartphones, purses and other valuables during this festival season. While this small number of bad apples in the bunch doesn't define an entire crowd, there are opportunistic people who come to these events to take advantage of unsuspecting partygoers and it's important to be mindful of your valuables while at Life is Beautiful.
Looking for tips to keep your belongings safe? Check our post highlighting some ideas!
---
Life is Beautiful 2021 Do's & Don'ts:
Prohibited Items
NO Aerosol cans or sprays
NO Air horns
NO balls or projectiles
NO Camera accessories- selfies sticks, tripods, monopods, gopro mounts and attachments, detachable lenses, or other commercial equipment
NO Camera equipment with a detachable lens longer than 2 inches
NO Chairs or lawn furniture
NO Coolers
NO Costume face masks
NO Costumes that resemble public safety uniforms (fire, medical, police, swat, security)
NO Drones or remote flying device
NO Explosives
NO Fireworks or sparklers
NO Flags
NO Glass or cans of any kind
NO Hard plastic glow sticks
NO Hula-hoops
NO Hydration packs with more than two pockets in addition to the one holding the water reservoir and a gear capacity larger than 2.5L/150 cubic inches
NO Illegal substances or paraphernalia
NO Inflatable toys or furniture
NO Laptop computers or tablets
NO Laser pointers
NO Liquids
NO Musical instruments
NO Outside food and beverage of any kind
NO Pets/animals
NO Picnic baskets
NO Professional video/audio recording equipment
NO Promotional items, samples, giveaways, flyers or stickers
NO Scooters, skateboards, hoverboards, bicycles
NO Shade structures of any kind (canopies, tents, umbrellas, parasols)
NO Sharp objects, large chains, spiked jewelry
NO Strollers, carts or waggons
NO Totems
NO Tote Bags
NO Unauthorized/unlicensed vending
NO Walkie-talkies
NO Water guns or water balloons, any other kind of water projectile
NO Weapons of ANY kind including pepper spray and pocket knives
Permitted Items
Backpacks and bags larger than 6" x 8" x 3" made of clear plastic, clear vinyl. or clear PVC
Bags and purses up to 6" x 8" x 3" (do not have to be clear)
Binoculars
Blankets
Chapstick
Dedicated hydration packs emptied of all liquid, with a gear capacity of no more than 2.5L/150 cubic inches
E-cigs, Vapes, Juuls, or any type of electronic cigarette (juices and refills must be sealed)
Gum
Hand sanitizer
Personal cameras (no detachable lens)
Portable phone chargers
Refillable water bottles
Sealed cigarettes
Sealed eye drops
Sealed lighters
Sealed over-the-counter medications
Sealed sunscreen lotion (non-aerosol)
Sealed tampons
---
Follow Life is Beautiful on Social Media: