Get your feast on and dive into the culinary lineup Life Is Beautiful has announced for this year that will surely satisfy all your cravings!
---
Life Is Beautiful offers so much more than music. From the art that transforms Downtown Las Vegas into an even more vibrant area to the Learning Series and comedy acts, the festival is an adult playground that has something new at every turn. There is so much fun to keep you busy that you are certainly going to need to fuel up each day to keep those energy levels up. The good news is Life Is Beautiful always curates an epic lineup of culinary experiences to explore, and they're carrying on with that tradition for their return on September 17-19.
The Cookout is a live-fire cooking experience curated by Chef Justin Kingsley Hall of Main St. Provisions & Peyote that offers a limited and rotating menu each day. Over the course of the weekend, attendees will be able to feast on specially crafted dishes from world-class chefs like fire-roasted elote with shrimp ceviche, Spanish style rice with seasonal vegetable, cremini, and oyster mushroom, and wood-fired lemongrass pork skewers with roasted sticky rice in bamboo balanced off with jicama, green apple, and Asian herb slaw. And, that's just the Friday selection!
Also part of the culinary experience at Life Is Beautiful is the Cocktail School, Omakase Cantina, The Farm Stand, Culinary Villages, Bevarage Program, VIP+ Happy Hour, and Artist Hospitality Lounge. Cocktail School will offer interactive bartending seminars featuring Las Vegas' leading mixologists curated by Bryant Jane & Lyle Cervenka of Starboard Tack & Hardway 8. The Omasake Cantina will offer a limited and intimate dining experience featuring omakase-style dishes by top chefs and curated by Secret Burger's Jolene Mannina.
If meat options are not for you, The Farm Stand will offer unique vegan dishes featuring locally sourced ingredients straight from the farm to your table and will be curated by Diana Edelman of Vegans, Baby. No matter what is calling to your taste buds there will be a dish to satisfy your cravings. The Culinary Village will feature 50 acclaimed restaurants and include a variety of cuisines and caters to any diet, including vegan, vegetarian, and gluten-free options.
The Beverage Program offers patrons that are 21+ 12 specialty cocktails throughout the festival as well as a large selection of craft beers and wines in the Craft Beer Village. VIP+ and All-In Exclusive ticket holders will be treated to viewing decks at the Downtown stage as well as beverage deals throughout the festival. If you want to live the luxury life you are going to want to swoop one of these passes!
Be sure to seek out the cookouts, live cooking demonstrations, mixology sessions, and other mouth-watering foodie experiences that will satisfy that mid-festival hunger. Although tickets for Life Is Beautiful are sold out, you can join their official ticket exchange for your chance to attend this year.
Life Is Beautiful 2021 – Culinary Lineup: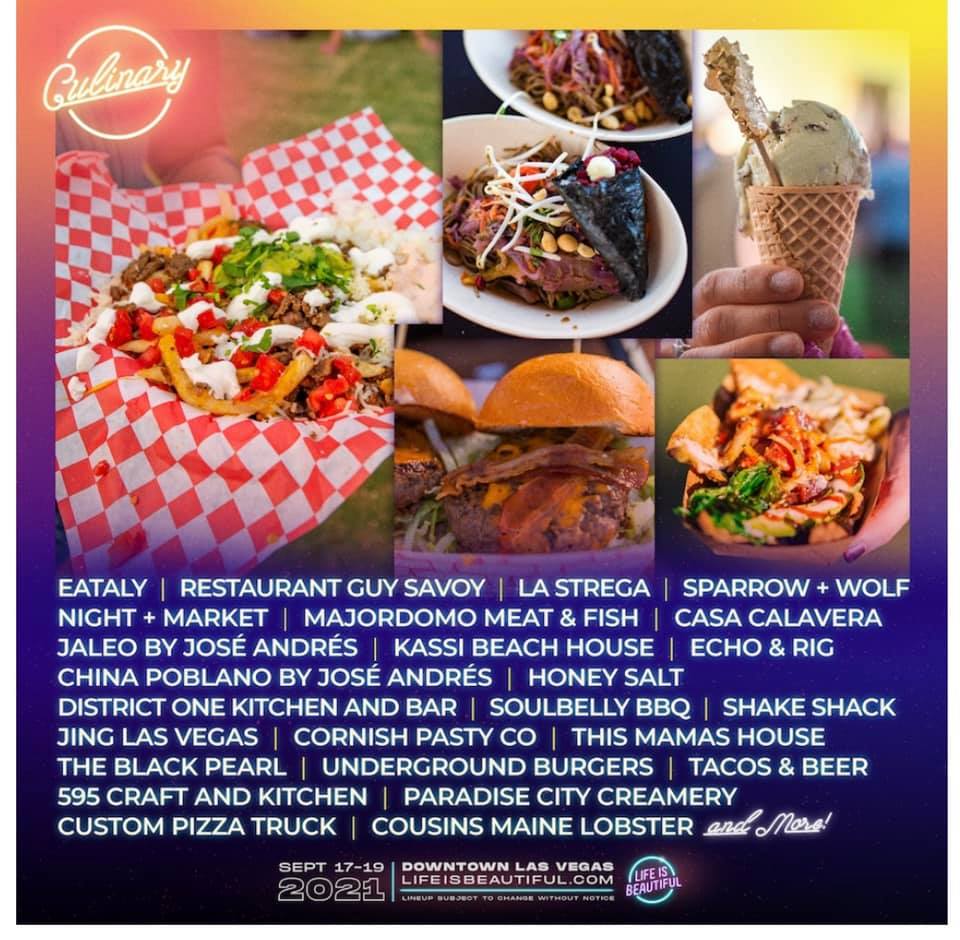 ---
Life Is Beautiful 2021 – Culinary Lineup:
Eataly
Restaurant Guy Savoy
La Strega
Sparrow + Wolf
Night + Market
Majordomo Meat & Fish
Casa Calavera
Jaleo By José Andrés
Kassi Beach House
Echo & Rig
China Poblano by José Andrés
Honey Salt
District One Kitchen And Bar
Soulbelly BBQ
Shake Shack
Jing Las Vegas
Cornish Pasty Co
This Mamas House
The Black Pearl
Underground Burgers
Tacos & Beer
595 Craft And Chicken
Paradise City Creamery
Custom Pizza Truck
Cousins Maine Lobster
---
Follow Life Is Beautiful on Social Media: