Coming off the release of his latest EP, Untouchable, Kompany stopped by to chat about his production process, interacting with fans, and more.
---
Kompany has been cemented in the bass music scene for the last few years. He has taken the conventional dubstep sound and flipped it on its head with wild synth arrangements, decimating drums, and distinctive vocal samples. The result of his work in the studio has arrived in the form of tunes that are pristinely produced and a cut above the rest – easily making him a fan favorite of those in the bass scene.
When you throw on a Kompany track you can't help being submerged into the depths of bass and start feeling an insurmountable urge to headbang your worries away. Releases such as "Purge," "Thicc Boi," "Broken," "Movement," and many more have earned their spot in numerous festival sets and have propelled him to the elite tier. On top of this, he is showing no signs of slowing down with tracks coming out consistently on major labels such as Never Say Die, Disciple Round Table, and Subsidia.
Continuing this massive momentum, Kompany's latest EP, Untouchable, is out now and arguably his best work thus far. This seven-track release landed on Never Say Die and further puts his immaculate production and noteworthy collab efforts on full display. Featuring previously released tunes that include "Cut Throat" with Jiqui, "Just Like You" with KC, and titular track "Untouchable," it's hard not to instantly throw this in your rotation of music.
With all of the buzz around Kompany and with them embarking on his Untouchable tour, we knew we had to catch up with him amongst the madness. So listen to the Untouchable EP on Spotify or your preferred platform and read on to dive into his production techniques, how some of the collaborations came about, his feelings on being back on tour again, and more!
Stream Kompany – Untouchable on Spotify:
---
Hey Kompany, thanks for chatting with us! Let's talk about your latest Untouchable EP that was released on Never Say Die. What's the story behind making this EP and did it differ from your previous releases?
This EP felt a bit different than the others I have released prior because I've been changing so much in my approach to production as of late. I feel like there's a really good blend of my 2018 sound mixed with some more modern stuff! I got to dig back and finish some highly requested IDs for this one which was a blast.
One of my favorite tracks off the EP is "Thermos". The track is a collaboration between you and Staysick and is unbelievably heavy. What was the process like working with him on this?
Staysick was an absolute beast! He used to frequent my streams and remix all of my older music and just kept getting better and better. He actually sent me the demo to Thermos over Instagram DMs and I decided to hop on the tune with him! We did a couple of calls on Discord to work on the tune and then ended up hanging on there and gaming almost every day and he became one of my closest friends.
On "Just Like You", another track off the EP, you link up with vocalist KC for an emotional, melodic-driven track. How was exploring a lighter sound compared to your other tracks?
It's super refreshing for me to touch on the melodic stuff lately and you can definitely expect some more of it in the future.
In your music you often use very distinctive vocals at the drop and various other parts of the track that give each of your songs a certain character. How do you consistently come up with these vocals and do you utilize your own voice in them?
A lot of the time I cut up acapellas and video game vocal samples or just stuff from YouTube fail compilations and stuff haha. I tend to layer in some of my own vocals as well, with a bunch of processing, so nobody can tell it's me.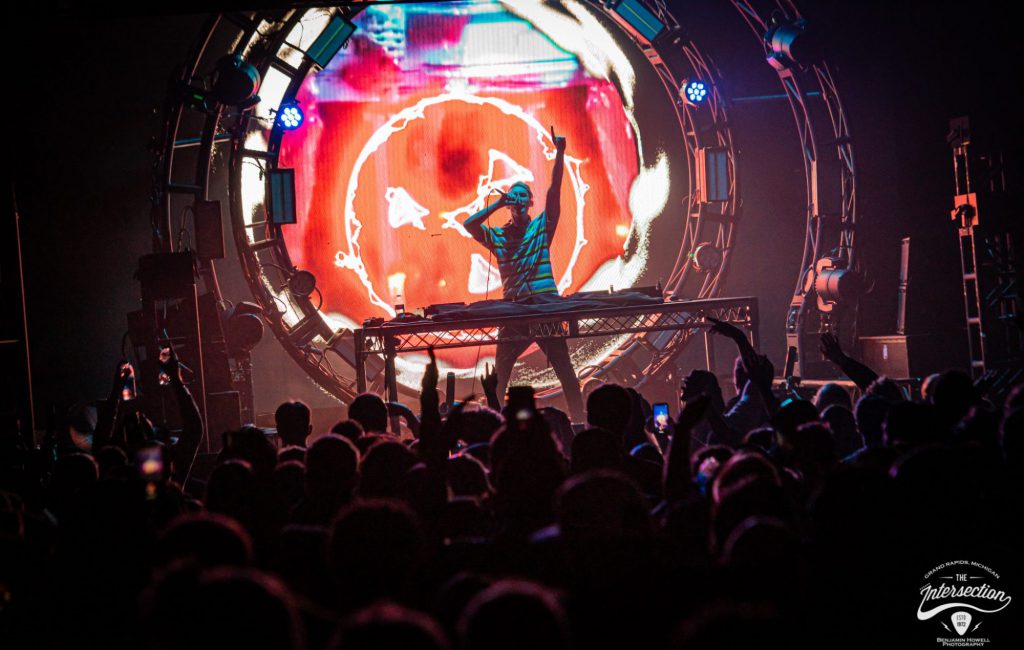 You're constantly hosting meetups with fans and hanging out with them in the crowd. How important is having that kind of a relationship with your fanbase?
Honestly connecting with my fans is one of the biggest driving factors for me as an artist. I have immeasurable amounts of love for anyone who supports me and allows me to do this for a living, so I take any opportunity I can to give them a moment they can remember forever.
Your 2018 track "Thicc Boi" with Wooli is about to hit three million plays on Spotify. When creating that track back then, did you and Wooli have an idea that it would be such a popular track?
At the time we were both really stoked on it, but never expected the reaction we got from it. It was definitely more of a meme to me at first, but the crowd reactions definitely solidified it as one of the "moments" in my live sets.
Along with this EP, you are also on your Untouchable US Tour that started in August and goes until the end of the year. How's it feel being back in front of a live crowd again and being able to play these tracks from the EP out?
Absolutely AMAZING, I can't wait to hit up some of my favorite cities in this run. People are definitely eager to party again so the energy has been through the roof.
As we dive deeper into the latter half of the year, what are some goals you'd like to achieve before the end of 2021?
I definitely want to continue my journey as a headliner and continue to grow the story and branding behind the Kompany project, as well as diving into merch for more of a streetwear vibe. Been really enjoying going back and forth with our team on designs.
Finally, what are some things you like to keep you company while touring?
My Nintendo Switch 10000%. It makes flights go by way faster and gives me the opportunity to whoop people in Super Smash Bros in every state.
---
Connect with Kompany on Social Media:
Facebook | Twitter | Instagram | SoundCloud