Amidst the mystic forest and flashing lasers, Summer Camp Music Festival took over Three Sisters Park and gave attendees a magical experience.
---
Tucked away in the lush green area of Chillicothe, IL is Summer Camp Music Festival, which has become well known over the years for their fully stacked and diverse lineups and the unreal vibes that permeate the crowd. While their 20th-anniversary celebration caught a snag due to the pandemic, they revamped the festival for it to make a grand return and brought impeccable stage production, amazing performances, and seemingly endless activities to explore. And as a first-time attendee, this year exceeded my expectations completely.
Since this was my first ever Summer Camp, I dove into the rabbit holes of SCamper veteran advice and created quite an extensive packing list that would be able to go on a plane. It's located just outside of Peoria, IL, so hotels were not hard to come by at a nice price, plus the airport is just a 15-minute drive from the grounds. This made the event even more appealing to me, as it wasn't too difficult to access from a plane, especially since I was going solo.
The community of Peoria itself was very welcoming and very involved in the festival and immediately made me feel welcome as a new attendee. That being said, the taxi service was scarce (no Uber here, folks!) so wait times to be dropped off from any location outside of the festival was a bit of a wait.
The minute I stepped foot on the festival grounds I was greeted by attendees saying "Happy SCamp." I felt a wave of emotion overcome me as I watched lifelong friends reunite as they dropped their stuff to run into each other's arms while mutual fans of artists bonding as they compared merch. There was an overall glow of happiness and excitement as we entered the venue itself.
It was impressive how easy the venue was to navigate through the grounds from stage to stage.
There were massive areas of camping, and if you got there early, you could snag a nice, cool shady spot in the woods to escape the hot sun… if you were brave enough to handle the forest spiders that made a home on your canopy, of course. There were also go-kart "festi cabs" on-site that would help navigate you around the grounds and lug your camping gear if you were setting up.
Portable bathrooms were also plentiful on-site, with a newer addition of air-conditioned bathrooms with sinks added to the GA grounds. This was a godsend during the sweltering mornings, paired with the portable shower stations as well if you were willing to wait in the line for a bit.
However, at night, navigating the grounds became increasingly difficult. There was a lack of proper lighting to guide the way through different campsites and stages, so bringing a flashlight was a must for anyone attending. Trust me, you won't want to forget it.
Of course, I did have my hesitancies attending a full-capacity festival in the midst of COVID-19.
No vaccines or negative tests were required, which really made you responsible for your own attendance. I was surprised to see the lack of attendees wearing their masks, regardless of the dust that was being kicked up everywhere. I was also a bit disappointed in the lack of hand sanitizing and handwashing stations available around the grounds. You really had to come prepared with your own means of staying protected against the virus. Thankfully, the grounds and stages had wide enough room to where if you wanted your space, you could easily keep your distance without losing the sound of the stage, which made feel me feel comfortable throughout the weekend.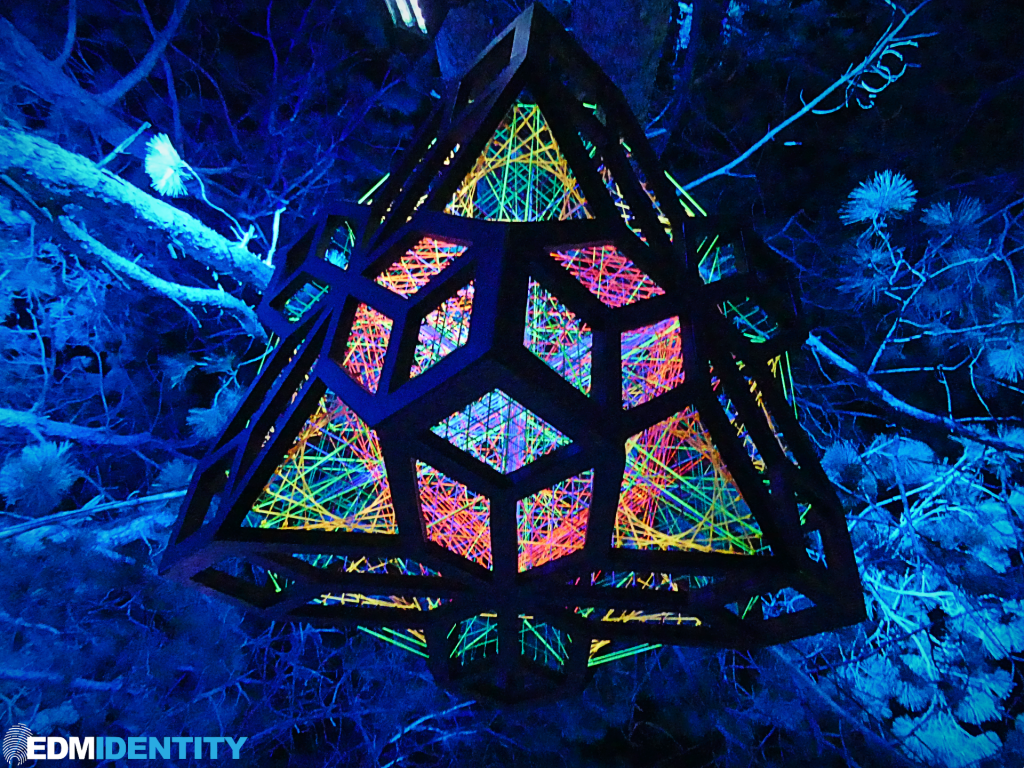 For its 20th Anniversary, you could tell SCamp really amped up their experience, including adding a whole new stage area called The Illumination Woods.
Each stage provided a unique experience for each artist on the lineup. With five stages spread across the venue with their own theme, there was a niche for every attendee. The main stage, Sunshine, hosted a wide field and large stage area for the main acts. The Moonshine stage was hosted on a large grassy area surrounded by the woods, in an amphitheater-style which was prime for anyone trying to get a good view of the acts.
The Starshine hosted a lot of the electronic music acts, with a stellar pyramid-like DJ booth that projected the visuals accompanied by hypnotizing laser shows. This stage was particularly popular among the flow artists, with plenty of room to stunt their hopping tricks under the flashing lights. The Campfire staged housed lots of the live bands, complimented with an actual bonfire, and gave that real "summer camp" feel to the whole experience. For the late-night shows, the Soulshine tent had a great selection of silent disco acts, as well as some independent live instrumentalists.
Of all the stages, the Illumination Woods stage, which was brand new to this year, stood out the most. The acoustics reflecting through the redwoods, with visuals that accompanied the art installations, life-size mushrooms, and strings tied to the trees to mimic lasers scattered throughout the area. The whole vibe gave off very much Alice in Wonderland sort of vibe. Featured in the Illumination Woods was also the Goodbus art car decked out in sunflowers, who hosted a plethora of fun secret sets for attendees to catch.
If you wandered far enough, you could also come upon the Frick Frack Blackjack tent, where you could bet your prized festy possessions for others'. With this diversity of areas to check out music, there was an abundance of acts playing at all times during the festival, which almost became overwhelming trying to schedule out my top artists without missing any songs!
What was totally unique about SCamp was the longevity of the community that makes this event come to life.
The whole experience was a great way to find new music, as the lineup consisted of over 100 acts and half of them being those on the rise. No matter what time of day, each stage had a well-packed crowd of people dancing their hearts out to whoever was playing. Being an all-ages event, many families with kids also camped together. Although I do have my opinions about bringing children to big festivals, Summer Camp provided many activities that raver tots could enjoy, such as finger painting, dance lessons, and even their own restroom areas!
Speaking of activity workshops, Summer Camp had its own area called the Soulshine Patch that held many of the workshops and activities attendees could join in and enjoy. These ranged from learning how to forage mushrooms, to talks about how music can heal anxiety. There were live painters, meditation areas, and even a self-sustaining gardening area where attendees could learn all about sustainable and eco-friendly living from professionals! It really added to the very communal motive Summer Camp lives by.
The vendors really brought their A-game this year with festival favorites like Noralina Freedom, Spunglasses, and Third Eye Pinecones making an appearance. However, in terms of food, I was a bit disappointed in the selection as there was a lack of vegan/vegetarian options and the prices were a bit steep. One of the standouts was Hippie Dips, which provided fresh smoothies every day, and some campsites were even selling their own food, including one with grilled cheeses for just a dollar!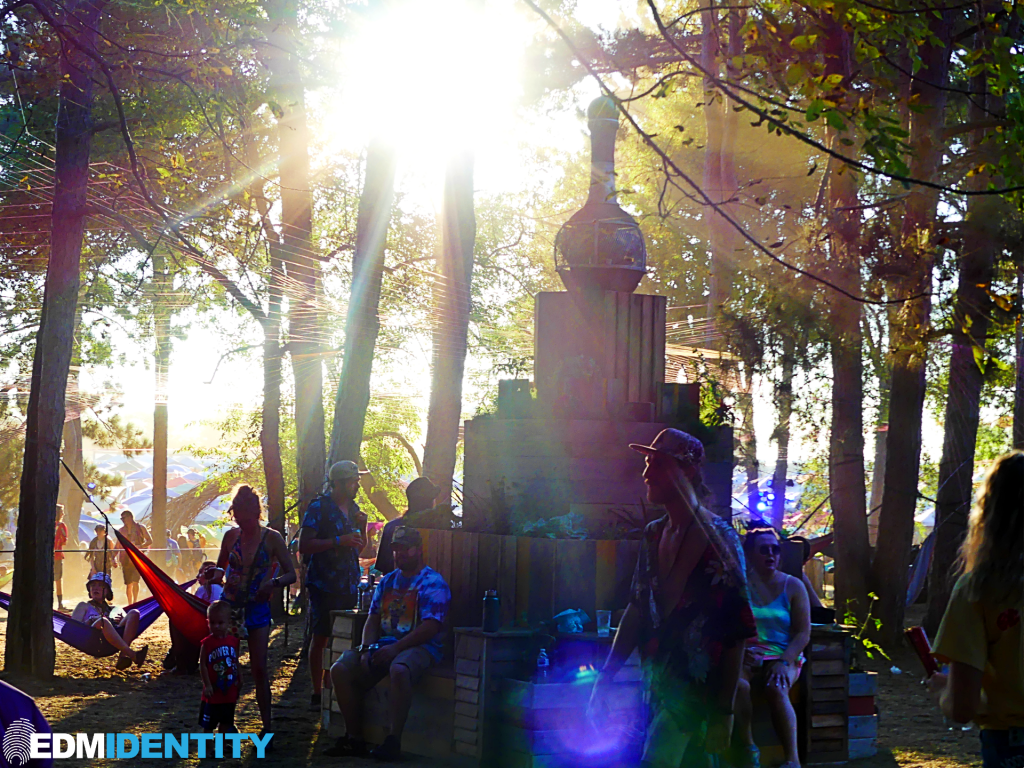 As festival-goers lugged all their survival gear upon bungee-corded wagons Thursday afternoon, they were met with a blissful golden-hour classics set from The Floozies.
This performance from The Floozies included fan favorites from their hot album Tell Your Mother, as well as a memorable "Circle of Life" cover featuring their iconic talkbox sound – it set the mood for the entire weekend. As the night played on with a welcome set from Manic Focus headlining the Starshine stage, and one of the true highlights was the silent disco in the Soulshine tent. I got a huge kick watching people dance their hearts out in absolute silence with no idea what people are actually listening to. The channels were almost a battle of the genres – one channel played big room house as well as tropical house, with the other playing 140 dubstep and drum and bass. It was a great way to start the weekend off in a fun manner.
Despite the heartbreaking news that many bands, I planned to see this weekend canceled due to COVID restrictions (Lettuce, Papadosio, Big Something, AND Cherub), others stepped up to bring memorable sets.
Friday brought in a bunch more attendees, keeping that 'reunion' glow alive throughout the morning. At a blazing hot 90 degrees, there was no rain in sight which became a huge wave of relief for attendees, as past experience with rain at Summer Camp hasn't always been the most pleasant. Some sets that blew me away included the impromptu Manic Science set that cooled us off with some electro-groove vibes, a can't-miss Boogie T.Rio set decked out with Boogie's guitar riffs, and an emotional, heartfelt set from rising producer Maddy O'Neal.
As the night rolled in, so did the bass setting off with a no-holds-barred set from Whipped Cream debuting some new songs. CloZee b2b LSDream was my personal favorite set of the day, blending their signature styles together paired with some truly colorful light shows. Closing out the Sunshine stage started with a classic, hypnotic Rezz set, playing some of her new releases like "Taste of You", topped off with her goggle-sporting fans filling the dancefloor to the brim. In perfect electronic music taste, Subtronics followed and closed out the night with some body-shaking dubstep and riddim classics, also playing new releases.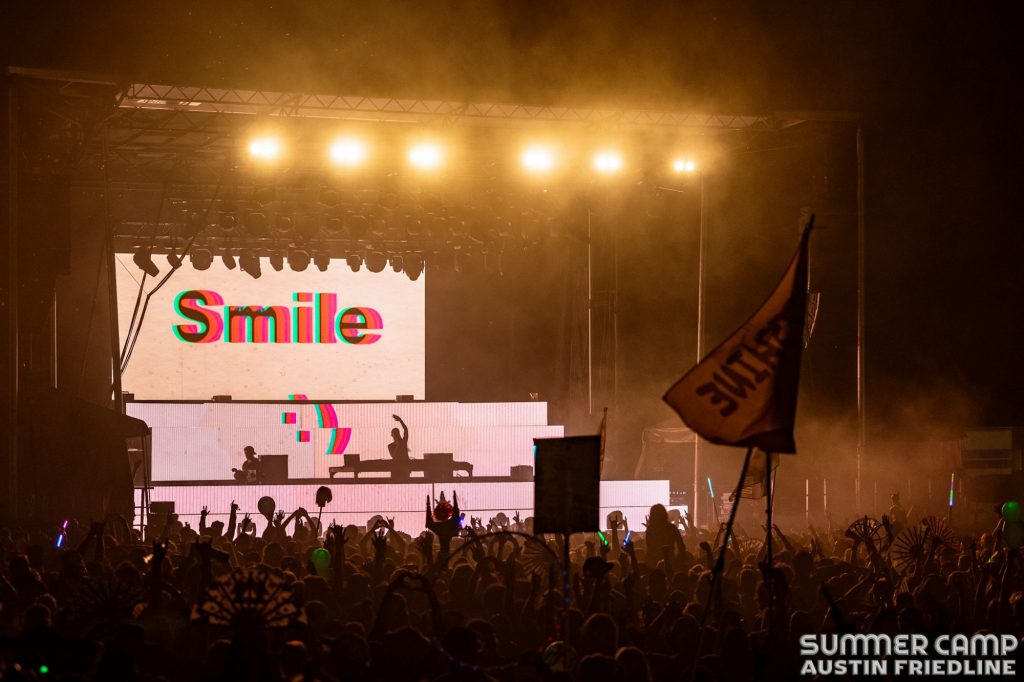 By Saturday, I started to really understand the communal energy the festival had to offer.
I danced with new friends, and even participated in a GRiZ fan meetup at the SunSquabi set! Bands like Twiddle, Maggie Rose, and Saxsquatch (yes, a saxophone-playing Sasquatch) all brought a fun, tight-knit environment that I have learned the SCamp community holds dear to their heart. STS9 brought their iconic, synchronistic jam set into the sunset, peaking people's music high to ride throughout the rest of the night.
The festival's original creators moe., as well as other festival favorites like Umphrey's McGee all played several sets throughout the weekend at the Moonshine stage. Late into the darkness, rising bass star Mize brought the most packed Illumination Woods crowd of the weekend, rinsing deep dub mixed with some drum and bass – definitely one of my favorite sets of the weekend.
CloZee and LSDream both had their own stunning performances as well.
CloZee came in hot with lots of nice ambient flow mixed with nature samples, going into synth-heavy crowd favorites like "Secret Place" and "Baiana". She even played "Free Your Mind" by Daggz, which was AMAZING to hear live. LSDream brought the crowd to the Starshine stage and dropped some unreleased collabs with Liquid Stranger. Needless to say, every WAKAAN fan in the audience made their presence known at that moment! To cap off the evening, Spicy Bois Collective delivered an experimental bass set on the Goodbus, bringing the West Coast Bass to the Illinois scene.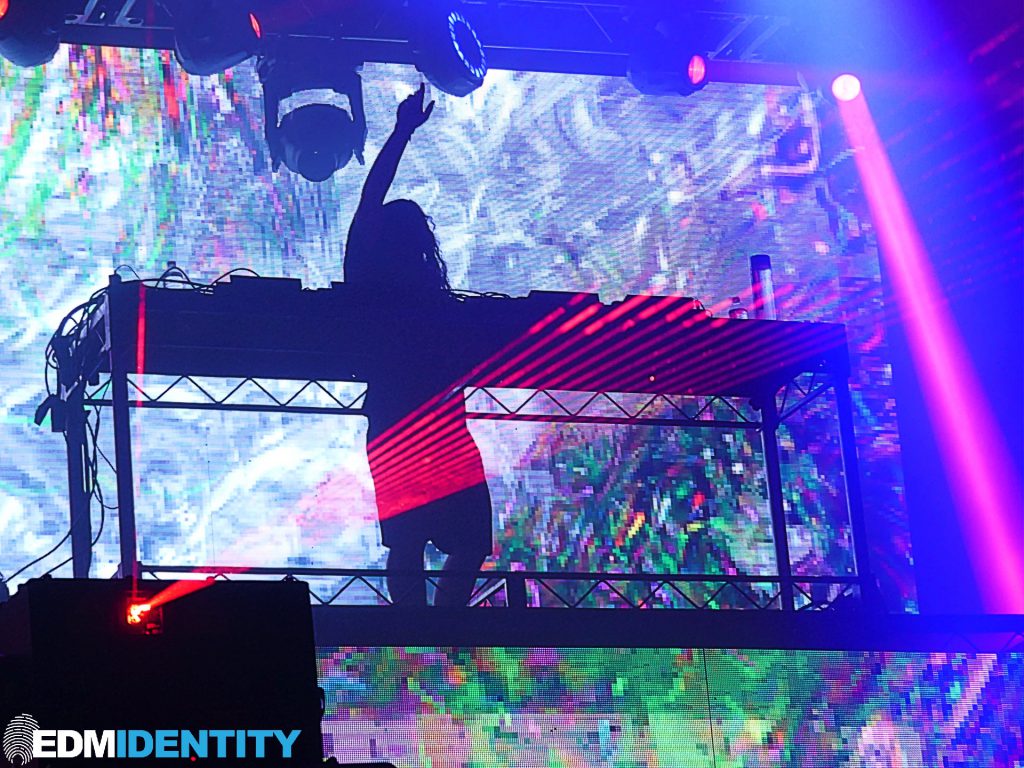 Sunday was definitely the most crowded of the weekend, with all the single-day attendees arriving in the afternoon.
Some of the most anticipated acts of the weekend were all packed into the last day, which became a little overwhelming trying to catch some rare sets that either were double-booked or overlapping. It also was the most crowded day as the wave of Sunday attendees merged in with the rest. The biggest names on the lineup that day included Three 6 Mafia, Dirty Heads, Tipper, and GRiZ but there were plenty more from there. Highlights included EPOC's 140 dub session on the Goodbus and unexpectedly stumbling upon Doom Flamingo, a bass-heavy jam band, which was one of my favorite secret sets of the weekend.
As the night lingered on, the majority of the crowd had to decide between Ween and Tipper, both of which brought their loyal fans to the festival. Having not seen Tipper since Lightning in a Bottle 2018, it was a pretty easy choice for me to make. His set featured his classic, glitch-hop sound filled with unreleased gems and visual projections – and since it was at the Moonshine stage a great view was guaranteed. The night didn't stop there, with a creative, seamlessly mixed down set from Detox Unit, straight into a full-blown DJ set from G Jones. Even though this set was a last-minute addition, it had to have been one of the largest crowds all weekend.
But there was no better way to close out the festival than being front row for GRiZ.
Being a long-time fan, I was very excited to see what his new Rainbow Brain set is like. Of course, there was a classic blend of GRiZ-style dubstep into house with a heavy dose of electro-funk and special guests like Probcause and Chrishira for good measure. The notoriously friendly fanbase was in full force and there was even a trash pickup session afterward. After being stuck at home for so long, it was a euphoric feeling to be able to scream your favorite tunes alongside people who felt the exact same – a community, a family connected by music. As a fellow SCamper put it, "there's one thing Ancestry.com won't tell you – the family you meet through music".
Although I really loved this year's experience, there are things I would like to see next year.
The one thing I love about festival culture is a unified understanding of safety for those around you, especially when it comes to harm reduction and consent. What I feel would improve SCamp in the future would be a better presence of safe space areas, like the DanceSafe or Bunk Police, to make this more prominent. Further, it was disappointing at times that there were those who simply didn't seem to realize how to respect other's space or ask before touching someone else. We as a community we need to promote safer spaces and environments to party to ensure a good time for all attendees.
But with that in mind, unified connectedness is hard to describe – yet that's what I found at Summer Camp. People helping others, simple acts of gratitude, carefree moments on the dancefloors, and friendly embraces throughout the festival. This energy is something I realized I missed immensely and I'm happy I found it again. For any reader and lover of electronic music, I suggest this festival to those looking for a weird, dirty, but effortlessly magical experience. See ya next year, SCamp!
---
Connect with Summer Camp Music Festival on Social Media: