Chris Lake wowed Los Angeles yet again with a two-night run of shows at The Shrine featuring new music, old classics, and pure house bliss.
---
Chris Lake has truly become an unwavering staple in the house music scene with countless smash singles and stunning sets. He's more than built a name for himself and his projects over the past two decades. Beyond his own releases, his global fanbase has grown to love his imprint Black Book Records and his collaborative project Anti Up with friend and fellow producer Chris Lorenzo as well. While Chris Lake was sidelined last year due to the pandemic like many others in the scene, he's surged back in style this year.
The summer of 2021 has seen the house music maestro stay busy with shows like Under Construction with Fisher in Denver and Black Book In The Park in San Diego over the Fourth of July weekend. With the return of shows coming back, it was only a matter of time before his events at The Shrine LA got rescheduled – and fans were finally able to rejoice upon his announcement that he would be returning in full force for two nights at The Shrine Auditorium on August 27-28.
Related: Check out our full photo gallery from Chris Lake at The Shrine on Facebook!
After plenty of anticipation, the Friday show had finally arrived and featured a solid lineup of Chris Lorenzo, Cloonee, and Sam Cooper joining Chris Lake on the bill.
Cloonee had just recently taken the stage at FNGRS CRSSD's DAY.MVS XL and I was stoked to hear his groovy house beats again – while also getting introduced to Sam Cooper before embarking on an adventure through Chris Lorenzo's sensational sounds. The event was originally supposed to be outdoors, so I was surprised to find it moved inside the venue upon arrival. Nevertheless, I was excited to be back inside The Shrine, and the venue did an awesome job of checking attendees' vaccination cards or negative PCR tests to comply with COVID protocols upon entry.
One aspect that could have been improved though was the flow of the line to get in. While my entry was seamless, there were plenty of horror stories that surfaced after the event of fans who waited over an hour and a half just to get through security. Good guy Chris Lake even apologized for this mishap at the end of the night, but hopefully, The Shrine is able to resolve this issue and layout for future events.
Once inside, the crowd vibed through the early sounds of the night from Sam Cooper and Cloonee; they really set the vibe and impressed with their track selection. Once Chris Lorenzo took the stage, everyone's energy bumped up a notch as Lorenzo's contagious tracks had everyone on their feet. He dropped a fine-tuned selection of his own tracks such as "Here Kitty" with Dances With White Girls and "Hey Pablo" with Chris Lake as Anti Up.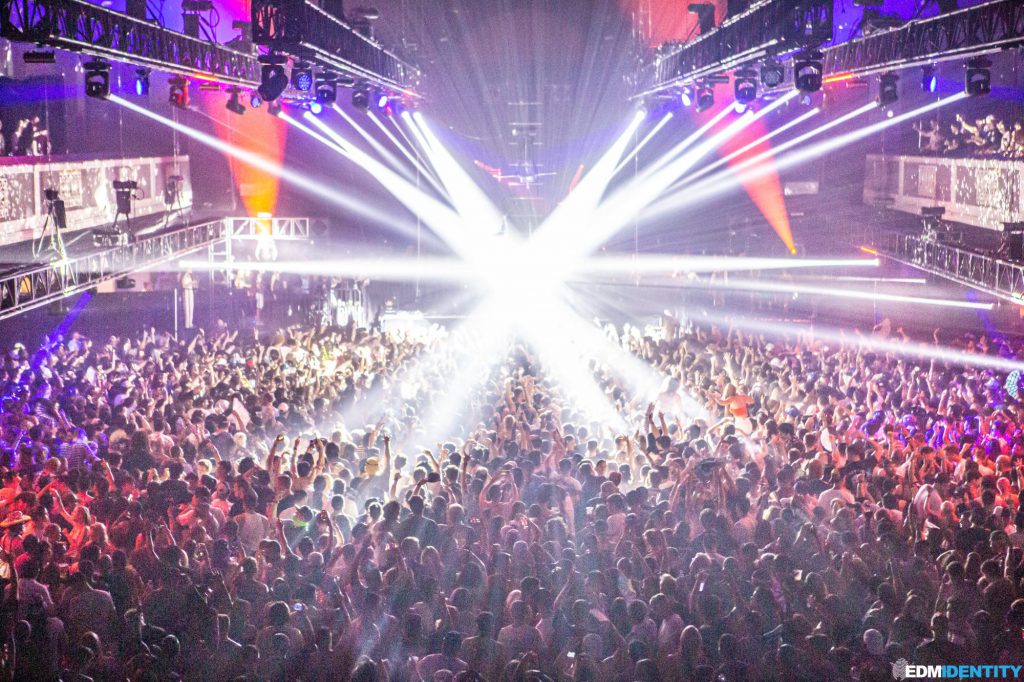 The stage was finally set for the main event — Chris Lake — and a wild night of funky, fresh house beats.
There's no denying that Chris Lake will absolutely bring any house down that he plays in. That was evident in his very first track played during the night, "Love Is Just A Drug From God," which has yet to be released officially. From there, the speakers seemed to automatically get louder and the bass was bumpin' with killer sound, making me glad that I had brought my earplugs for hearing protection.
The production itself was very minimal; there wasn't much in the way of stage design and no visuals, but the show more than made up for itself with the insane sound and entrancing lasers. No seriously, the lasers were a show all on their own with a seemingly endless amount of them constantly scanning the room and lighting up the massive shark-shaped disco ball in the center of the vibrant auditorium. It created a stellar, magical experience for everyone and added to the electrifying tunes perfectly.
Other highlights of Lake's set included a wild remix of his and Green Velvet's "Deceiver," classic track "I Want You," and new favorite "The Answer" with Armand Van Helden featuring Arthur Baker and Victor Simonelli. The crowd also grooved to "Dance with Me" with Walker & Royce, among other favorites, and Chris Lake ended the night with "Turn off the Lights" with Alexis Roberts to cap everything off in the best way possible.
Overall, Chris Lake delivered a fun dose of house music and vibrant, spectacular lasers for a sensational show.
Whether he's going back-to-back with another artist or carrying the night by himself, fans can never really expect Chris Lake to disappoint. He always delivers a lively show for all attendees, and I seriously can't wait for him to drop all those unreleased heaters heard during the set. Make sure to catch him when he lands in a city near you next; you won't want to miss it!
---
Follow Chris Lake on Social Media:
Facebook | Twitter | Instagram | SoundCloud